3A 3B Curly Hair Routine For The Best Defined Curls
In this post, I'll share my favorite, easy 3a 3b curly hair routine and tips that leave me with gorgeous defined curls, every time.
If you're looking for one of the best curly hair routines for your 3A 3B hair then you've come to the right place!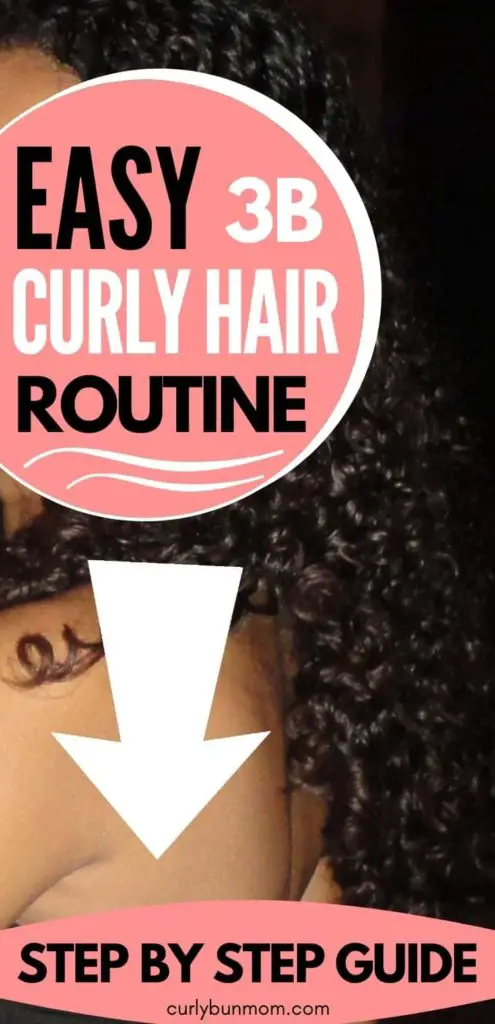 Curly Routines For 3A 3B Hair
There are many curly hair routines and tutorials available for you to try. Just to name a few:
The LOC (liquid, oil, cream) method
The LCO (liquid, cream, oil) method
One styling product method
Any combination or variation of the above
Over the years one of the biggest mistakes I made was trying various routines and methods that worked with either low porosity hair or a different curly type. This is a fantastic video to explain why different routines are necessary for each type.
The way your curly hair responds to products largely depends on your hair porosity.
If you're unsure of yours, you can check out these curly hair basics before you continue reading.
Experimenting with routines and curly hair products is the best way to find the best routine for your curls.
Affiliate Disclosure: "This post contains affiliate links, which means I receive a small commission, at no extra cost to you, if you make a purchase using this link."
Step By Step 3A 3B Curly Hair Routine
I have high porosity 3B curly hair and I've had the best and most consistent results by following a variation of the LOC method – liquid, oil, cream.
Basically, this method describes the order you apply your curly hair products.
Liquid first, then oil, then cream.
I add one extra step and I add a coating oil, like Argan oil – more about that a little later.
First, let's take a closer look at the steps for how I wash and style my 3b curly hair.
steps for 3a 3b curly hair Routine:
Wash your hair
Condition your curls
Deep condition
Remove excess water
Apply styling products
Scrunch
Air Dry or Diffuse
Ok, now let's break down each step.
Washing Your 3A 3B Curly Hair
Ensuring that the curly girl products you choose and the method you're using to cleanse your scalp and hair is a critical step.
Choosing the wrong cleanser can cause damage or dry out your hair.
Many shampoos that lather a lot are actually very damaging. Most of those contain damaging and harsh ingredients that strip your hair follicle.
It's a good idea to look for a shampoo that is silicone, paraben, and sulfate-free.
When applying your curly girl sulfate-free shampoo, concentrate on your scalp.
Be sure to use your fingertips only to massage your scalp to cleanse.
If you think your scalp needs some extra love, you can use a gentle clarifying shampoo that is specifically for your scalp.
I try not to apply shampoo directly to the length of my 3a 3b hair.
I also try to apply shampoo as gently as possible to avoid damaging my hair.
After using my finger tips to massage my scalp, I bring the extra product down the length of my hair.
That's usually sufficient to cleanse my 3b curls.
Finally, rinse thoroughly, and move on to conditioning your hair.
Condition 3A 3B curly Hair
The type of conditioner you use next will depend on the day you're washing.
A great curly girl rule is to always deep condition ONCE a week, every week.
So, if this is your weekly wash, then you can jump right in with your deep conditioner of choice.
The best curly girl deep conditioner for your 3a 3b curls will be silicone-free and will provide enough slip for easy detangling and of course enough moisture to leave hair silky soft.
Follow the directions on your product for the best results. Most deep conditioners recommend leaving the product for about 20 mins.
If you're doing a mid week wash, then my recommendation is still to use a curly girl conditioner that is silicone free, moisturizing and provides enough slip to detangle easily.
Once you've detangled, rinse the conditioner thoroughly. Leaving in conditioner can cause moisture overload.
Applying your conditioner is the same for both deep conditioning and regular.
You want to apply your preferred curly girl conditioner to the length of your 3a 3b hair and not directly on your scalp.
Leave your conditioner on for the recommended length of time (follow the directions on the product container for best results).
If your hair is pretty tangled, apply the conditioner in sections and smooth it down the length of your hair. This will ensure better product distribution and easier detangling.
To detangle, you can simply use your fingers or a brush. Start from the bottom and work your way up. Using a brush can also help with product distribution and curl clumping and definition.
Deep conditioning once a week is one of the best curly hair care tips to improve the overall health of your curly hair.
Remove Excess Water
To remove excess water from your 3a 3b curls, wrap your hair with a cotton t-shirt or microfiber towel.
These are best as they reduce the chance of hair breakage and frizz.
After a couple of minutes, remove the towel or cotton t shirt and proceed with styling.
Apply Curly Styling Products For 3A 3B Curly Hair
I style my hair based on the occasion.
If I'm staying at home, I won't use a gel to style.
Sometimes, I simply apply coconut oil or a curl cream and braid my hair.
If I want my 3a 3b curls to last longer then I style using the LCO method, which stands for – liquid, cream, and oil.
I've tried a few other methods and this is by far the most superior method for my hair type.
The amount of product you will use will depend on your curly hair texture and the length of your hair.
Remember, even when using a curly guide, the key to having awesome curly hair is to keep experimenting with different products and routines to find your best fit.
Curly Girl Liquid Products For 3A 3B Hair
Your liquid of choice can be a leave-in conditioner or simply water.
For my 3b curly hair and texture, water is sufficient for this step.
I ensure that my hair is damp before applying my styling products.
If your hair has dried out a bit too much when you are ready to style, use water from a spray bottle to dampen it.
If your hair texture needs more moisture and you would like to start with a leave in conditioner, these are great options.
Leave in Conditioners for 3A 3B Curly hair
Penetrating Oil For 3a 3b Curly Hair
Next up is applying an oil that penetrates your hair shafts.
These penetrating oils are thin and allow your 3a 3b curly hair to retain moisture.
Your hair strands will soak up as much as it needs. Great options are:
Coconut oil
Almond oil
Olive oil
Avocado Oil
My 3b curls absolutely love coconut oil. Once I'm at home, it's usually the only hair product I use as it gives my hair enough moisture.
Typically, after applying my oil, I let my hair air dry and then I braid or put my hair in a curly bun.
Before applying coconut oil to my hair, I check to ensure that my hair is damp enough.
Sometimes, by the time I'm ready to style, it's a little too dry.
Applying products on 3a 3b curly hair that is too dry or too wet gives a horrible end result for my hair type.
I have seen some curly hair tutorials on youtube where products are applied to soaking wet hair and the results look amazing. This is definitely not the case for my hair texture. I've tried this and my hair looked awful!
For my hair type, dampening my 3a 3b hair before styling is the best!
So, on damp hair, I start by creating 2 sections. Then, I apply a small amount of coconut oil to each section, smoothing the product through.
It's important not to use too much oil and to ensure you use what your hair requires.
Applying too much oil could cause your hair to feel too oily and it may end up looking lymph. You will learn what's the right amount by experimenting.
Finally, use your Denman brush to ensure that the product is well distributed.
Of course, if you only use an oil, your curls will not have a lot of hold.
If you want longer lasting curls, move on to applying a curl cream and gel.
Curl Cream For 3a 3b Curly Hair
Curl creams provide additional moisture, definition, and even some hold for your 3a 3b curls.
Some of my favorite curl creams for 3a 3b hair:
Apply your curl cream of choice in small sections of your hair. Start by smoothing a small amount of your preferred curl cream with the palm of your hands.
Then, brush smaller sections away from your scalp with your Denman brush. This is essential to get the best curl definition and volume.
For the top of your head, brush each section up and again, away from your scalp to encourage volume.
Brushing your hair downwards encourages your hair to lay flatter.
Finally, I gently shake the section to help with curl definition.
Mousse Or Gel For3a 3b Curly Hair
If you're looking for more hold and longer-lasting curls, at this point you can apply a mousse or a gel to your 3a 3b curly hair.
These curly stylers create a cast on your curls. This may result in you're hair feeling slightly, or very crunchy as it holds your curl pattern for a longer time.
The great news is though, you can break the cast by "scrunching out the crunch" while you diffuse.
If you're going to diffuse your hair, applying these products is beneficial as it will help to reduce frizz in the drying process.
Apply the curly girl gel or mousse by scrunching it into your curls.
This helps to distribute the mousse and defines your curl pattern even more.
must try mousses for 3a 3b Curls:
Not Your Mother's Curl Talk Mousse
Gels To Try For 3b Curly Hair:
Sealing Oil For 3a 3b Curly Hair
To end, you can apply a small amount of sealing or coating oil to seal in the products.
These oils sit on top of the hair shaft and lock in the moisture in your hair. They add shine and help to keep your hair soft.
Here are some great options for your 3a 3b hair:
Jamaican Black Castor Oil
Argan Oil
Grape Seed Oil
Jojoba Oil
To apply, simply rub a very small amount of oil in the palm of your hands and scrunch very gently.
Air Dry Or Diffuse Your 3a 3b Curls
When the weather is warm, air drying is definitely my preference. I also get less shrinkage which I love and I find it's more convenient for my current lifestyle.
However, if I'm preparing for a night out and of course, for curly girls in the winter, diffusing is the best option.
After applying your curly hair stylers, wait about 10 minutes before diffusing for the gel cast to form.
To diffuse, it's best to use a low heat and speed setting. Try not to touch and manipulate your curls while you diffuse.
Work your way around the crown of your head to dry. Once you feel your roots are starting to dry, move on to the ends.
Start by placing your curls on your diffuser and moving or cupping it towards your head.
Again, work your way around your head until your hair is dried to your satisfaction.
The length of time required will, of course, depend on the thickness and length of your hair.
Sleeping With Your 3A 3B Curls
There are a couple of ways to sleep to preserve your curls. The best way would depend on your circumstances and hair type.
I've tried satin bonnets and I honestly dislike it and it never stays on anyway.
Instead, I sleep on a satin pillowcase with my hair in a loose pineapple.
Once I've applied curly creams and mousse, this is sufficient for my curls to last at least 3 days before I need a huge refresh.
Refreshing 3a 3b Curls
To refresh your 3a 3b curls in the following days, take your hair down from the pineapple or take off your satin bonnet and gently shake your curls.
Then, spray your hair with water and scrunch. You can also finger coil any curls that lost their curl pattern while you slept.
If you need a little more hair product, you can add more once you've dampened your hair.
Then scrunch and you're good to go.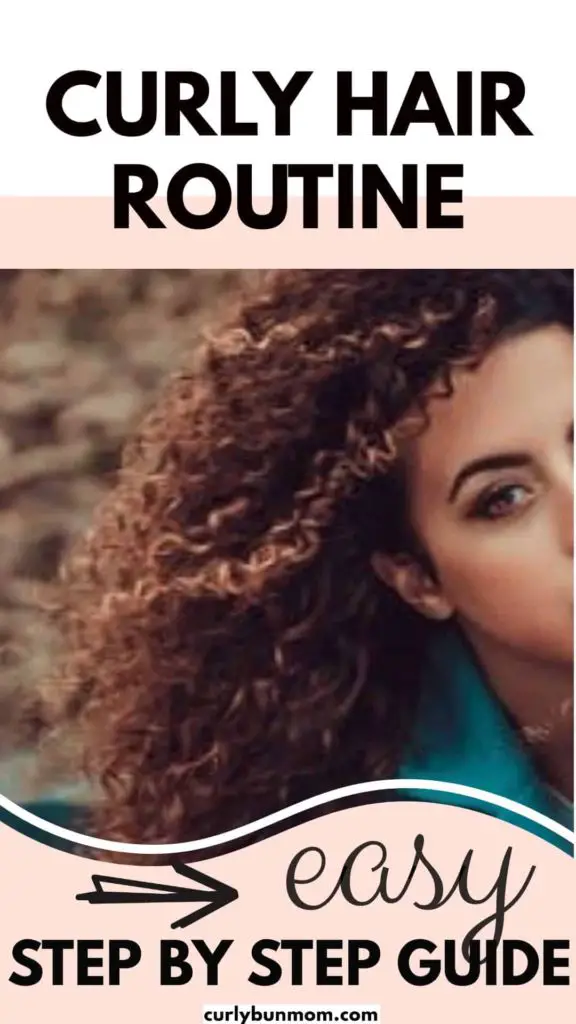 3A 3B Curly Hair Routine Summarized
The best curly hair routine for your 3A 3B curls requires experimenting and trial and error.
There are many curly hair routines and tutorials available for you to try.
There are also many curly hair products available to you.
The method above has worked really well for my 3B curly hair type and texture and I really haven't had to change it.
It's a quick and easy curly hair routine especially if I air dry.
I would really love to hear about your curly hair routine. Let's chat in the comments below!
Before You Go, You Will Love These Other Posts For Curly Hair:
You May Also Like