Ingredients To Avoid For Curly Hair Products – How To Tell If A Curly Girl Product Is Clean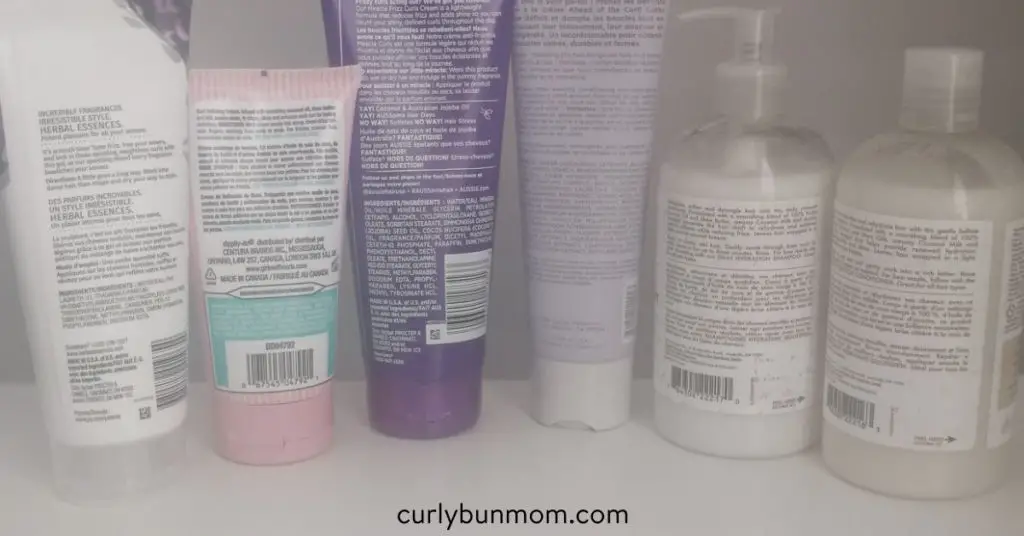 For healthy curly hair, it's important to know the ingredients to avoid for curly hair that will cause damage. Some ingredients in curly girl products can cause dry, frizzy and brittle hair.
Avoiding certain ingredients in your curly girl product will leave your wavy and curly hair healthy, bouncy and well defined.
What Ingredients Should A Curly Girl Avoid
If you're familiar with the curly girl method, you may already know the broad categories of bad ingredients to avoid for curly hair:
Sulfates
Silicones
Parabens
Drying Alcohols
Mineral Oils
Bad Ingredients = Bad Things For Curly Hair
These ingredients in your curly girl product have been tested and found to be damaging to your curly or wavy hair in some way. Some actually strip your hair strands, leaving them damaged, frizzy and brittle.
Other bad ingredients for curly and wavy hair can cause so much build-up that it can leave your curls and waves weighed down and you may need harsh shampoos to cleanse properly.
Let's take a closer look at each category of bad ingredients for your curly or wavy hair and narrow down the specific bad ones in each category.
Sulfates To Avoid For Curly Hair
Sulfates help cleanse your hair and scalp by removing product build up, dirt and oil. The issue is that it may also strip moisture from your hair which will leave your hair and scalp dry and brittle.
To easily spot a sulfate on the ingredient list of your curly girl product, look for ingredients that end in "ate".
Not all sulfates are terrible and perhaps the worst sulfates for your curly or wavy hair are Sodium Lauryl Sulfate (SLS) and Ammonium LaurylSulfate ALS.
You therefore want to avoid any curly girl product that contains sodium laurly sulfate or ammonium laurth sulfate. Shampoos with these sulfates will foam and lather a lot and will leave your hair feeling "skeaky" clean.
These harsh and damaging sulfates would be pretty easy to spot as they're typically listed at the top of the ingredient list – maybe the 2nd or 3rd ingredient in your shampoo's formula.
So let's take a look at the sulfates you want to avoid in your curly girl product:
Sodium Lauryl Sulfate (SLS)
Ammonium Lauryl Sulfate ALS
Triethanolamine Lauryl Sulfate
These sulfates tend to be in shampoos for oil hair types as they do an excellent job of cleansing.
There are some gentler suflates known as laureth sulfates used in some conditioning shampoos. Laureth sulfates are known to clean the scalp and hair well but tend to leave the hair in better condition than cleaning with a lauryl sulfate.
Gentler sulfates to look for in curly girl cleansers but are not curly girl method approved:
Sodium laureth sulfate
Ammonium laureth Sulfate ALS
Triethanolamine laureth Sulfate
surfactants that are ok to use for curly hair but are not curly girl method approved:
C146-16 Olefin sulfonate
disodium laureth sulfosuccinate
sodium carboxylate
sodium cocoyl isethionate
sodium cocoyl glutamate
sodium lauryl sulfocetate
sodium methyl cocoyl taurate
sodium lauroyl glutamate
sodium lauroyl sarcosinate
sodium lauryl glucose carboxylate
sodium methyl cocoyl taurate
These surfactants give a mild and gentle cleanse for your scalp and hair. These surfactants removes dirt and oil but do not remove silicone buildup.
Cocamidopropul betaine
coco betaine
cocamidopropyl hydroxysultaine
lauryl hydroxysultaine
sodium cocamphoacetate
sodium lauroamphoacetate
Some curly girls don't find that co-washes cleanse their curly hair sufficiently and would prefer to use a product with sulfates.
If your hair isn't cleansed well you may experience an itchy scalp, clogged pores and even hair loss. Your hair will also stop responding the same with your regular curly girl products as you will be layering it on semi cleansed hair. Your hair may end up looking dull, flaky and weighed down.
The good news is that some sulfates are gentler and can cleanse your hair and scalp well.
So, if you don't love using co-washes and would like a curly girl cleansing product with a sulfate, try one of these sulfate free shampoos.
No Poo Method – Cleansing Conditioners or Co Washes
The curly girl method recommends a no poo method to cleansing your curly and wavy hair. This no poo method basically suggests ditching shampoos altogether from your curly hair routine and your wavy hair routine.
Instead, to cleanse your hair and scalp they recommend that you cleanse using a conditioner that cleanses. The ingredient list for a curly girl co wash may contain:
Behentrimonium chloride
Behentrimonium methosulfate
Cetrimonium bromide
Cetrimonium chloride
Dicetyldimonium chloride
Guar hydroxypropyltrimonium chloride
Stearalkonium chloride
As I Am Co Wash
Be Curly Co Wash
Natural, clean curly hair shampoos will contain natural sulfates and surfactants, typically derived from plants. These, however, may not cleanse as well.
Some natural surfactants are:
sarsaparilla
ivy agave
soap bark
soapwort
Avoid Water Insoluble Silicons For Curly Hair
There are two main types of silicones – water insoluble and water soluable. Both types of silicones are not a curly girl method approved ingredient.
To spot a silicone easily in a curly hair product's ingredient list, look out for ingredients ending in "cone" or "zane"
Even though silicones are not curly girl method approved, they can play a very big role in making your curly and wavy hair look good!
A few of my favorite curly hair products contain silicone and I still use them from time to time and my results never disappoint.
Infact, your hair can benefit from silicones. If you use a curly hair product with silicones you will most likely experience:
Frizz control
Softness
Shine
Seals In moisture
Protects the hair from environment
However, silicones have a bad rep for hair care and styling because they are known to create a film over your hair strands and build up on your hair.
When this happens the argument is that you need harsh chemicals, like sulfates, to cleanse and clarify your hair and scalp.
Just as with sulfates, there are some silicones that are more harmful to your curly hair than other.
Water insoluble silicones can build up on your hair and scalp and because they aren't soluble in water, harsh sulfates or sufactants will be needed to cleanse your hair properly.
Water insoluble or non-water soluble silicones to avoid in your curly hair products:
Dimethicone
Dimethiconol
Amodimethicone
Amodimethicon
Ceteraryl methicone
Pheryl trimethicone
Stearyl dimethicone
Curly Girl Friendly Water Soluable Silicones
Thankfully there are some water soluble silicones that are ok to use to style your curly and wavy hair.
Before I get into water soluable silicones, please note again that this type of silicones is still not curly girl method approved.
If you're not intersted in following the curly girl method you may want to experiement with these silicones.
Silcones that are water soluable will break down in water and so, can prove to be the key to a great wash day.
Your hair can still benefit from these silicones and you can rest easy knowing that they can wash out pretty easily when you cleanse.
Water soluable silicones that are ok to use:
cyclomethicone
dimethicone copoyol
laurl methicone copolyol
PEG prefix before a silicone
Avoid Parabens For Curly Hair Products
Parabens are used as a preservative in hair and skin products to prevent the growth of bacteria.
However, parabens have been studied for years and there are many publications that suggest that they may cause adverse health effects. From hair and scalp damage to possible affecting hormones in your body.
In curly hair products you can easily spot a paraben as the ingredient will end in "paraben".
Some examples of parabens in curly hair products
Butyl parabens
Ethyl parabens
Methyl parabens
Propylparabens
Waxes and Non Natural Oils To Avoid For Curly Hair
Waxes and non natural oils weigh down you hair and build up, making it hard to clarify and cleanse your scalp and hair without using sulfates.
Waxes and Oils to avoid in curly hair products
Bees wax
Candelilla wax
Petrolatum
Mineral Oils
Paraffinum liquidum
Drying Alcohols To Avoid For Curly Hair
Alcohols that dry out the hair are obviously bad for your curls and waves. They will make you hair dry and frizzy so, avoid them when choosing your curly girl products.
Drying alcohol ingredients to avoid:
Benzyl alcohol
Ethanol alcohol
Ethyl alcohol
Isopropyl alcohol (IPA)
Isopropanol alcohol
Propanol alcohol
However, not all alcohols are drying. Some fatty alcohols are actually hydrating as they add moisture to your hair.
Good Alcohols In Curly Hair Products:
Behenyl alcohol
Cetyl alcohol
Cetearyl alcohol
Lanolin alcohol
Lauryl alcohol
Myristyl alcohol
Stearyl alcohol
Curly Girl Method Ingredient Checkers
While it's nice to know the exact ingredients to avoid for curly hair, most of us just don't have the time or patience to study ingredient lists of products.
Thankfully, you don't need to remember all of these specific ingredients as there are resources easily available to you to check curly hair products before you pruchase. Check out the websites and apps below.
How to easily find out if a product is curly girl method approved?
Curlscan is my current favorite (previously held by isitcg?), especially when I'm in a rush as all I have to do is enter the curly hair product and the result is whether it's curly girl (CG) method approved or not. If I have time and I choose, I can then explore the ingredients.
Is it CG and curlsbot allow you to enter the curly hair product's ingredients and then show results – whether it's curly girl method approved or not.
Think dirty and EWG apps are both available for download on the App Store or on Google play. You can simply scan the products if you're instore and get instant results.
I hope these lists of ingredients to avoid for curly hair has been helpful for you on your curly hair journey.
While it's beneficial to know the specific ingredients to avoid in your curly hair products, if you simply don't have the time or aren't interested in knowing all of these hard to pronounce words (like me), try out the website or apps.
Before You Go, You Will Love These Other Posts For Curly Hair:
Product recommendations
Product Reviews
Important Information To Care For Curls & Waves
Dyeing Textured Hair At Home Without Damaging It
Wavy & Curly Hair Routines & hairstyles