How To Get Damage Free Dyed Curly Hair At Home In 2022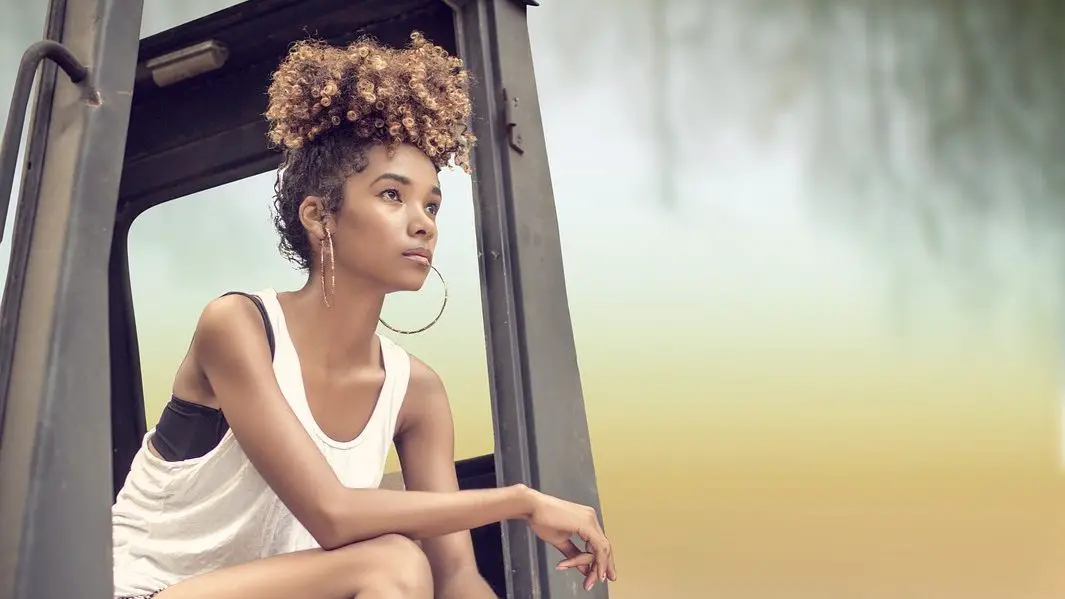 So you want dyed curly hair but you're not sure where to start. Or you want to dye your curly hair but you're afraid of damaging your curls – I get it!
Curly hair can be more prone to being dry and frizzy without adding chemicals to the mix.
But fear not, I have some great tips for you so that you can dye your curly hair at home without damaging it.
I'll also give you some tips on how to take care of your dyed curly hair.
Disclaimer: I am not a professional hairstylist and these are all tips and opinions are based on my personal experience as a curly girl.
Affiliate Disclosure: "This post contains affiliate links, which means I receive a small commission, at no extra cost to you, if you make a purchase using this link."
Should You Dye Your Curls?
Before we talk about dyeing your curly hair at home, let's start by tackling the first burning question –
"should I dye my curly hair?"
Because curly hair can naturally be dry, it's definitely worth researching to find out for sure whether the best thing for your curls is to expose them to chemicals, which may cause them to be drier and frizzier.
The good news is that coloring your curly hair is so much safer than it used to be.
There are fantastic hair dye products on the market that make dyeing your curly hair at home much safer and easier.
Will Dyeing Curly Hair Ruins Curls ?
Will dyeing your curly hair cause you to lose your curl pattern?
Nope! If your curly hair is colored with the best products and practices you should have damage-free dyed curly hair.
Dyeing curly hair doesn't mean that your curls will automatically be ruined or become straight.
However, it's important to keep in mind that coloring your curls may cause a change in the curl pattern if your hair is overprocessed.
For instance, if you lighten your curls too quickly – that is, if you go from dark hair color to blonde in one session, that can cause too much damage and loosen your curl pattern.
Also, if you use products that are too strong for your hair, you will likely end up with damaged curls.
The health of your curly hair before dyeing will have the biggest impact on the response of the dye to your curl pattern.
Will Curly Hair Highlights Ruin My Curls?
When you get curly hair highlights the right way and with good products, you won't experience damage.
In fact, doing curly hair highlights is probably better for your curly hair as it uses less hair dye and if done well, you'll get a beautiful result.
Is It Hard To Color Curly Hair At Home?
Drugstore hair dye products make it super easy and affordable to color your curls at home and can get great, damage-free dyed curly hair.
Be sure to prep your curls and follow the directions for your chosen hair color product.
If you're fearful of doing it yourself, definitely book an appointment with your preferred hairstylist.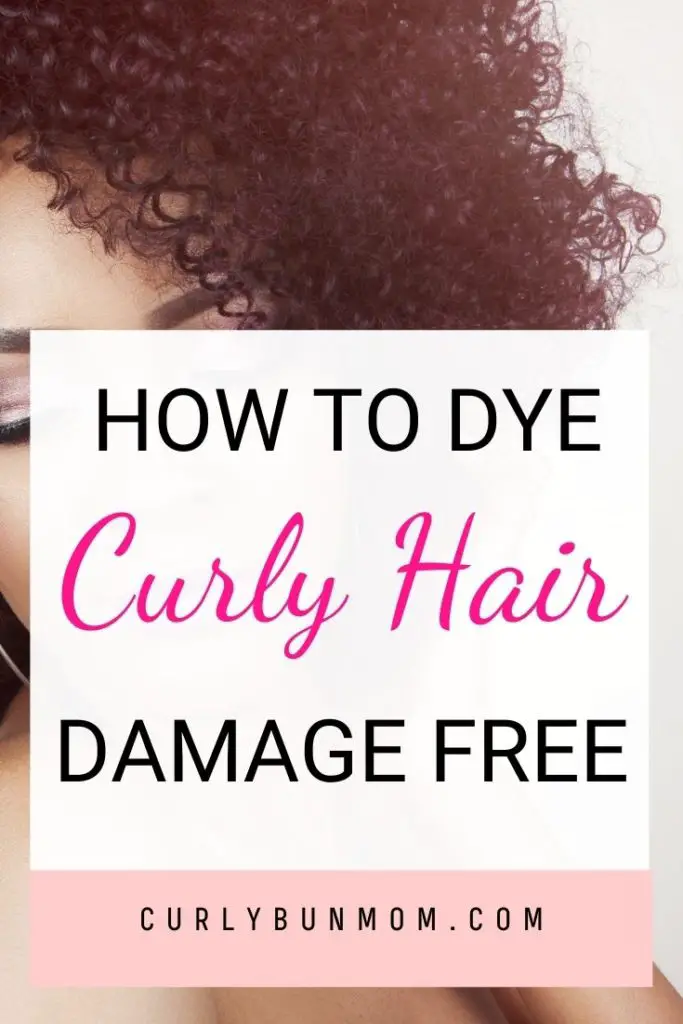 How To Color Curly Hair At Home With No Damage
Before attempting to color your curly hair at home, make sure your curls are ready and can handle the chemicals. Coloring damaged hair would most likely spell disaster.
If you usually follow good healthy curly hair habits and your hair is in good condition, you can try dyeing your curly hair at home, which is the cheapest way to get dyed curly hair.
5 tips to Color curly hair at home without damaging it:
Use color protector product to prep curls
Separate hair into 4 sections (more for highlighting)
Apply petroleum jelly to hairline
Use only a temporary, semi or demi permanent hair dye
Follow the product's directions for time
Items needed to dye or get curly hair highlights at home:
preferred hair dye
gloves
hair clips
tail comb
detangling hair brush
color brushes
bowls
squirt bottles
towels
foil
Curly Hair Dye Application Process:
Prepare your curls
Section hair for dye application
Apply petroleum jelly to hairline
Apply preferred hair dye
Rinse hair after waiting recommended time
1. Prep your curls
First, prep your hair with a color protector product. After the recommended time, rinse out and cleanse your curls.
This step is extremely important as you want to ensure you apply your highlights to clean hair. This gives your color the best opportunity to dye your curly hair properly.
Some say to apply your dye to unwashed hair but the feedback I've gotten from most curly girls is that they get more vibrant results from applying on washed hair.
2. Section curly hair for dye application
Air dry your curly hair before you apply your semi-permanent and demi-permanent hair dye to your curls.
If you're dyeing all of your curly hair, then separate and loosely braid them without any product so that they stay tangle-free as your hair dries.
If you're only dyeing the roots of your curly hair, then you can apply some leave-in conditioner to the ends of your curls where you won't be applying any hair color.
Before applying your preferred hair dye, separate your hair into four sections.
3. Apply petroleum jelly to hairline
Use a thin layer of petroleum jelly on your hairline to protect it from the hair dye. Once you're finished with the dye application, you can wipe away the petroleum jelly along with any dye.
4. Apply your hair dye of choice
The safest hair dyes to use for curly hair are temporary, semi or demi-permanent colors.
Regardless of the dye you choose, it's a really good idea to do a strand test prior to dyeing your hair, to ensure that it works well on your hair and that you like the color that you've chosen.
Let's take a brief look at each.
Temporary Hair Color – Make up for hair
If you'd like to have a very temporary color change, try Curl Smith's hair makeup for hairline.
This is an awesome line for temporary dyed curly hair – it's makeup for hair. The color will only last until your next wash day, so it's a fun, damage free way to add a little color for a short time.
Temporary color will sit on your hair strands and wash out the next time you wash your hair. Curl Smith has a great line if you're interested in this type of hair dye. It isn't damaging to your curls at all.
There are 5 colors to choose from:
ruby red
copper moment
rose gold
gold
turquoise
The coolest part is that these hair colors are also gels!
To apply this temporary hair dye, wash and style your hair as usual.
Then, section your hair and apply the gel with the praying hands' technique. Rub the product in the palm of your hands. If it's too thick, add a little water in your hand to make it easier to apply. This product can be quick-drying, so move quickly.
Place your palms over a section of your hair and glide from top to bottom over your curls.
After you've completed all sections, scrunch and leave to air dry or diffuse.
Semi Permanent Dye
Semi permanent color washes out eventually, usually about 4 to 6 weeks but you get to keep your curl pattern with little to no damage. There's no ammonia or peroxide in semi permanent dye, making it a great choice to preserve your curl pattern and reduce damage to your curls.
With a semi permanent dye, the color sits on the cuticle of your hair, lessening the exposure of your curls to anything too harsh.
A retouch isn't required because it fades after a certain number of washes. It's very easy to apply and inexpensive.
Demi Permanent Dye
Demi permanent hair dye sits on the cuticle of your hair as well as a small amount gets into the cortex of your hair.
It is a good option for a subtle change color to a darker shade as it deposits only and it's not strong enough to lighten your hair. It also works well for grey curly hair.
Similar to semi permanent dye, demi permanent hair color dyes are ammonia free which will help to reduce damage to your curls.
Dyeing all of your curly hair
Separate and secure your hair into four sections
With your gloves on, start applying the color into each section
Massage the hair dye into your curls in the section
When you've saturated one section with the hair dye, secure it in a bun
Work your way around until you've applied the dye to all of your hair
Curly Hair Highlights
Cut pieces of foil to your desired width for your highlights
Separate your hair into four or five sections using your tail comb and hair clips
Ensure that your sections are within the width of your foil pieces
Use a tail comb to create very thin sections
Apply the highlighting product to your hair with a dye brush
Wrap the saturated section in foil
Pintura Curly Hair Highlights
Pintura is the Spanish word for "painting" so the technique is similar to painting color on specific curls.
These curly hair highlights don't involve the use of foil and application is pretty easy.
Root touch ups
Section & secure you hair
Use a tail comb to make smaller sections in each section
Apply the hair dye to the roots of your hair only – of each small section
Dyeing Your Hair From Brown To Blonde
If you're going blonde the most important thing to do is to take your time! Don't lighten your hair in one session.
This is especially true if you're going from dark curly hair to blonde curly hair.
This will help your hair to stay healthy and will result in less damage. Most curly girls prefer to let a professional hair stylist do the transition to blonde.
6. Rinse out the hair dye & style as usual
Once you've waited the recommended time, rinse out the dye thoroughly. Be very gentle while washing your hair.
Rinse your hair until the water is clear.
Use a deep conditioner or hair mask for your freshly dyed curly hair.
Then, style using your preferred curly hair routine and enjoy your new look!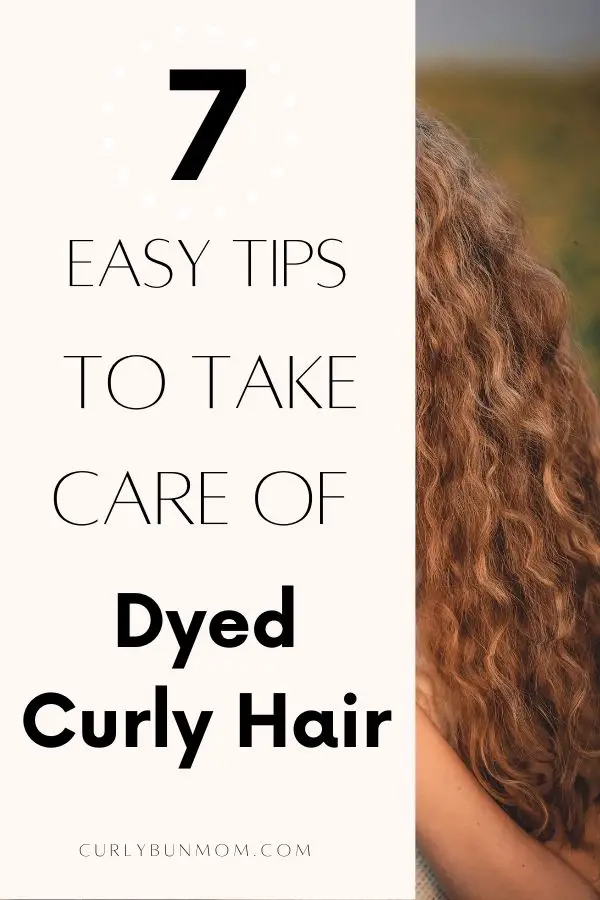 How To Take Care Of Dyed Curly Hair
Now that you have your fresh new look. Let's ensure that you know how to protect your dyed curly hair.
tips for taking care of your curly dyed hair:
1. Use products that are hydrating and strengthening after dyeing your curls
2. Be as gentle as you can with your dyed curly hair and do a hair treatment as soon as possible.
3. Try not to wash your hair for at least 5 days after coloring
4. Use sulfate-free shampoos that help to protect and preserve your color.
Tip: If you dyed your curly hair blonde, use a purple shampoo. This helps to preserve the blonde color.
5. Deep condition once a week
6. Use a protein mask to strengthen your curls every month
7. Follow a moisture-rich curly hair routine
Last thoughts about dyed curly hair
Dyeing curly hair doesn't have to be scary and it certainly doesn't have to be damaging, especially if you follow the tips in this article.
The main thing to keep in mind about getting dyed curly hair at home is to use temporary, semi, or demi-permanent hair dye and have a curly hair routine after dyeing that is rich in hydration.
However, if you're not up for trying this at home, schedule an appointment with a hairstylist who specializes and has a lot of experience with dyeing curly hair.
At your appointment be clear about what you'd like your results to be and ensure that you leave with some recommendations for aftercare and products.
I'd love to hear from you – have you dyed your curly hair? Or do you plan to after reading this post? Let me know below 🙂
Before You Go, You Will Love These Other Posts For Curly & Wavy Hair: