How To Refresh Curls In The Morning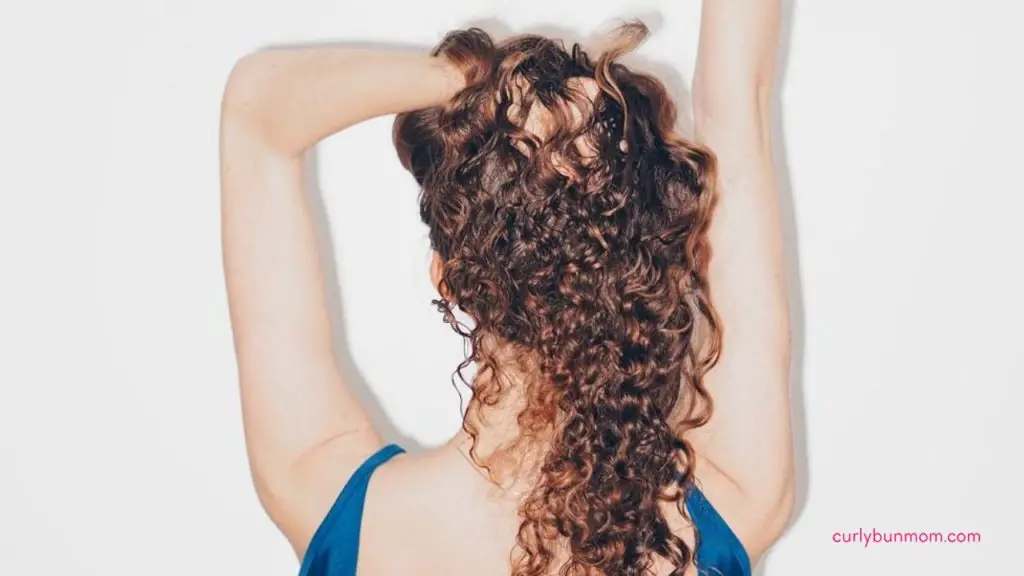 Knowing how to refresh curls in the morning after sleeping is a necessity for every curly girl.
You want your defined curls to last all week without much effort but does your curly hair have second day frizz or third or fourth day limp curls?
Try the steps in this post to help you learn how to refresh your curly or wavy hair so that your hair still looks gorgeous long after wash day.
Affiliate Disclosure: "This post contains affiliate links, which means I receive a small commission, at no extra cost to you, if you make a purchase using this link."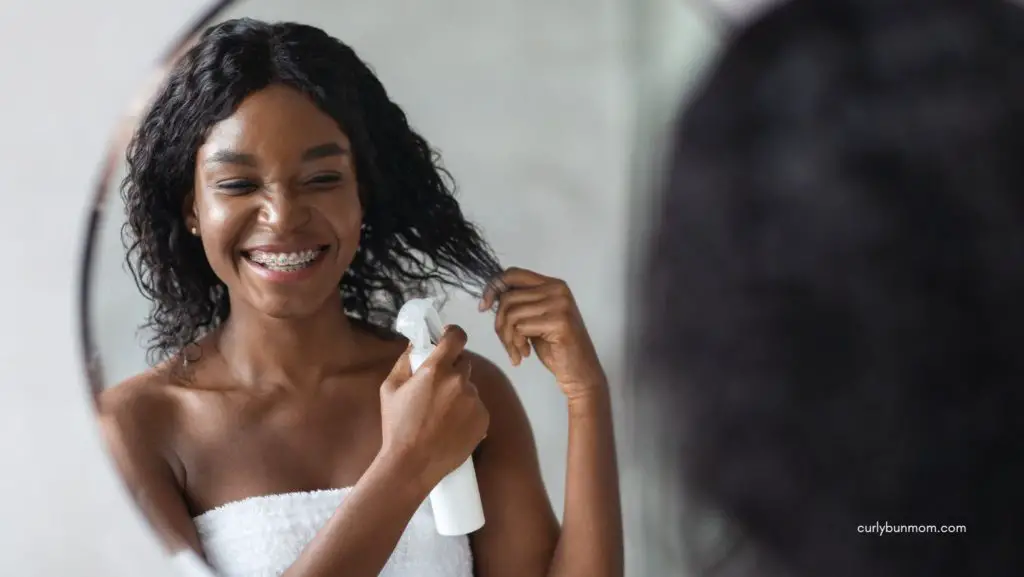 How To Refresh Curls Throughout The Week
Refreshing second day curly hair and curls throughout the week can take just a few minutes each morning.
As the week progresses, you may find that your curly hair gets more volume and has the potential to look fabulous with little effort from you.
Refreshing your curls throughout the week starts before refreshing steps even starts.
Follow these curly girl tips before you even get to refreshing your hair throughout the week:
1. Have a good wash day
The first thing you need to ensure to make refreshing curly hair a breeze is to have a good curly girl wash day routine that will give you long-lasting results.
2. Use water activated curly girl styling products
Using styling products that have water as the first ingredient means that it's activated when you apply water. So, to refresh second day curly hair, sometimes all you need to do is use water to reactivate the product, redefine your curls by finger coiling unruly curly strands, or by scrunching and dry.
3. Protect your curly hair while you sleep
The next thing you need to do to make refreshing your curls or waves easier is to learn how to sleep with your curly or wavy hair while you sleep.
How you sleep with your curly hair determines how difficult your refresh routine has to be.
The less your curls and waves are disturbed while you sleep, the less frizz you have in the morning, the easier it will be to refresh your curls in the morning.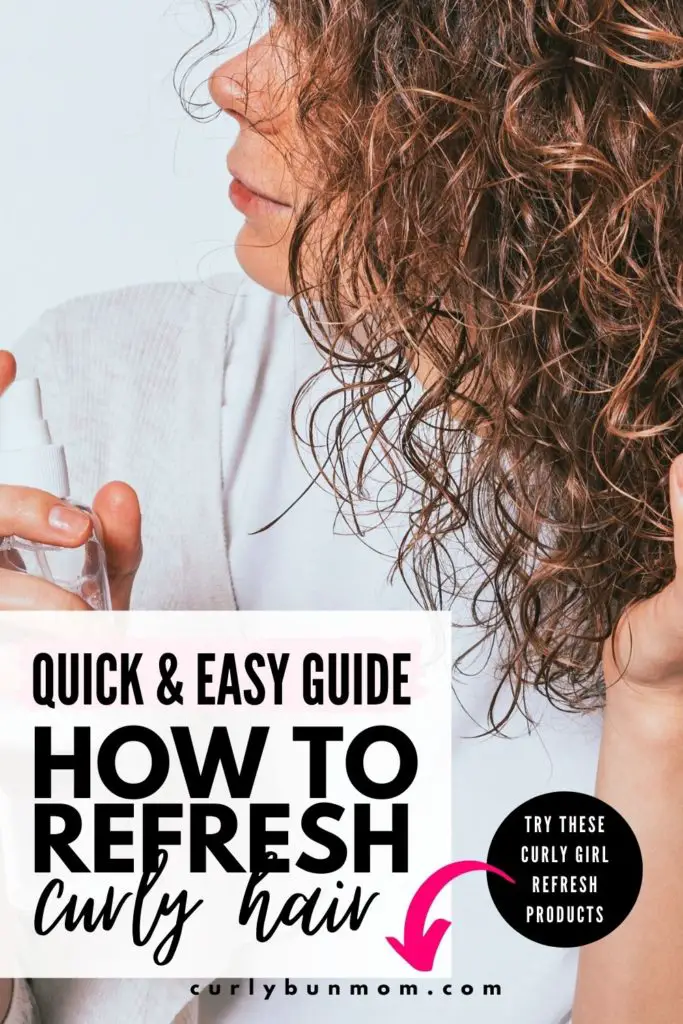 Curly Girl Refresh Routine
Now let's jump into the actual curly hair refresh steps. Here's how I refresh 2nd day curly hair and the rest of the week, after sleeping on it to get the best results.
Dampen curls with water
Apply curly girl styling product
Define frizzy or undefined curls
Scrunch for maximum curl definition
Dry
Apply serum
Dampen your curls with water
Start refreshing your curls by dampening with water. You can do this by using a misting spray bottle all over your hair.
At this point, if your curls just needed a little water to reactivate the products you used on wash day, simply skip the next step and jump to step 3.
Apply Curly Girl Products
If your hair needs more hydration and/or hold, then apply a small amount of your product at this point.
Using the praying hands technique, smooth your preferred curly girl hair product over your unruly curls to tame the frizz.
You don't want to rake your fingers through your curls to mess with the curl pattern you've already created.
Define your curls
If you have any loose or undefined curls, you can finger coil those curl clumps to redefine them and remove frizz.
Scrunch
Scrunch your curls to achieve maximum definition and move on to the final step.
Dry your refreshed curls
Dry your hair with your preferred method – diffuse or airdry your refreshed curls.
Finish with serum or oil
If your hair needs a little extra shine, to finish your curly hair refresh, you can gently smooth a small amount of your favorite serum or hair oil.
Adding a serum or oil, will also help to soften your curls if you added gel in step 2.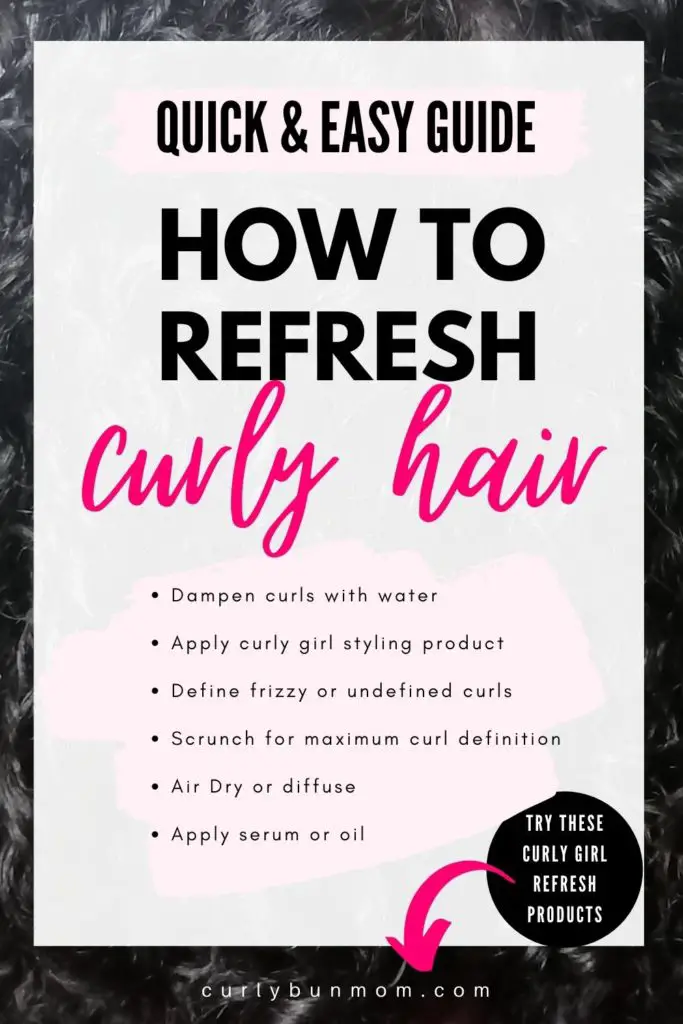 How To Refresh Curls In The Morning Without Water
Using water to refresh your curls is not necessary for all curly and wavy girls. In fact, some curls and waves react badly when water is added on refresh days.
Some curls and waves just need a little oil or serum to refresh second day curls.
If you're one of those, all you need to do is rub some serum or oil in the palm of your hands and gently smooth it over curls to refresh them. Give your waves or curls a scrunch and that's it!
This should instantly tame any frizzy curly hair and add shine.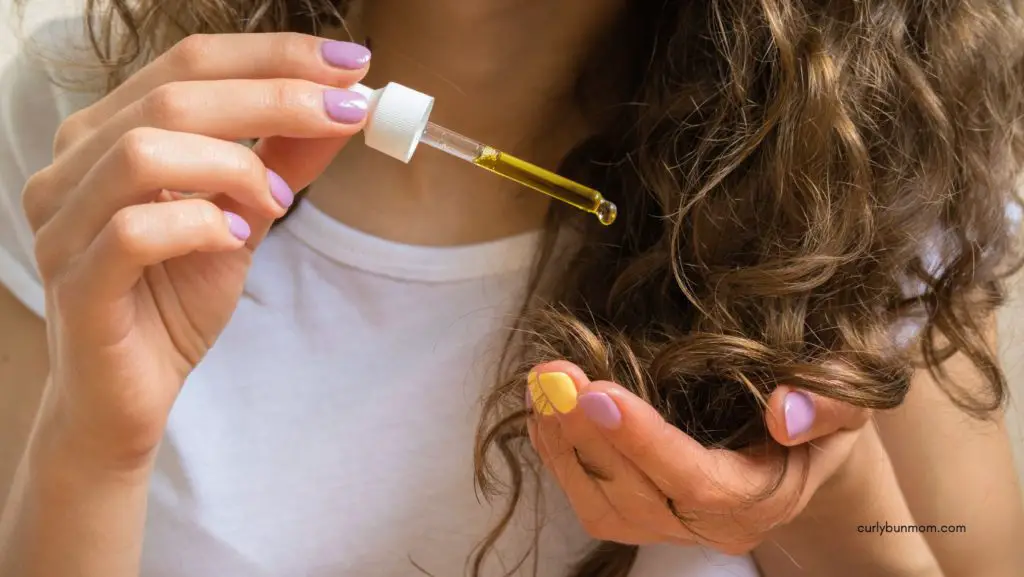 How To Refresh Wavy Hair In The Morning
Refreshing 2a 2b 2c hair is similar to refreshing curlier hair.
The main difference I've noticed is that wavy hair doesn't need to be dampened in the same way as curlier hair.
Most wavy girls get the best refresh results with using little to no water at all.
As with curlier hair types, the first step is to have a solid wash day routine and protecting your wavy hair while you sleep.
To refresh your wavy hair:
Shake out your waves
If needed, apply some dry shampoo to your crown to get more volume
Apply a curl refresher spray like Aussie's Curl Refresher or a serum oil
Scrunch
Air dry or diffuse if you used water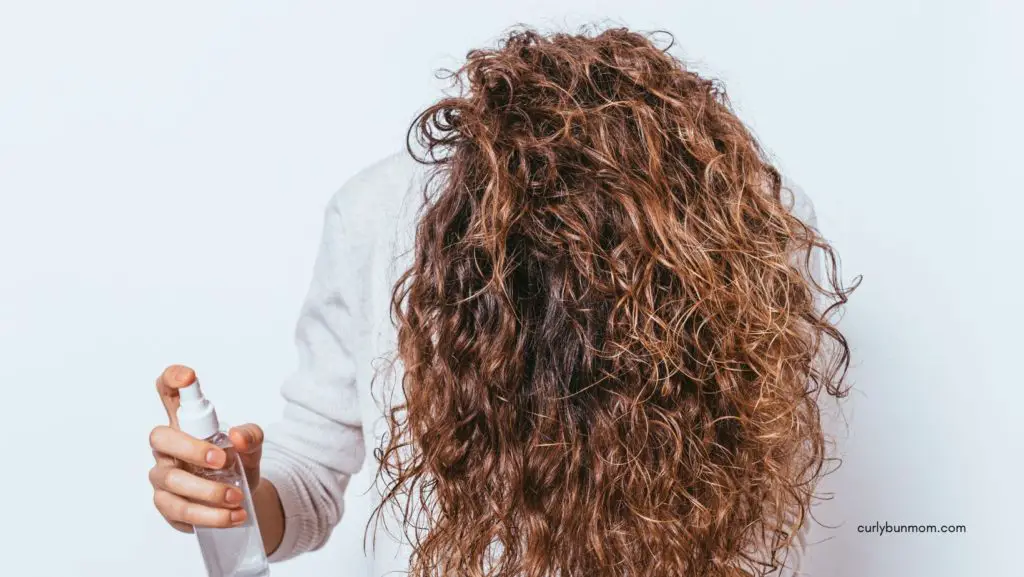 How To Refresh Curls After A Workout
The great news for curly girls is that you don't have to wash your hair after each workout.
A good routine to refresh your curly hair after a workout will save you from having to wash your hair too often. Dry shampoo is your best option to cleanse and refresh.
Before we talk about an after workout hair routine, let's think about your wavy or curly hair before working out. It's best to secure your curls or waves in a high ponytail or loose curly bun to preserve your curls.
If your hair is too short to go in a pony tail is to just use a hair band to keep your hair out of your face.
Try these tips after your workout to refresh your curls or waves:
Take your hair out of your ponytail or curly bun and gently fluff your roots
Spray some water on your curls
Apply a root refresher or dry shampoo
Next, if your wash day products aren't activated by water or if you curls need more product, apply your preferred curly girl product, like a leave-in conditioner or curly girl gel.
Finger curl any loose curls that lost definition
Scrunch
Dry as usual – air dry or diffuse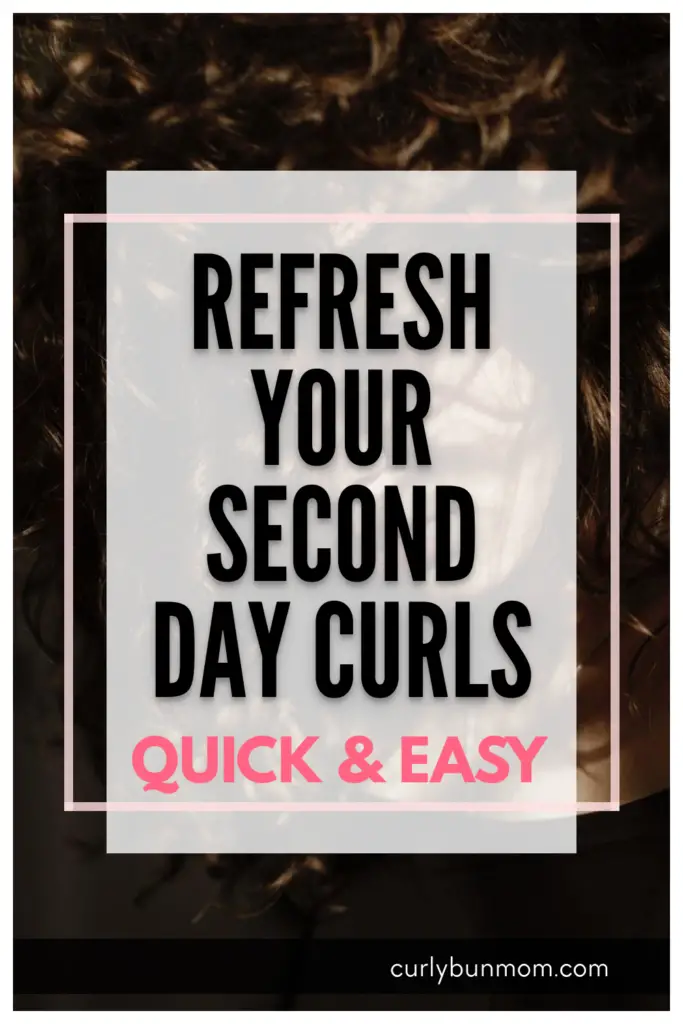 Refresh Day Curly Hair Products
Most curly girls will need different products depending on the refresh day. For instance:
Day 2 Products for second day curls
To refresh your second day curls, you may not need to add any product. Dampening your hair with just a little water to reactivate your curls will do the trick.
However, if you need some extra moisture, you could apply your favorite curly girl leave in conditioner or your diy refresh spray. To make your own refresh spray, simply combine your favorite leave in conditioner with some water in a spray bottle and that's it! You have your own curly girl spray to refresh your curls throughout the week.
Day 3 refresh products
Your day 3 curls may be getting a bit drier so using a curly girl cream styler may be best. If you also need some extra old, add a small amount of mousse or gel.
Day 4, 5 and 6 curly girl refresh products
From day 4, I typically always need water, leave in conditioner, and a little gel to refresh my curls and tame frizz. I also finger coil any loose, undefined curls.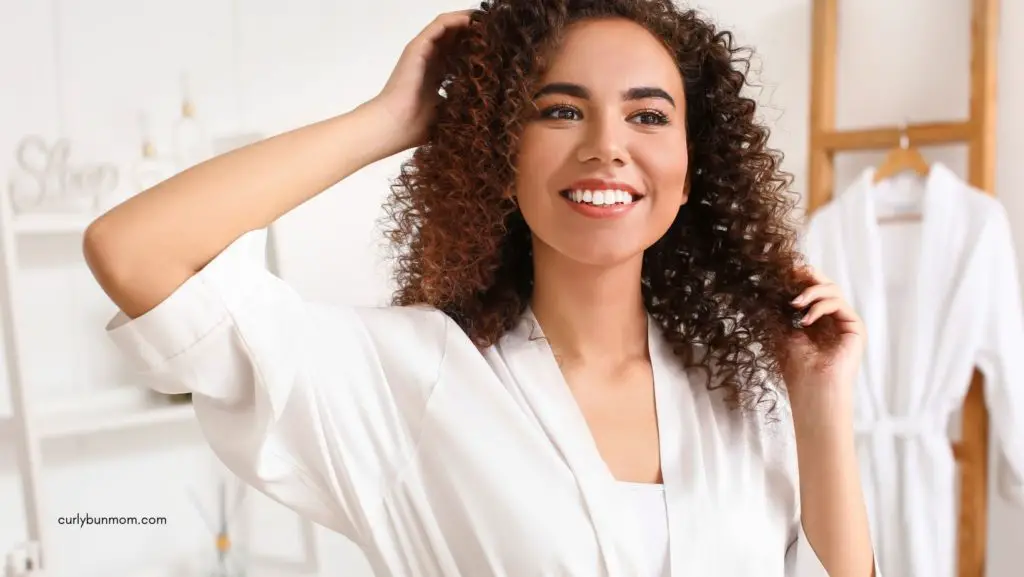 Try these curly girl products for to refresh your curls. You can easily purchase any of these on Amazon by clicking on the link or you should be able to find them at your local drugstore.
Leave-in conditioners for refreshing curly hair
Refresh day Curl Creams
Curl Girl Gels For Refresh Days
Curly Girl Mousse Stylers
Dry Shampoos for after workout and refresh days
Curly Refresh Days Recap
To recap, let's review the tips to refresh your curly or wavy hair in the morning:
Use products with water as the first ingredient so that on refresh days, adding a little water to your curls will reactivate the curly products you used on day 1 (your wash day).
Experiment with techniques and products until you get the refresh results that make you and your curls happy
I hope these curly and wavy hair refresh tips help you to have easier refresh days with better results.
Have you found a refresh day routine that your love? How do you refresh your curls throughout the week? And, what are your favorite curly or wavy hair refresh products?
Before you go, check out these other curly girl posts:
You May Also Like