What Is Wet Frizz, Webbing Curly Hair – Causes & How To Fix It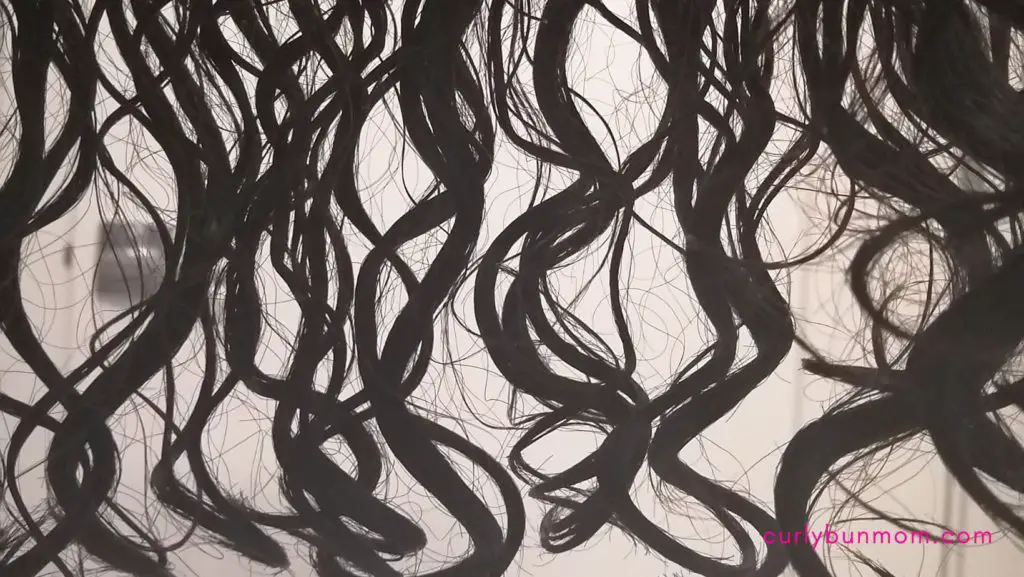 As a curly girl, I'm sure you've experienced wet frizz, halo frizz or hair webbing after washing your hair or after applying your styling products.
And, I'm sure you've wondered if the wet frizz you see is normal for your curly hair.
Today, let's learn about wet frizz – what is it, what causes it and how to handle unruly wet frizzy curly hair.
The truth is that a little wet frizz is totally normal and ok.
It's pretty common among curly girls and doesn't always mean that your hair is unhealthy.
In fact, a little frizz can even add to the beauty of your natural textured hair.
Affiliate Disclosure: "This post contains affiliate links, which means I receive a small commission, at no extra cost to you, if you make a purchase using this link."
What is Wet Frizz
Wet frizz as the name suggests is when you experience frizz when your hair is still wet. Your curls don't clump together and instead, you have strands of hair that dry faster and "fly away".
The biggest issue with wet frizz is that it will be frizzy when it's dry.
Wet frizz often occurs after washing, applying styling products and through the air drying process.
If you look at the picture of my wet curly hair below, you can see some of the strands aren't clumped with the rest – this is what wet frizz looks like.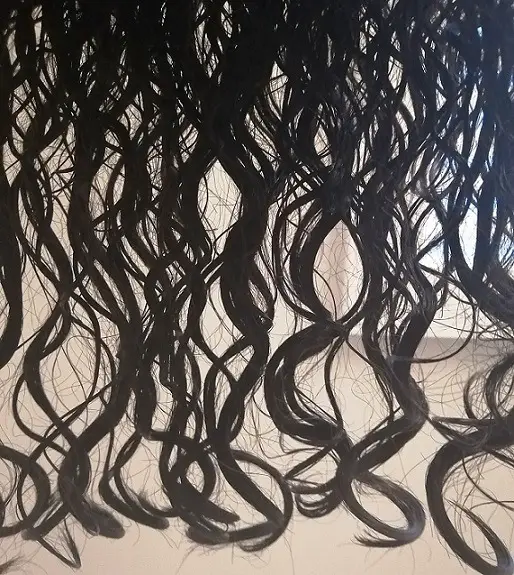 The best way to reduce frizz while your hair is wet, is to ensure that you use the proper curly girl methods and products to maintain a healthy moisture/protein balance.
Is Wet Frizz Normal?
Yes, a small amount of wet frizz is totally normal and your hair will typically dry well, with minimum frizz.
If you have a lot of wet frizz, it is most probably a sign that your hair needs some moisture and some TLC.
What Is Halo Frizz
Halo frizz refers to frizz that only occurs on the crown of your head.
A very easy and quick fix for halo frizz is spray a little water or apply a water with your hands on the frizz.
This can reactivate the products you styled your curls with, or you can apply a little more gel and finger coil the frizzy curls.
What Is Hair Webbing
Hair webbing refers to the way your frizzy curly strands stick or web together when you try to separate them.
Hair webbing is ultimately a sign that your hair needs hydration.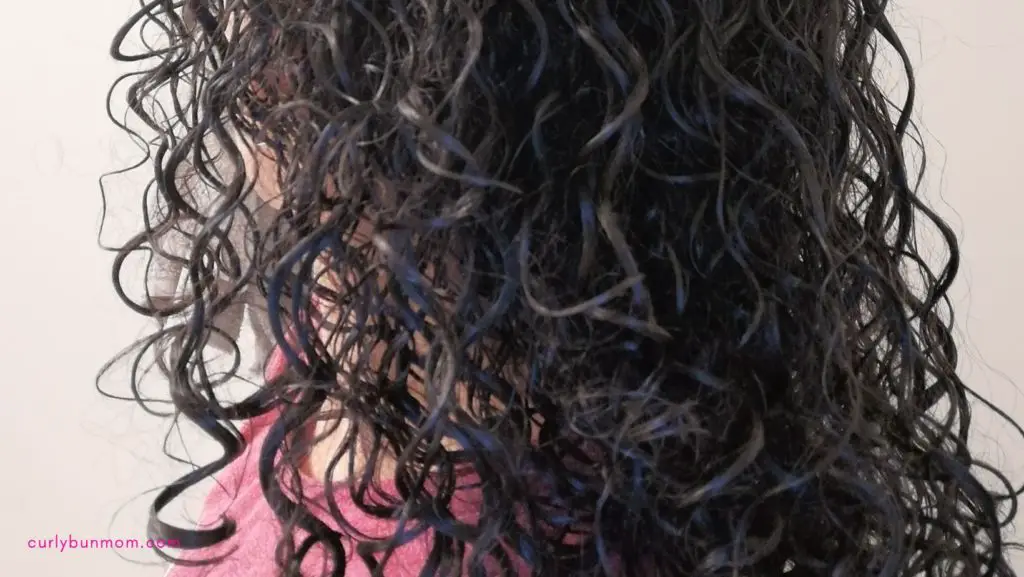 What Causes Wet Frizz
The main cause of frizz is dry, dehydrated hair.
Dry hair tends to be brittle which causes split ends, breakage and of course, frizz.
Causes Of wet frizz:
damaged hair from heat or harsh chemicals
washing hair with harsh sulfates
product buildup
not following curly girl styling techniques (using a regular towel to dry hair, for instance)
not protecting your curls while you sleep
How Do You Get Rid Of Wet Frizz
So, how to fix wet frizz on curly hair?
The quickest way to fix wet frizz on your curly hair the first step is to hydrate your curls by adding more water to your hair before styling.
The easiest way to do this is by using your hands to smooth some water on your hair.
Your curls should clump together quickly and you should have little to no wet frizz.
If you're still experiencing wet frizz, especially at the roots, after adding the water to your wet frizz, finger coil the unruly curly hair.
To fix wet frizz, it's also crucial that you follow a moisturizing curly girl routine, filled with hair masks, treatments, leave-in conditioners, and curl girl creams.
Use curly hair products with moisturizing ingredients high up on the list, such as:
water
cetyl, stearyl and cetearyl alcohol
glycerin
honey
shea butter
aloe vera
sorbitol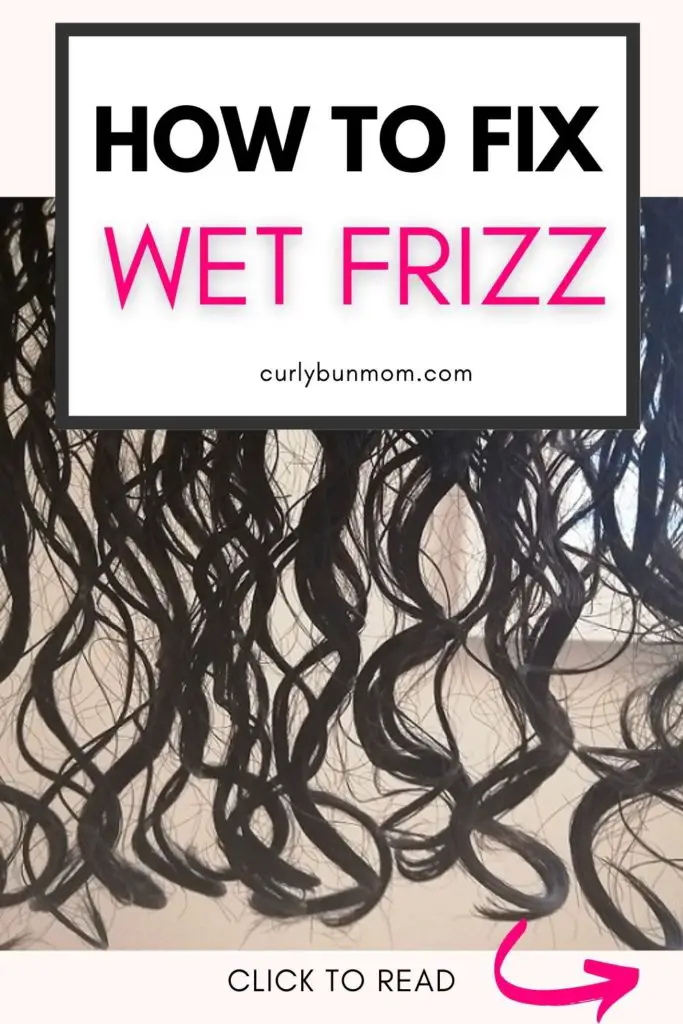 Tips to help get rid of wet frizz, Curly Hair:
Cleanse with a gentle, sulphate free shampoo
Clarify your hair to remove product buildup
Deep condition every week
Choose the right deep conditioner
Use a cotton tshirt or microfiber towel

Apply hydrating styling products on wet or damp hair

Use styling brush to define curls
Plop hair before drying
Diffuse your hair on low – medium heat
Try the curly girl method
Try different curly girl products
Cleanse with a gentle, sulphate free shampoo
To fight wet frizz, choose a gentle sulfate free, low poo shampoo to cleanse your scalp and hair from buildup. Using a shampoo with sulfates may strip your already dry hair from the natural oils and moisture that it really needs.

Clarify your hair to remove product buildup
If your hair and scalp has a lot of build up, you may need to clarify your hair with a clarifying shampoo.
Clarifying your hair is more of a deep cleanse to remove build up and residue from products that may be blocked moisutre from entering your hair's shaft.

Deep condition every week
Deep conditioning, every week, with the right deep conditioner, changed my curly hair's health the most.
Deep conditioning is one of the most important steps you can take to maintain healthy, curly hair.
By doing it every week, you ensure that your curls are hydrated and less prone to breakage.
Curly hair is naturally dryer than straight hair, so it needs all the hydration it can get.
Deep conditioning replenishes moisture levels, making curls softer and shinier.
Deep conditioning with a protein treatment will also help if your hair needs to be strengthened.
By fortifying your strands with a weekly treatment, you can keep your hair looking healthy and vibrant.
Finally, deep conditioning gives your curls a boost of definition and helps to tame frizz, including wet frizz. If you want your curls to look their best, make sure you're deep conditioning on a regular basis!
Read more about deep conditioning curly hair.
Choose the right deep conditioner
For your curly hair to be healthy and less dry and frizzy, protein moisture balance is critical and the prodcuts you choose for your hair will help to create and maintain this balance.
Before choosing your deep conditioner, assess your hair to determine if it needs a protein treatment or a hydrating deep conditioner.
Read more about moisture overload and protein overload.
If you're in need of moisture, these are two of my favorite moisturizing deep conditioners
And, if you're in need of a protein treatment, this is my favorite protein rich deep conditioner:
Use Cotton Tshirt or Microfiber Towel
Drying your hair with your bath towel is a great way to ensure that you get wet frizz and damage your hair.
The friction from your hair rubbing against the towel's material can lead to damaged, frizzy curls.
Instead, after rinsing your deep conditioner, gently wrap your curls using a cotton tshirt or microfiber towel. These materials are much gentler ont he hair shaft, therefore reducing wet frizz.
Apply Styling Products On Wet Or Damp Hair
Applying your curly girl products while your hair is wet or damp helps to lock in moisture and minimize wet frizz.
Some curly girls get best results when they apply products to soaking wet hair and others, like me, get the best results when applying styling products to damp hair.
If you encounter some wet frizz while applying your styling products, simply dampen your hair before applying your products.
Another styling tip to reduce wet frizz is to always use a gel or mousse to form a gel cast over your defined curls.
Read more about Gel Casts and how to srunch out the crunch.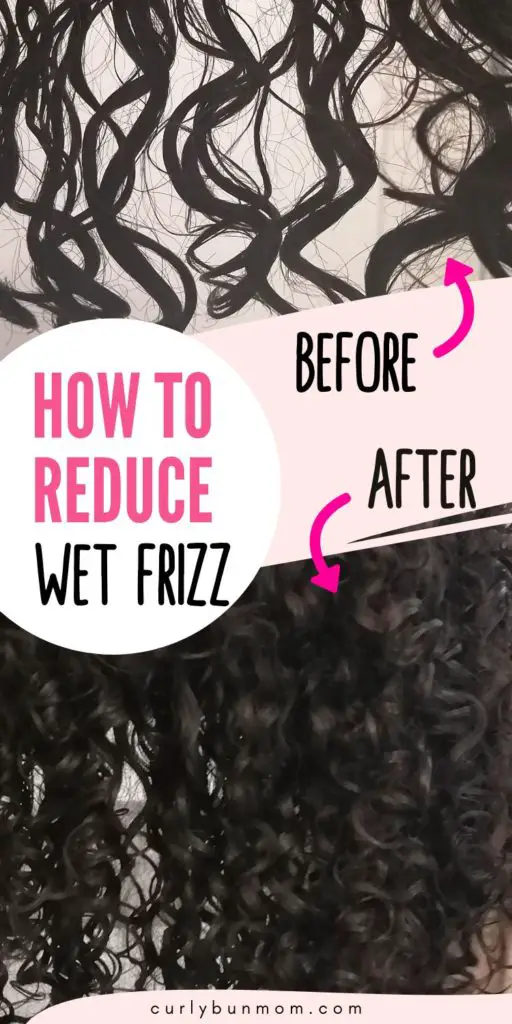 Use A styling brush to define curls
Using a brush on wet hair, like the tangle teezer to distribute your styling products will help to ensure even application.
After evenly distributing your styling products, work in sections, using a tangle teezer or Denman brush to define your curls.
Plop hair before drying
Another great way to reduce wet frizz is to plop your hair after styling.
Plopping helps to reduce wet frizz by allowing a gel cast to form while your hair is safely tucked up in your cotton tshirt or microbfiber towel.
There are hair plopping towels that you can purchase but you can also stick with a cotton tshirt to plop your curls.

Diffuse your hair on low heat
Diffusing helps to dry your curls before they get a chance to come in contact with your clothes and other elements that could increase your frizz.
After plopping, hover your diffuser all around your head until almost dry before moving on to the length of your hair.
Be sure to use your diffuser on low heat to avoid heat damage!

Try the curly girl method
If you've tried all the tips above and you're still experience more wet frizz than you would like, try the curly girl method (CGM).
This method was developed by Lorraine Massey and many curly girls swear by it.
The cgm is a set of rules that curly girls should follow and ingredients that they should avoid using.
Even if you choose not to follow the method strictly, it's a good idea to learn about it and decide what practices would be good for your hair.
Read more about the curly girl method and recommended products here.

Try different products
Switching your products may be all that you need to do to reduce the wet frizz that you're experiencing.
Using more moisturizing products and a stronger hold gel may do the trick. Or, using products that are free from harsh sulfates, parabens and silicones may be best for you.
Perhaps, you just need to add a clarifying shampoo to your curly routine to reset your hair.
Assess your hair and current products and try experimenting with different products.
Here are some posts that you may love:
Best Curly Girl Products For Wet Frizz
These are my favorite curly girl products for wet frizz that help to tame my unruly hair every time. You can easily purchase any of these products on Amazon by clicking on the links 🙂
Olaplex Number 0 and Number 3
One of the best products to help damaged curly hair is the build the bond treatment from Olapex.
Olaplex no 0 and Olaplex no 3 should be used together.
It's a pre-shampoo treatment for damaged curly hair – Olaplex Number 0 prepares your hair for deeper penetration of Olaplex number 3.
To apply these Olapex products on clean, dry hair:
Separate your hair into two sections
Saturate Olapex 0 from root to tip with your focus on the damaged areas
Gently massage the product into your hair before moving on to the next section
Leave it for about 10 minutes before moving on to Olaplex 3
Apply the Olaplex 3 to your hair, again, focusing on the damaged areas
Leave in for about 10 mins
Wash and condition your hair as usual
Low Poo Shampoo (sulphate free shampoo) :
Find more Sulfate free (low poo) shampoos here.
Curly Girl Conditioners
Find more Curly Girl Conditioners here.
Curly Girl Friendly Deep Conditioners For Frizz
Find more Curly Girl Deep Conditioners here.
Leave in Conditioner
Find more Curly Girl Leave In Conditioners here.
Curly Girl Method Approved Curl Cream
CG Approved Gel
Find more Curly Girl Gels here.
Sealing Oils
Wet Frizz On Curly Hair Wrap Up
At the end of the day, some frizz is expected, especially if you're a curly girl. The key is to ensure that you're using the best products to fight frizzy and using curly girl techniques to apply and treat your curls.
Try the curly girl method to improve the health of your curly hair and always experiment with curly girl approved products to find the best for your curls.
Before you go, check out these other curly girl posts:
You May Also Like