Easy Bandana & Scarf Hairstyles For Curly & Wavy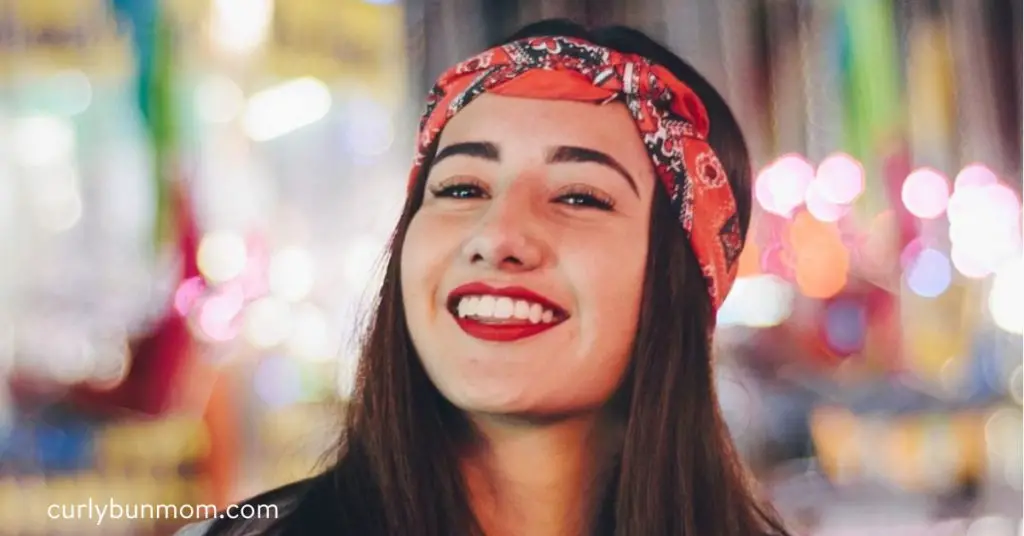 Bandana hairstyles or scarf hairstyles are perfect for curly and wavy hair to complete your chic, laidback look. Scarf or Bandana headbands and hairstyles are also the perfect addition to your hairstyle for spring and summer to add a fun pop of color and won't damage your hair.
Are Bandanas & Scarfs Still In Style In 2021?
Before we jump into some super cute bandana hairstyles for your wavy, curly or straight hair, let's answer an important question! Are bananas even still in style in 2021?
I'm very happy to report that bandanas are still very hot and trendy and this style isn't going anywhere, anytime soon.
Ways to Style Your Hair With A Scarf Or Bandana
Bandana Headband
Braid
Ponytail
Bun
Pineapple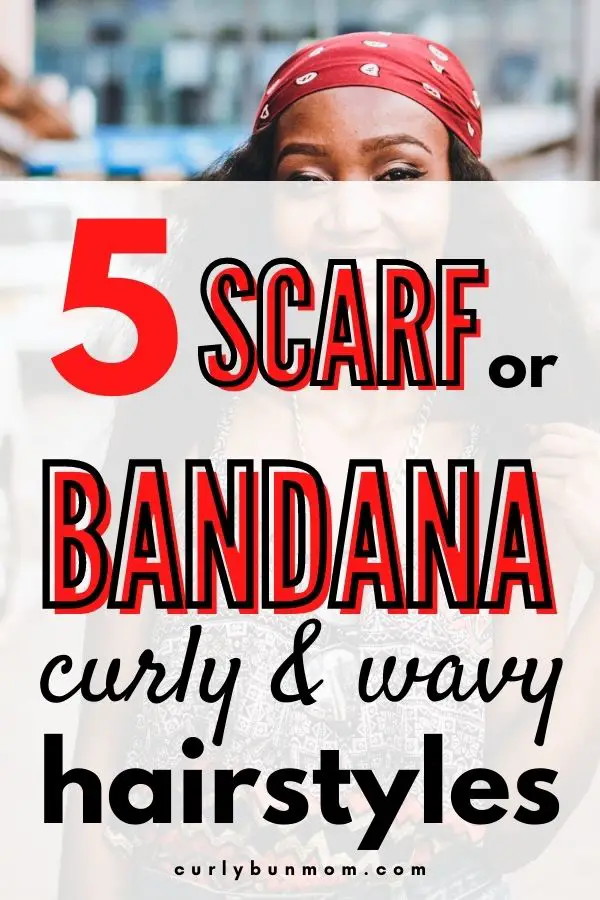 Bandana Headband Styles
Let's start with a super easy bandana hairstyle – styling with it as a headband. So, how do you style a bandana headband on your wavy, curly or straight hair? To style:
Fold your bandana to form a triangle
then keep folding diagonally until you have a one inch (or wider) band.
Holding the ends of the bandana, place your bandana headband in a comfortale position at the top of your head.
Tie the ends of the bandana at the base of your head.
Finally, adjust any strands around the frame of your face to soften your look.
Bandana Headband Hairstyles are also perfect for short hair of any texture (straight, curly or wavy).
This bandana headband still is so easy and will keep your hair back so that you can show your gorgeous face. You'll also add some fun color to your hairstyle.
Scarf Or Bandana Pony Tail Hairstyle
A high, middle, low, or half ponytail is an awesome bandana hairstyle for your straight, wavy, or curly hair. This bandana hairstyle works best with a smaller bandana so it doesn't overpower your hairstyle. To style:
Secure your preferred pony tail with a hairtie
Fold the bandana in a triangle
Keep folding diagonally until you make a strip
Wrap the bandana around the pony tail and secure it with a hair pin
Bandana Or Scarf Plait Or Braid For Wavy, Curly Hair
A braided or plait hairstyle with a scarf or bandana will add color all through your plait or braid. To style:
Make a triangle with your scarf or bandana
Fold your bandana to your preferred width
Put your hair in a pony tail
Wrap the scarf around your pony tail
Create two equal sections for your braid
Start braiding your hair with the two sections and the scarf as the third section of your braid or plait
Braid as usual incorporating the scarf or banada with sections of your braid (one section will be without piece of the scarf or bandana)
Secure your braid with an elastic
Alternatively, in step 5, you can create three equal sections of your hair. Next, hold the middle of your scarf and place it on top of your ponytail and incorporate one half of the scarf with one section of your plait and the other with another section of your plait. Note that one section of your hair will not have part of the scarf. Plait or braid your hair as usual.
Scarf Or Bandana Bun Hairstyle
The super easy style is, of course, my favourite. I love putting my curly hair in a bun. Adding a scarf or bandana adds a pop of colour and makes my bun even cuter. The easiest way to do this style is to create a bun and simply wrap your scarf around your bun and secure the ends under or tie the bandana or scarf in a knot or bow to secure. And that's literally it!
Curly Pineapple With Scarf Or bandana
This hairstyle is super cute for the day and protective when sleeping with your curly or wavy hair.
To style your curly or wavy hair in a pineapple with a scarf or bandana:
Fold your scarf in a triangle
Bend your head over and place the long part of the scarf at the base of your neck (so that the pointy part is at the top of your head)
Next, criss cross by your forehead
Then, wrap again to the back of your head and secure with a knot or bow
There are many other ways that you can style your curly hair or wavy hair with a scarf or bandana but these 5 are my faves because they're so easy and very cute.
I hope you try these hairstyles and fall in love with the looks. Let me know in the comments below 🙂
Before You Go, You Will Love These Other Posts For Curly & Wavy Hair: