Ways To Save Money And Spend Less In December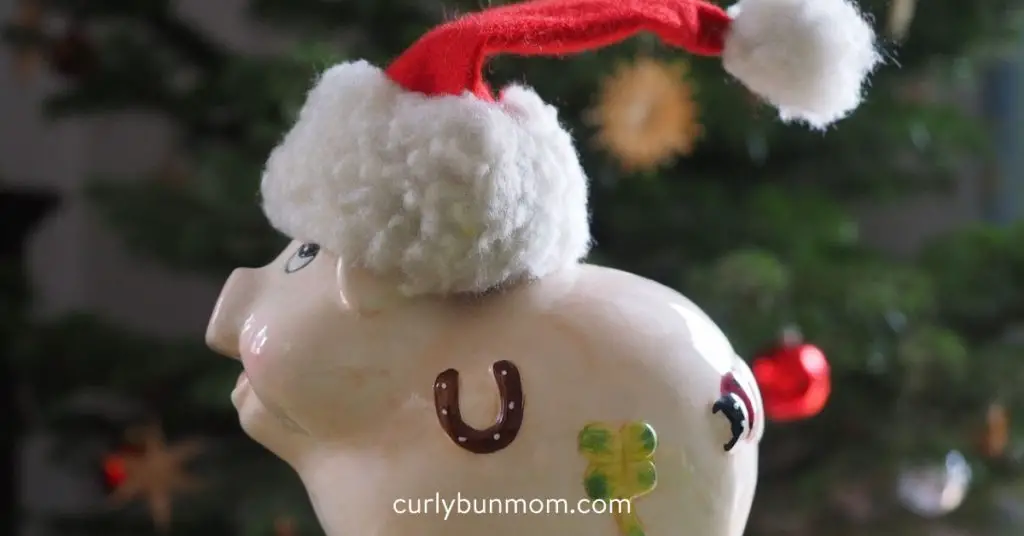 Today, this post will help you learn how to save money in December and still have a happy Christmas and a great start to your new year.
Christmas is a time when most people find that it's easy to overdo and spend way too much money, especially if you absolutely love everything about Christmas.
The bad part is that in December, most are drunk off the Christmas spirit and then live in regret or debt in January.
If this sounds like you, this post is for you 🙂
Money Saving Tips To Save This Christmas
Christmas doesn't have to be as expensive as you think it should be – there are many things that you can probably do without in December and still have a very merry Christmas.
To save money in December, try these tips:
Budget
Stick to your budget
Don't impulse buy
Save money on Christmas gifts
Don't over do on the Christmas menu
Budget To Save Money In December
The first step to saving more money in December is to create a Christmas budget.
The next and much harder step for most of us is to stick to that budget.
Join the subscriber only resource library below!
Be sure to include everything that you traditionally spend money on for Christmas.
Here are some ideas of things to include in your Christmas Budget:
Donations
Heating
Gifts
Stocking stuffers
Christmas decorations
Wrapping materials
Groceries
Clothes
Holiday parties
Traveling
New Year's Eve
Buffer for unforseen expenses
two ways To Create A Christmas budget:
Budget for Christmas with December's income
Create a Christmas savings fund
Budget With December's Income
Budgeting with December's income is especially great if you receive an end-of-year bonus.
You can budget to use part of the bonus for Christmas expenses.
If you're creating your December budget on your regular monthly income, then perhaps cutting a bit in all areas of your budget can create some Christmas spending money.
Christmas Savings Fund
If you've been struggling to fund you Christmas spending with your income in December, a great idea is to start saving a little money each month so that in December, you have a Christmas savings fund.
This is a great way to save over time and not feel stressed out by December expenses.
To start your Christmas savings fund, it's important to note all of your December expenses related to Christmas so that you know how much you need to save.
Simply divide that number by 12 and you will get your monthly savings goal for your savings fund.
This is my preferred method.
It eases the stress of Christmas spending and allows me to maintain a standard annual budget.
Stick to your December budget
The one rule I give to myself is that I'm not allowed to go over the Christmas savings fund.
If I'm under, I can either leave it for next year, donate the rest or put it towards savings for our future.
Track your Christmas spending on a simple spreadsheet in Excel or download this free Christmas expenses tracker by joining the subscriber only resource library below.
You can print this tracker and keep it on your fridge for easy family tracking.
Get everyone to write out money they've spent on Christmas items.
How To Stick To Your Christmas Budget
1. Don't impulse buy In December
To ensure that you don't impulse buy, make two lists before you shop:
Things that you don't need
Shopping list and budget
Before you head out to shop or before you shop online, make a list of all the things you already have and don't need to purchase, and stay away from the section of the store or category online.
Of course, shops change up the layout of their stores to encourage new purchases and there are ads to contend with for online shopping.
However, once you have the list of all the things you don't need – it should be much easier to resist the temptation of new decorations or over-buying food.
Next is your shopping list. Be sure to note the budget for each item and try your best not to overspend.
2. Save money on Christmas gifts
There are a few simple ways that you spend less on Christmas gifts without being "cheap".
Here are some ideas of how to save money on Christmas gifts:
DIY gifts
Buying early
Coupons, Thanksgiving & Christmas sales
Shop online
Secret Santa
3. DIY Gifts
Diy gifts tend to be incredibly thoughtful and heartwarming.
It can also be a great way to start a new Christmas family tradition.
You can help the kids make cards and crafts for one another and grandparents or you can make Christmas decorations together.
4. Buying Early
Sometimes during the year, I might see something on sale or have a coupon for one of my kids or a loved one and I'll get it and keep it for Christmas.
I'll take it out of my Christmas fund and note it for my Christmas budget.
I don't have many people on my Christmas list, so this really isn't difficult to do.
5. Coupons, Thanksgiving & Christmas Sales
Thanksgiving, Christmas & after Christmas sales are a great way to buy gifts & supplies for birthdays or Christmas next year.
For example, if you're in need of a Christmas tree, after Christmas sales will be the best time to buy one for next year.
6. Shop Online
I prefer to shop online because before I check out, I can see how much money I'm spending.
I find that it's harder for me to keep track of this when I shop in store, especially as it's easier to see items you don't need but catches your eye.
Online, I can search for the specific item, add to cart, check out and I'm done.
If something is difficult for me to decide on online, I may go in store to check out the item and window shop early.
I've found that this way of shopping is beneficial for me throughout the year.
Of course, instore you may be able to snag some great deals so sometimes it's worth it to shop at the store.
Just be cautious when you go in and stick to your budget.
7. Secret Santa
Another way to save money on gifts if you have a big family and lots of friends is to suggest Christmas secret Santa.
This way everyone receives a gift and gets to save money and stress.
8. Don't over do on the Christmas menu
Food at Christmas time can easily become your biggest expense in December.
It's nice to have a large Christmas spread but it may not be necessary. Come up with a simple Christmas menu and shop for only the items that are needed and stay on budget.
How To Save Money In December
To end, saving money in December is possible once you plan, budget and perhaps most importantly, stick to your budget.
I promise you can still have an amazing, happy, and memorable Christmas without going into debt.
Before you go be sure to sign up for the freebie library below and download the free Christmas budget printables: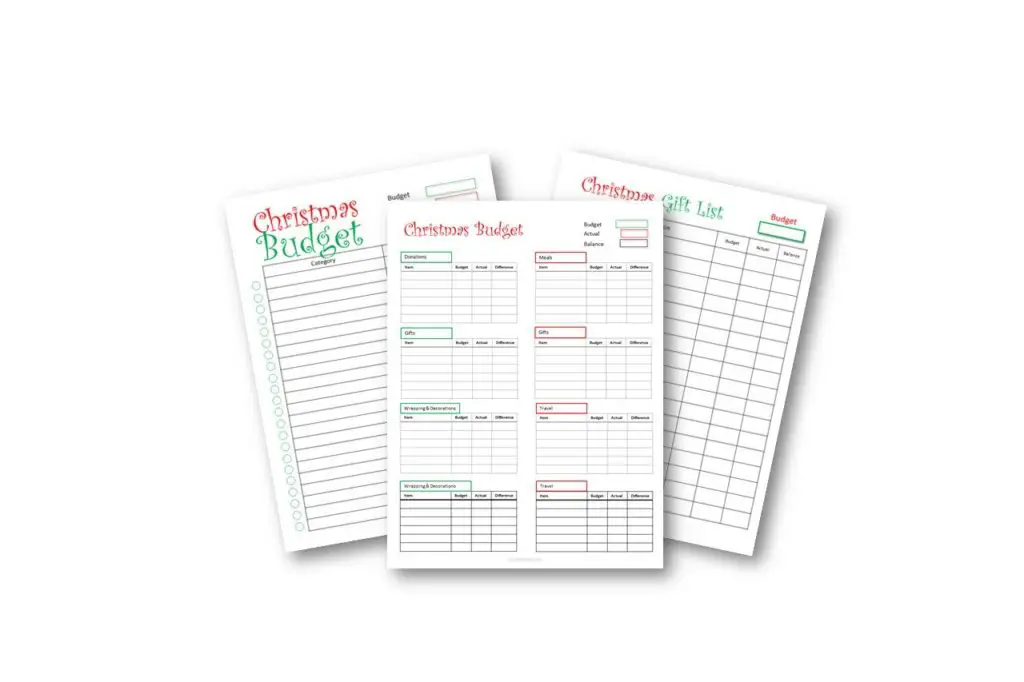 Christmas budget tracker template pdf
December Christmas Expenses Tracker
Christmas Gift List tracker pdf
I'd love to hear from you – what are some of your tips to save money in December?
Before you go, check out these other Christmas posts: