19 Best Drugstore Curly Hair Products In 2022
Looking for some of the best drugstore curly hair products in 2021? I've got you covered with affordable drugstore curly girl products to try so that you can get healthy, defined, frizz free curls without breaking the bank.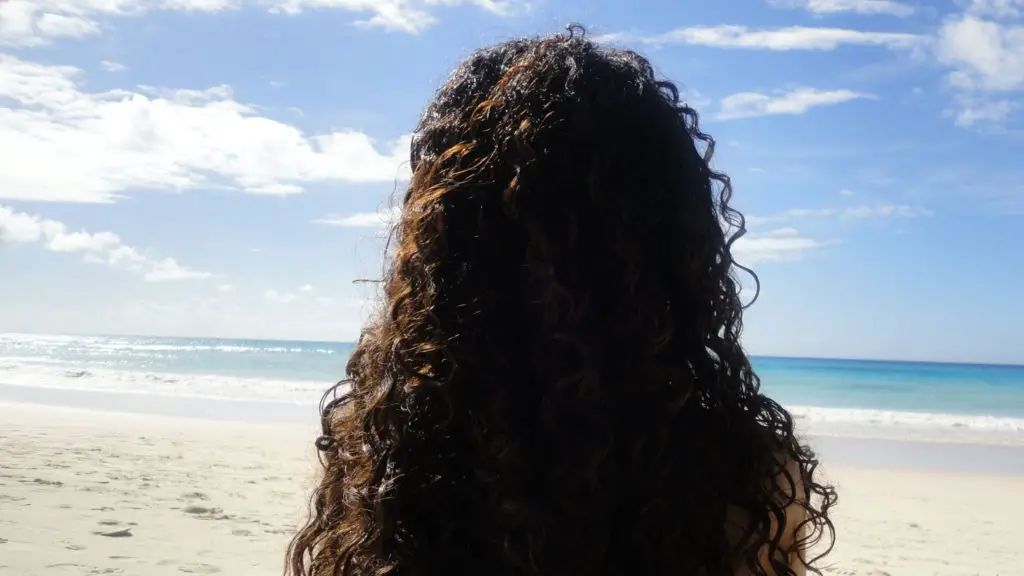 As a super busy mom of three with curly hair, I have my favorite cheap drugstore curly hair products that never fail me. Once I find drugstore products that work for my curls, I hold on to them.
I do like to switch up my curly girl products ever so often and so I have a few favorites that I go back and forth with.
Keep in mind that not all curls are created equally.
So what might work wonders for one curly girl, may not work as well for another. These drugstore curly hair products are my favorites and I highly recommend it to every curly girl to try.
I must highlight the fact that I don't follow the curly girl method very closely.
For instance, sometimes, I also use products with silicone, but I believe that with a good curly hair care routine, that's ok to do.
Affordable Drugstore Products For Curly Hair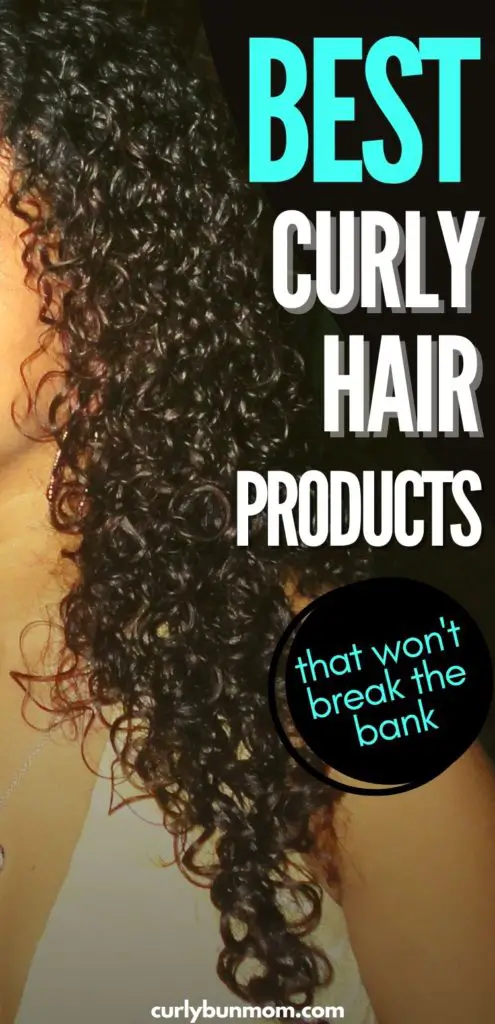 When I was younger, even drugstore curly hair products were soooo expensive. I used a lot of cheap but damaging curly hair products. So much so that I had come to expect and budget for expensive products.
At the drugstore or on amazon, once I could afford it, I'd reach for the higher-priced curly product because, in my experience, it usually performed better for me.
However, times have surely changed for the better. Now, there are so many amazing cheap drugstore curly girl products that actually outperform higher priced products.
That means I get good quality curly hair products that are budget-friendly and affordable.
This means as a curly girl in 2022, you no longer need to break the bank at your local drugstore or on amazon to get healthy, gorgeous, defined curls.
Before we dive into these amazing drugstore curly girl products, check out my curly hair basics to ensure you know your hair type and hair porosity.
These two curly hair basics are extremely important when selecting your curly hair products (drugstore or high-end).
If you're in Canada, I've got a post dedicated just for you.
Affiliate Disclosure: "This post contains affiliate links, which means I receive a small commission, at no extra cost to you, if you make a purchase using this link."
You can click on any of the links below to purchase.
Ok, so now let's get into these super affordable drugstore curly girl products.
The best drugstore curly hair products in 2022
Drugstore Curly Girl Shampoos
I recently stumbled across the gem of a curly hair brand and I've fallen in love!
Even though it's not approved by the curly girl method, it has never left my hair dry and I've gotten good results.
The brand boasts of its shampoo's ability to gently cleanse your curls while softening and strengthening them.
So far it's my 2021 favorite drugstore curly hair shampoo.
Shea moisture is one of my favorite, go to brands for curly girl products and styling needs. I feel confident that when I use any of their products, I will get fantastic results.
Even better is that Shea Moisture products are widely available and most drugstores are stocked with them. This makes them a very accessible and affordable line for drugstore curly hair products.
This is a sulfate free shampoo which means it cleanses your hair without damaging it.
It works to strengthen damaged hair and while I try to take really good care of my curly hair, I still like to use gentle cleaners as curly hair is prone to being naturally dry.
Drugstore Curly Girl Conditioners
I loved the shampoo so much, and I love pairing conditioners with the same brand of shampoo. So, I had to try Aussie's conditioner.
The coconut and jojoba oil really does a miraculous job of nourishing and moisturizing naturally curly hair. This is a must try drugstore curly hair product if you want to achieve soft and silky curls!
This curly girl conditioner from Shea Moisture works to restore damaged curly hair and provides enough slip to detangle gently. It is super nourishing and leaves my hair feeling incredibly soft.
Another great drugstore curly hair product choice. Drugstore Curly Girl Shampoos
Drugstore Curly Girl Deep Conditioners
This deep conditioner for curly hair is pure magic! I was skeptical at first because I usually leave in deep conditioners for about 10 minutes.
As soon as I applied this curly conditioner my hair was so easy to detangle. After just 3 minutes, Aussie's deep conditioner left my curls so hydrated and soft.
While this deep conditioner won't replace my faves, it's affordable, gives my hair the necessary moisture and cuts my wash time when needed.
I still recommend dedicating time each week to doing a full deep conditioning routine for your curls.
This deep conditioner is such an affordable drugstore curly hair product! As with Shea Moisture, Creme of Nature is another one of my favorite drugstore curly hair brands. It's easily accessible and I can also easily get it off of amazon.
Because of LOVE their curl twisting cream so much I just had to try it out. My hair loves this brand.
I love the consistency of this deep conditioner as it's not too thick. There's also so much slip that finger detangling is super quick and easy.
After deep-conditioning with this product, my hair feels unbelievably soft and my curls look so nourished and defined. I've found that my hair is way less frizzy throughout the week since I started using this conditioner.
This product is sulfate and mineral oil free making it safe for curly girls.
This curly hair treatment masque delivers! It has a very thick and creamy consistency and provides your curls with nourishment and hydration.
It's formula works well to give outstanding curls:
Organic shea butter – provides moisture for your curls and scalp
Jamaican Black Castor Oil – maintains healthy looking and soft curls
Peppermint – "tingles the scalp for an invigorating experience"
After deep conditioning, my hair feels soft and looks so shiny, hydrated and defined.
Because of the peppermint, this has quickly become my top runner for deep conditioners. I just love the extra relaxation I feel when I use this drugstore curly hair deep conditioner.
This drugstore curly hair masque is very hydrating! It isn't very thick and smells really great! It provides enough slip to make detangling a breeze.
According to to the the brand, its formula helps curly hair:
Manuka Honey – soothes the scalp by providing anti inflammatory properties while creating a moisturizing barrier
Mafura oil – works to replenish oils stripped from the hair
African Rock Fig – keeps hair looking vibrant with the help of Vitamin C
For deep conditioning, Shea Moisture recommends leaving the conditioner for at least 5 minutes, and for extra conditioning, they recommend applying moderate heat for up to 30 mins.
I always love how moisturized, defined, and shiny my curls look and feel after using this curly hair deep conditioner.
Drugstore Curly Girl Leave In Conditioners
Mixed Chicks leave in conditioner is so amazing for my hair that I can use it as my stand alone styling product.
I must highlight the fact that it contains Amodimethicone, which is a silicone not approved by the Curly Girl Method.
Personally, I have not seen any damage caused by this drugstore curly hair product and so I have continued to use it and have been using it for years. A little goes a long way, so even though this product is a little pricey, in the long run, I consider it to be affordable because of how long it lasts for me. For reference, the length of my hair is past mid-back.
My curls look and feel so hydrated and incredibly defined. This product also provides much needed hold for me, so my wash day hair actually lasts longer. To refresh, I just spritz my hair with water and scrunch a couple of times.
However, if you're following the Curly Girl Method, then it's probably better to skip this product. The next product is probably right up your alley.
This affordable drugstore leave in conditioner product is one that I haven't gotten a chance to try this product yet but my curl friend swears by it!
She says it provides her hair with the right amount of moisture and does not weigh it down. This helps to preserve her natural curly pattern and body of her hair.
Drugstore Curl Cream
I was excited to try Aussie's curl cream as I loved the shampoo and conditioner so much and it did not disappoint.
I was pleasantly surprised by and loved the texture of this drugstore curl cream product.
It was heavy enough for my hair and left my curls feeling so soft, moisturized and defined. It also lived up to its name by taming frizz!
For curly girls following the curly girl method, this product is not curly girl approved, according to "Is it CG?" It contains dimethicone, mineral oil, and petrolatum which are not CG-approved ingredients.
This was the first drugstore curl cream I used. It was highly recommended just about everywhere I turned and it didn't disappoint.
My curls were moisturized, defined and not weighed down at all! My curls were incredibly soft, bouncy and voluminous.
I do love a bit of hold when styling my hair though, and I'm not able to achieve enough hold with this product. I, therefore, find that it's better when paired with a mousse or gel.
Oh, how I love this affordable curly hair product – let me count the ways!
I actually purchased this curly girl approved drugstore curl cream on a whim because the Shea Moisture Coconut Hibiscus Curl Cream was unavailable at the time. I really needed something and so I bought this as a temporary replacement. Little did I know that it would become my absolute favorite and top runner.
From the smell to the texture of the curl cream to the nourishment and even hold (little but enough for me) that is product gives me is undeniably miraculous.
Similar to The Curl Talk Leave-In Conditioner, I haven't tried this product yet. But, it's also on my must-try list next.
My friend who uses it regularly raves about the way it helps to define her 3a curls and says it provides enough hold without the crunch. It also does a great job at frizz control.
Her hair always looks gorgeous and on point! So I definitely have to give this one a try soon!
Drugstore Curly Girl Oils
For my curly hair routine, I have been using and loving this super affordable curl defining oil.
I use this to seal and lock in moisture and it works especially well when I've used curly hair products to create a cast (like with mousse or gel).
Once my hair is dry, I take a very small amount of this curl defining oil and scrunch out any crunch.
If you follow the curly girl method closely, you may have to skip this product as it contains dimethiconol and isodoecane, which aren't CG approved ingredients.
Favorite Drugstore Curly Girl Mousse
I've probably been loyal to this drugstore curly girl method approved product the longest.
It's super affordable and budget friendly, it smells AH-MAZING and the hold is THE BEST for my hair.
It doesn't leave my hair so hard that it feels like it would break but it keeps my curly hair defined and frizz-free.
It does not contain silicones or parabens and it's curly girl safe according to "Is it CG?"
So, wins all around for this amazing mousse 🙂
Favorite Drugstore Curly Girl Brush
I purchased this brush from all the hype. At first, the brush didn't do much for my hair.
However, after practicing different techniques, it was definitely a game-changer. It slashed my curly hair styling routine in half (not exaggerating!).
It smoothes the curly hair products pretty easily through my hair and helps define my natural curl pattern.
Before I used to separate and style my hair in many sections, which took me some time!
Now, I only style in two sections so styling does not take me nearly as long with this Denman brush.
If you're confused, a simple search on you tube can help you with your technique. Basically, I apply my drugstore curly hair products, brush with the Denman and scrunch or simply shake out the section.
Favorite Water Spray Bottle
I used to think all spray bottles were created equal, in terms of how spray bottles work.
But as far as spray bottles go, this bottle is pretty awesome! Refreshing 2nd and 3rd day curls are such a dream now.
One spray mist, dampens a significant amount of my hair. This means that it has reduced the length of time it takes me to refresh my hair and get on with my day!
These are a must-have for any curly girl who loves to have their hair up. It's also great for that nightly pineapple to preserve our curls overnight.
It provides great protection for your curly hair and is very comfortable.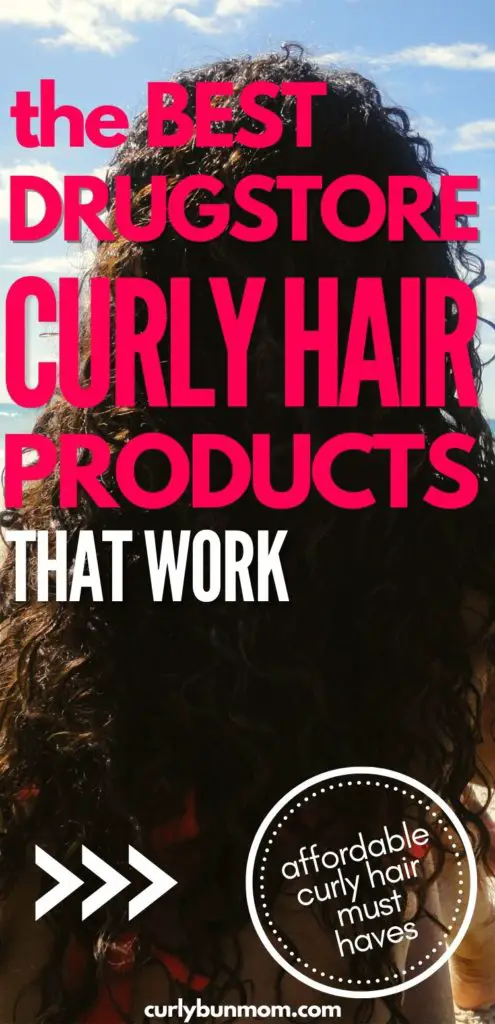 Summing Up Budget-Friendly Drugstore Curly Girl Hair Products
One of the best parts of being a curly girl now is the number of cheap, affordable curly hair products available on the market. Experimenting is still highly recommended but if you have a few go-to products then your curly hair care and styling routines really don't need to be stressful or dreaded.
I can't wait to hear which drugstore curly hair products you must have! Let me know in the comments below.
Before You Go, You Will Love These Other Posts For Curly Hair:
Product recommendations
Product Reviews
Important Information To Care For Curls & Waves
Dyeing Textured Hair At Home Without Damaging It
Wavy & Curly Hair Routines & hairstyles