How to Use Coconut Oil for Curly Hair in 5 Ways: Everything You Need to Know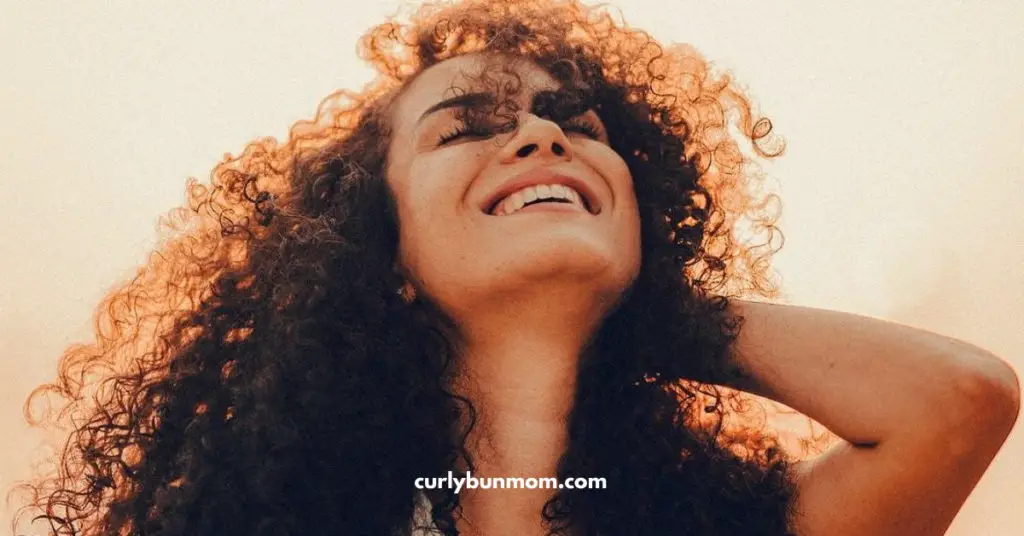 Learning how to use coconut oil for curly hair might very well be one of the best things you ever do on your curly girl journey. It is an all-natural, safe emollient that can transform the condition of your curls.
Coconut oil is a great way to moisturize and style curly hair. The best type of coconut oil to use for curls is pure (virgin) and cold pressed, as other types of coconut oil may not be as effective.
If you have curly hair, you may have heard that coconut oil is a miracle product that can solve all your hair problems.
In this article, we will discuss five ways to use coconut oil for curly hair. Keep reading to learn more!
How To Use Coconut Oil On Hair
From frizz and tangles to dry scalp, there are a number of issues that can arise while caring for your hair. But luckily, there is one product that can help you take control of your curls: coconut oil. Coconut oil is a natural and versatile product that can be used in a number of ways to improve the look and health of your curls.
Here's how to use coconut oil on hair:
Detangle hair easily
Pre Poo Treatment
Dry Scalp Treatment
Leave In Styler
Add Shine To Hair
1. Detangle Hair easily
Coconut oil is an amazing detangler, even on dry hair. On wash day, try applying some coconut oil to your hair to detangle before washing.
Before applying coconut oil to detangle, you can warm your coconut oil or you can scoop a little at a time in its hard form and rub it in the palm of your hands to liquefy it.
To detangle with coconut oil:
section your hair
apply to length of your hair
finger detangle from tip to root
2. Pre Poo Treatment
As a pre poo treatment, coconut oil for curls can help to soften your hair.
Coconut oil for dry curly hair can be transformative with just one pre poo treatment.
Start by sectioning your hair to make application easier. To apply to your hair, simply dip your hands in the warm coconut oil and smooth over your hair.
Once the application is complete, you can put a plastic cap or bag on your hair and then clarify your scalp and hair. The length of time you leave coconut oil on your hair depends on your hair and your preference. Some curly girls leave it on for 30 mins, others for 1 hour and some leave it on overnight.
After washing and conditioning, your hair should feel very soft.
3. Dry Scalp Treatment
Using coconut oil for dry scalp is an excellent natural treatment to soften dry skin and moisturize your scalp.
If you have a dry scalp, using coconut oil as a treatment can help to moisturize and nourish your scalp.
rub in on your fingertips
gently massage your scalp
leave for 10 – 30 mins
cleanse scalp
condition hair
style as usual
4. leave In Styler
Coconut oil can be used as a styling product to help keep your curls healthy and frizz-free.
To use coconut oil as a leave in styler:
rub a small amount of coconut oil in your palms
smooth over your hair
scrunch
You can add a curly girl method gel for extra hold.
5. Add Shine To Hair
Coconut oil is a fantastic, natural way to add shine to your hair. Because coconut oil is occlusive, it can help make your hair look healthy and shiny.
It can also protect it from the sun. Coconut oil is a natural sunscreen, and it can help keep your hair from becoming damaged by the sun's rays.
After styling, add a little coconut oil to soften your curls and add shine.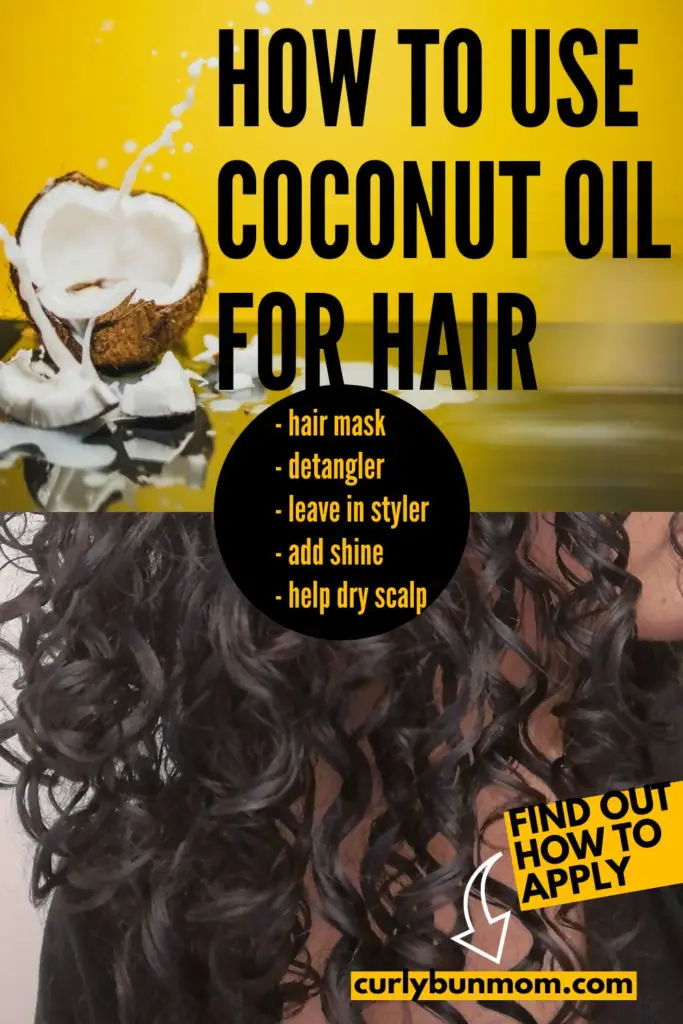 Is It Good To Put Coconut Oil In Curly Hair?
Is coconut oil good for curly hair? Yes! Coconut oil can be so good for the health of your curls. Its ability to penetrate the cuticle of your hair to retain moisture and protein enables it to reduce frizz, make your hair soft and shiny.
Coconut oil can be especially good for dry curly hair and even to maintain your hair's health.
But what makes it so good? It's lightweight enough to penetrate your hair's cuticles and works as an occlusive and retain hydration and the protein already in your hair. As an occlusive, it also protects the hair by preventing excess moisture from getting in to potentially cause moisture overload.
It contains lauric acid, capric acid and palmitic acid.These fatty acids have the ability to penetrate your hair shaft enough to give your hair additional moisture.
It also has the ability to protect your hair from overhydration by creating a barrier on your hair strands.
For some hair types like low porosity hair, it's perhaps less beneficial because of the occlusive nature of this oil. If you have low porosity hair, you already have a hard time getting moisture into your hair shaft, and using coconut oil will make it even harder. This can throw off your hair's protein moisture balance, leaving you with the effects of protein overload.
Benefits of using coconut oil for curls:
Helps to detangle easily
Pre poo treatment
Hydrates curls
Maintains hair strength
Reduces frizz
Adds shine
Prevents breakage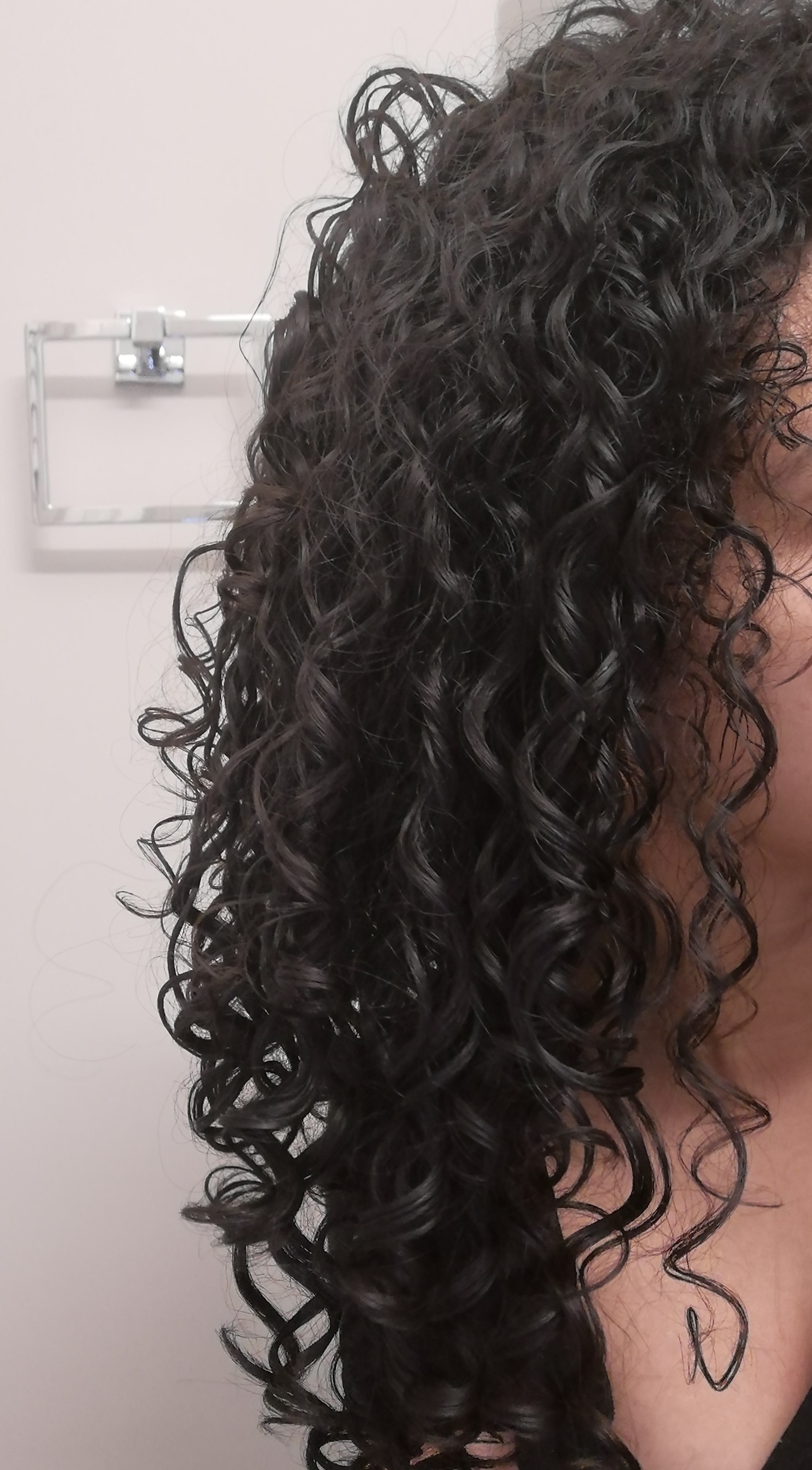 How To Apply Coconut Oil To Hair
Virgin, cold pressed coconut oil works best for textured hair to soften hair, reduce frizz and add shine. For fine or thin hair, it's best to use a product that contains coconut oil rather than use it as a standalone product.
To style your hair, if you're layering products, you should use coconut oil last as an occlusive to lock in all of your products and add shine. Once you apply coconut oil to your hair, because of its occlusive nature, your hair will not benefit from any products that are supposed to add moisture, like leave-in conditioner or curl creams. These products will lay on top of the coconut oil and simply weigh down your hair.
If you're using it as your only styling product, apply a small amount on freshly washed hair and follow with a gel or mousse if you want extra hold.
As mentioned, most curly girls use it as a pre-poo treatment. To reiterate, here's how to apply coconut oil to hair as a mask before shampooing:
Start with a small amount of coconut oil, and add more as needed
Rub it between your hands to warm it up, then apply to wet or dry hair.
If you have a dry scalp, apply coconut oil directly to the scalp and massage in.
Leave the coconut oil in your hair for at least 30 minutes, or overnight if preferred.
Shampoo and condition as usual.
As always, experiment with the best ways to use this oil.
Depending on your hair's condition and environmental factors, like humidity, you may find that you have to switch up the way you use coconut oil in your hair care routine.
How To Get Coconut Oil Out Of Hair
Coconut oil has to potential to weigh down hair and make it lymph and dull so it's important to learn how to get it out of your hair without using harsh or damaging products.
How To Wash Coconut Oil Out Of Hair
To get coconut oil out of your hair, you can use a sulfate free shampoo or clarifying shampoo to gently cleanse your scalp and hair.
Ensure that you follow with your favorite conditioner for best results. After conditioning, style as usual.
Last Thoughts On Coconut Oil For Curly Hair
Coconut oil for dry curly hair can be miraculous for some. While it's definitely a great product to use, not everyone experiences the same results.
Some people find that coconut oil makes their hair greasy, oily, or weighed down. Others find that it doesn't do much for their hair at all.
Remember, what works for one person might not work for another. So it's important to experiment with different hair products and techniques to see what works best for you.
So if you're curious about using coconut oil for curly hair, make sure to test it out first to see if it works for you. Pay close attention to how your hair behaves when you use it and let that guide you.
I'd love to hear about your experience and what is your favorite way of using coconut oil for curly hair.
Before You Go, You Will Love These Other Posts For Curly Hair:
Product recommendations
Product Reviews
Important Information To Care For Curls & Waves
Dyeing Textured Hair At Home Without Damaging It
Wavy & Curly Hair Routines & hairstyles