How To Scrunch Out The Crunch (SOTC) & Break The Gel Cast
Learning how to scrunch out the crunch (sotc) from your curly or wavy hair is vital to transform crunchy curls into defined, soft and bouncy curls or waves throughout the week.
So, whether you have long or short curly or wavy hair, let's look at the different ways to scrunch out the crunch to reveal beautiful curls and waves.
Affiliate Disclosure: "This post contains affiliate links, which means I receive a small commission, at no extra cost to you, if you make a purchase using this link."
What Is A Gel Cast On Wavy & Curly Hair
Scrunching out the crunch is a curly girl technique used to get rid of crunchy, stiff curls that were created by a gel cast.
A gel cast forms on your curly or wavy hair when you apply a strong hold curly girl product to your wet curls. When your hair dries, the gel forms a cast that holds your defined curls in place.
You've achieved a gel cast when your curls look and feel stiff or crunchy. Doesn't sound like the ideal outcome for your wash day, right? Who wants crunchy curls? But those crunchy curls are a great thing because it means that your defined curls are going to last long after wash day, after you scrunch out the crunch (sotc).
To create a good gel cast on your curly hair or wavy hair:
Apply a curly girl gel, curl cream or mousse to your wet curls
Do not touch or manipulate your curls or waves while your hair is drying and while the cast is forming
Wait until the gel cast forms and then diffuse
How To Scrunch Out A Gel Cast On Curly Or Wavy Hair
Even though a gel cast is good, nobody wants crunchy hard hair. Curly and wavy girls want to achieve long-lasting, soft, and bouncy curls.
To achieve this, you want to gently scrunch out the crunch when your curls are fully dried. This will help to reduce the change of frizzing when you sotc.
So let's look at some ways to sotc without getting your hair frizzy:
Diffusing To SOTC
Argan Oil to scrunch out the crunch
Scrunch Out The Crunch Without Oil
Scrunch Out The Crunch With Conditioner
Sleep on it to sotc
Diffusing To SOTC
After diffusing your curly hair dry without touching it, continue diffusing while gently scrunching your curls with your hands until they feel soft.
Flip your hair over and from side to side as you sotc, to ensure that you get volume at the roots.
Argan Oil To Scrunch Out The Crunch
Once your hair is completely dry, you can scrunch out the crunch with argan oil or your preferred oil or serum.
Using oil will reduce frizz, provide shine and seal in all the products you've used.
Rub a very small amount of oil in the palms of your hands and gently scrunch your curls from roots to your head, until they're soft and bouncy.
You can flip your hair over and on either side, while you sotc. This creates voluminous, defined curls at the roots.
Try these other oils and serums to scrunch out the crunch:
How To Scrunch Out The Crunch Without Oil
A great way to scrunch out the crunch without oil is to use a cotton tshirt.
When your curls have completely dried, use a cotton tshirt instead of using your hands directly on your hair, to scrunch out the crunch. This helps to reduce frizz if your hair doesn't love sealing oils.
Scrunch Out The Crunch With Conditioner
You can also use a little leave in conditioner to sotc to transform those crunch curls into soft, defined curls.
Instead of oil, with a small amount of leave in conditioner in the palm of your hands, sotch using the same technique outlines above.
Sleep On Your Curls
If you're not going anywhere, a good way to sotc is by not scrunching it at all.
After your curls have completely dried just leave it with the gel cast and head to bed. To protect your curls while you sleep, try these tips and by the morning, your curls may very well be soft and bouncy in the morning.
If it's not, at that point, you can use any of the techniques above to finish scrunching out the crunch until your curls or waves are soft.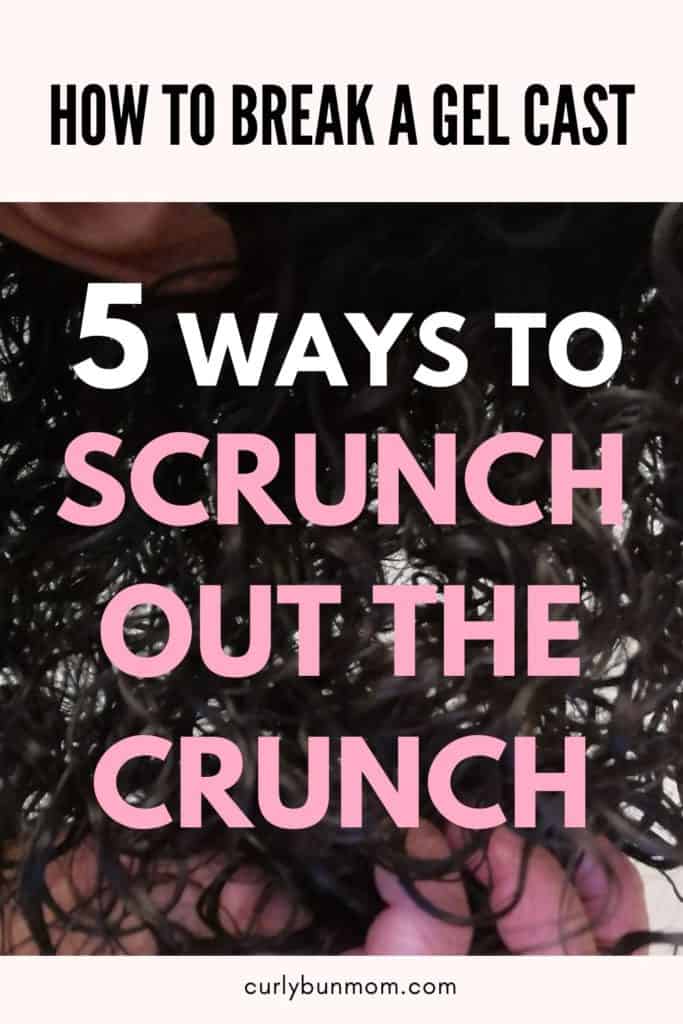 Final Thoughts
Now you have a great technique to turn those crunchy curls that the gel cast creates, into soft, voluminous curls that will last for a few days. SOTC is also perfect to transform stringy looking waves, created by a gel cast, into gorgeous frizz free wavy hair.
Before You Go, You Will Love These Other Posts For Curly Hair:
Product recommendations
Product Reviews
Important Information To Care For Curls & Waves
Dyeing Textured Hair At Home Without Damaging It
Wavy & Curly Hair Routines & hairstyles