Curly Girl Method For Beginners – Steps & Best Products 2021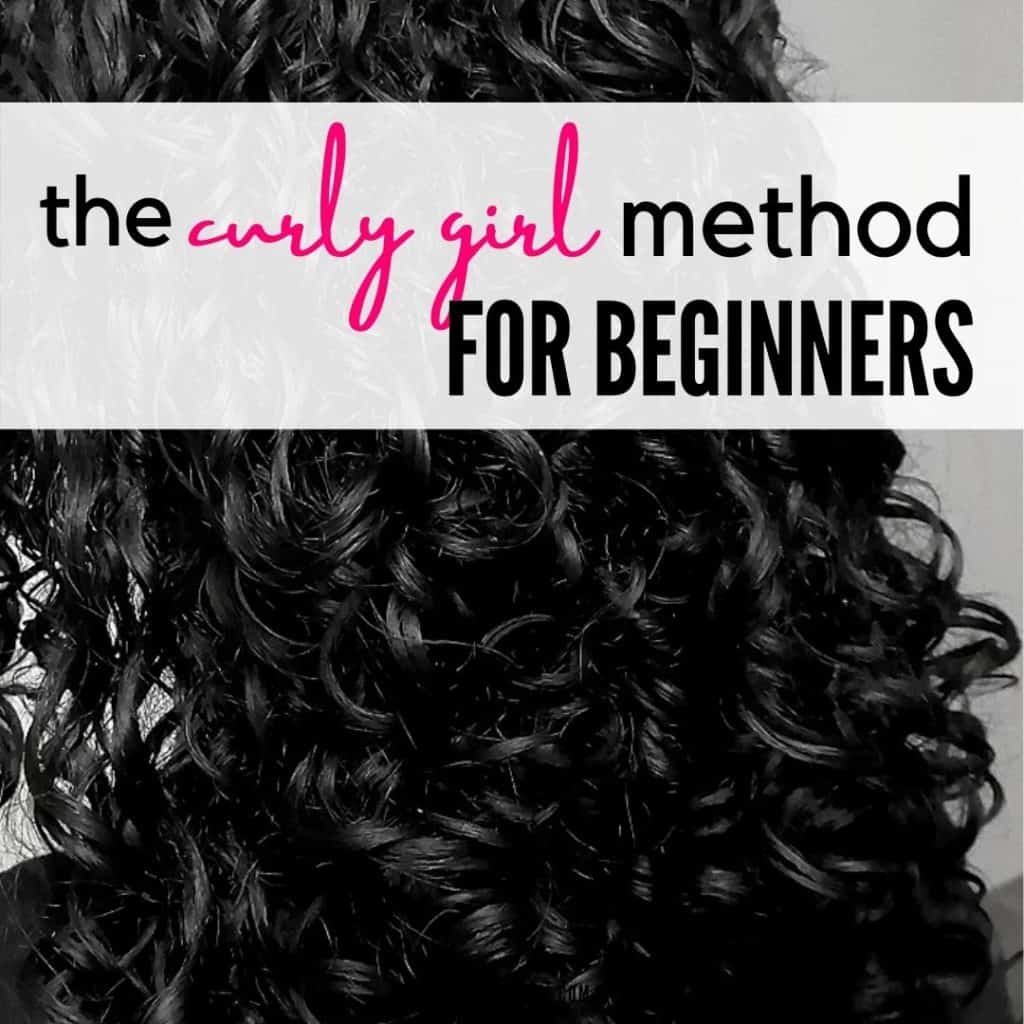 If you're new to the curly girl method, this is a simple, easy-to-follow guide for curly girl method beginners as well as some affordable curly girl method products for you to start with.
I love to help curly girls make curly hair care simple and easy.
There's so much information and advice that it's easy to become overwhelmed and give up. And I don't want that, I want you to fall in love with your curls and treat them the way they deserve.
Please note, however, that this is not a full or detailed overview of the curly girl method. If you'd like to know everything, you can get the Curly Girl Method book.
If you're interested in the simplified version of the curly girl method for beginners, then sit back and allow me to take the stress out of the CG method for you.
Affiliate Disclosure: "This post contains affiliate links, which means I receive a small commission, at no extra cost to you, if you make a purchase using this link."
The Curly Girl Method, CG or CGM
In short, the curly girl method helps curly girls understand the best way to take care of their curls.
The curly girl method, also known as CG method or CGM, was created by Lorraine Massey. The main goal of the CG method is to have healthy curly hair by avoiding certain habits and products with damaging ingredients.
How Long Does It Take For The Curly Girl Method To Work
The length of time it takes for the curly girl method to work depends on the health of your hair when you start.
If you've been using damaging products and heat styling for a very long time, it may take you longer than someone who had not been.
If you decide to try the CG method, it's important to note that in the beginning, it's very possible that your hair will look worse before it gets better.
So, stick with it and take progress photos so that you can see the improvements.
Can Anyone Do The Curly Girl Method
Anyone with textured hair will benefit from following the curly girl method.
By giving up on damaging hair products and practices, both wavy and curly girls can see a remarkable improvement in the health and definition of their curly hair.
Curly Girl Method Ingredients To Avoid
I think this may be the trickiest and hardest part of the curly girl method for lots of curly girls. I was definitely one of them.
If you want a more comprehensive list of ingredients to avoid in your curly girl method products, check this list.
One of the most important things you need to do to get started with the CG method is to become aware of the ingredients to avoid and the best curly girl method products to use.
You definitely don't need to learn all of the ingredients to avoid to follow the CGM.
You can easily search for the ingredients of your desired curly girl products, copy and paste them into a site like Curls Bot and note the results.
For beginners of the cg method, in a nutshell, you need to avoid curly girl products with the following damaging ingredients.
These hair product ingredients damage your curls by stripping your strands of moisture, leaving them dry, brittle and frizzy.
harsh sulfates – like Sodium Laureth Sulphate
drying alcohols – for example ethanol or propyl alcohol
some silicones – like dimethicone
Sulfates are harsh cleansers that strips the natural oils and moisture from your hair.
They can leave your hair feeling "squeeky clean" and dry. Instead try any of the sulfate free shampoos below.
Drying alcohols can be found in gels and mousses and will damage your curly hair by causing it to be extra dry, frizzy and of course, brittle.
Silicones are found in conditioners and styling products and don't damage your hair as the other ingredients do.
However, the CG method argues that you need a shampoo with sulfate to clarify your hair after using silicones.
There's been a bit of discussion on whether all types of silicones require sulfate to wash it out or not – I think it's best to experiment to see what's best for your curly hair.
If your hair is damaged and you're now starting out, it's probably a great idea to stay away from the recommended ingredients until you're hair is repaired and healthy.
Styling Techniques To Avoid With The Curly Girl Method
When following the curly girl method especially as a beginner, you also need to avoid these damaging styling techniques for your curly hair:
never brush dry curls
towels
heat styling – no hair straighteners or hair dryer on high hear
Instead, style using cG Method techniques like:
finger detangle or use a curly girl friendly detangling brush or comb
always style on wet or damp hair
deep conditioning every week
air drying or diffusing with cold air
Curly Girl Method Products For Beginners
If you're ever in doubt about a curly girl product that you'd like to try, put the product into this website to find out if it's a curly girl method product.
For now, try these curly girl method products to begin your CGM journey.
A great tip is that if you notice your hair is not responding in a favorable way and instead it's dry and frizzy, stop using it and try another curly friendly product.
I know it might be annoying but once you've experimented enough, you'll eventually understand what works well for your curly hair.
To purchase any of these curly girl method hair products on amazon, click on any of the links below.
Shampoos & Co Wash
These sulfate free shampoos are affordable and curly girl approved:
Suave Professionals For Natural Hair With Shea Butter & Pure Coconut Oil Shampoo
Not Your Mother's Curl Talk Shampoo
Shea Moisture Jamaican Black Castor Oil Strengthen & Restore Shampoo
Cantu Shea Butter For Natural Hair Cleansing Shampoo
Maui Moisture Nourish & Moisture + Coconut Milk Shampoo
Conditioners
Try any of these drugstore curly girl approved conditioners on wash day:
Suave Professionals For Natural Hair With Shea Butter & Pure Coconut Oil Conditioner
Not Your Mother's Curl Talk Conditioner
Shea Moisture Jamaican Black Castor Oil Conditioner
Cantu Shea Butter For Natural Hair Hydrating Cream Conditioner
Maui Moisture Curl Quench + Coconut Oil Conditioner
Tresemme Botanique Nourish & Replenish Conditioner with Coconut Milk & Aloe Vera
Deep conditioners
Deep conditioning your curly hair every week is one of the best things you can do for the health of your curls. Try these:
Shea Moisture Black Jamaican Castor Oil Strengthen & Restore Treatment Masque
Shea Moisture Manuka Honey & Mafura Oil Intensive Hydration Hair Masque
Leave in conditioners
Depending on your curly hair routine, these are affordable leave in conditioners to use for the cg method:
Cantu Shea Butter For Natural Hair Moisturizing Curl Activator Cream
Shea Moisture Sugarcane Extract & Meadowfoam Seed Miracle Styler Leave In Treatment
Curl Smith Curl Conditioning Oil Leave In Cream
Briogeo Farewell Frizz Rosarco Milk Leave In Conditioner Spray
Curl creams
Not every curly girl needs the extra moisture from a curl cream. But if your curls are thirsty, try these awesome curl creams:
Dippity Do Girls with Curls Curl Defining Cream
Shea Moisture Coconut & Hibiscus Curl Enhancing Smoothie
Not Your Mother's Kinky Curly Defining Cream
Briogeo Curl Charisma Rice Amino + Avocado Leave In defining cream
Gels
Gels and mousse are necessary to maintain your defined curls. For best results, use one of these curly girl approved gels or mousses:
Dippity Do Girls With Curls Gelee
Briogeo Curl Charisma Rice Amino + Quinoa Frizz Control Gel
Other Curly Girl Products
To ensure that you're equipped to give your curly hair the best care, pick up these curly girl products as well: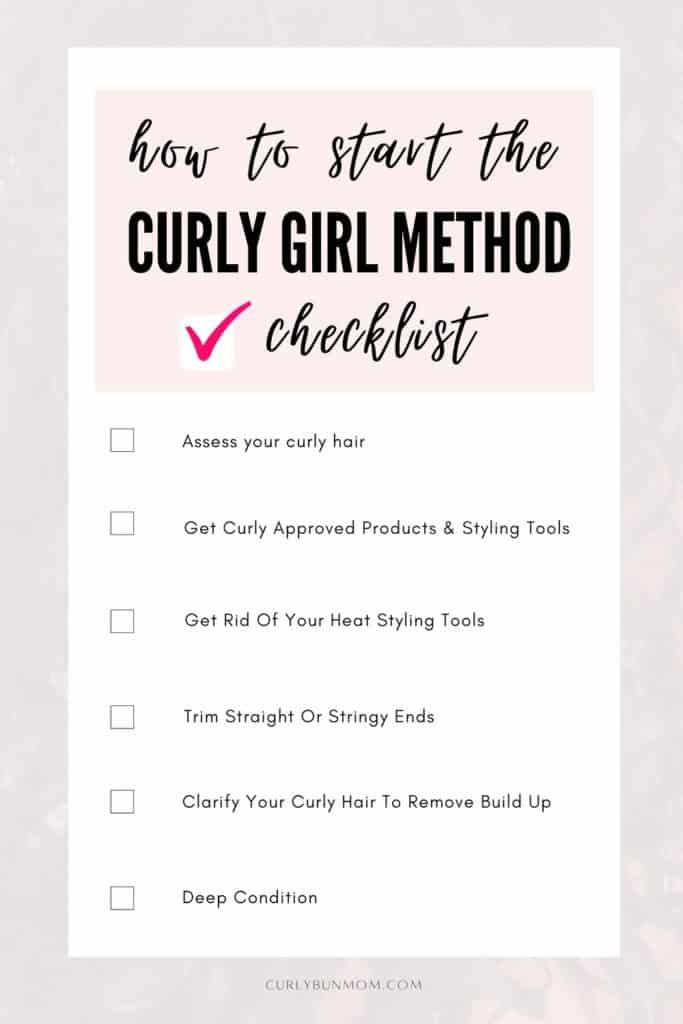 How Do You Start The Curly Girl Method – For Beginners
Let's look at the steps to begin the curly girl method.
1. Assess your hair
The curly girl method can be used on any hair type but if you've been wondering, here's how to tell if you have naturally curly hair.
It's also important to find out your curly type, porosity, and the overall health of your hair.
Knowing your curl type and porosity will ultimately drive your curly girl method product choice and styling technique.
2. Get Curly Girl Method products & styling tools
Next, get rid of your curly hair products that are not CGM approved and replace them with curly girl method products.
Be sure to grab the recommended curly girl friendly styling tools above.
3. Get rid of your heat styling tools
When following the CGM, your flat iron and curling iron are useless!
If you have a blow dryer, get a diffuser attachment so that you can dry your curly hair, preferably on cold air or warm settings.
4. Trim straight or stringy ends
Depending on the state of your hair, you can opt to get a trim before you jump into following the cg method.
This will help you to start with the healthiest hair possible.
Some curly girls prefer to do a big chop and cut off the damaged length of your hair.
Of course, this will leave you with pretty short hair but the newer growth will be much healthier and curlier than the damaged parts.
This way you also don't have to go through a transition phase and you don't have to train your curls.
Instead, you will be following the cg method to ensure that your new growth is healthy and well defined.
5. Clarify your curly hair to remove build up
Ensure you start off your curly girl method journey with a clean slate by using a clarifying shampoo to remove heavy build-up.
6. Deep Condition
Do an intense deep condition or hair mask using a heat cap. This will moisturize your curls and leave them incredibly soft and hydrated.
Deep conditioning is highly recommended every week.
You don't always have to use a heat cap when you deep condition your curly hair but always leave it on for the recommended time.
Be sure to use a curly girl method approved deep conditioner!
Curly Girl Method For Beginners – Wash Day Steps
1. Wash & Condition
Start by gently cleansing your scalp with a co wash or sulfate free shampoo. You can also use the scalp brush recommended below to exfoliate.
By using your favorite curly girl method cleansers, you will keep your scalp clean without damaging your curls.
After rinsing, apply your favorite curly girl approved conditioner and gently detangle. You can also "squish to condish" which is basically scrunching your curls with the conditioner.
Once a week, deep condition your curls for the healthiest curls. Remember to leave on for the recommended time for best results.
2. Curly Girl Method Styling
Some curly girls apply their styling products to soaking wet hair before getting out of the shower. Depending on your hair porosity, this may work well for you.
Personally, it has never worked well for me.
Other curly girls, like myself, get better results by styling their curls damp.
Experiment to see what's best for your curls.
To style, the curly girl method recommends using these curly girl approved products:
leave-in conditioners
gels
3. Air Dry or Diffuse
Now you can plop your hair with a tshirt for about 20 minutes.
Then, air dry or diffuse your hair.
Air drying will take longer and typically result in less volume. The curly girl method does recommend root clipping to give lift and volume. If you're starting the curly girl method with damaged hair, this is your best option.
For healthier curly hair, and once done right, diffusing your curly hair will leave you with defined, frizz free, voluminous curls. If you choose to diffuse, remember that the curly girl method recommends that you don't use any heat.
So don't diffuse on high heat, try cold air.
4. Scrunch out the crunch
Once your hair is dry, gently scrunch your curls to get rid of the gel cast. This step will leave you with soft, defined curls.
Why I Don't Follow The CGM
Personally, I don't follow the CG method precisely. There are great curly girl habits to adopt but some aspects are a little too strict for me to stick with it. I've therefore used the CGM as a recommendation or set of guidelines to learn how to take care of my curly hair better.
The good thing is that over time I've found the best products and practices for my curly hair that leaves me with healthy, defined curls, which is always the desired result.
For instance, sometimes I use curly girl products with silicones and I use my Denman brush to style. If you're interested, check out my curly hair routine.
My best advice to you is to experiment and find the best curly girl products and routines for your curly hair care and journey.
What about you? Will you try the curly girl method? If you've tried it, I'd love to hear your thoughts below.
Before you go, check out these other curly girl posts:
You May Also Like