How To Use Dippity-Do Girls With Curls Gelee Review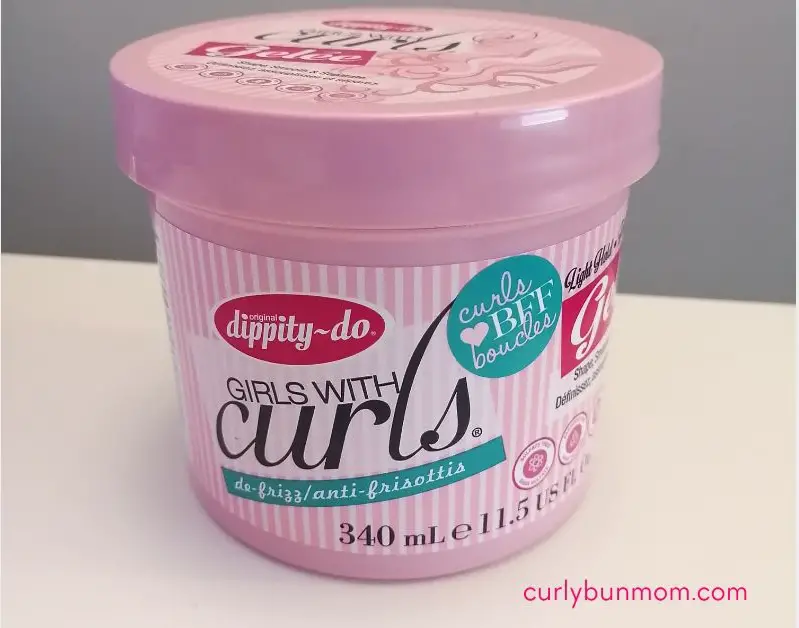 If you're looking for a curly girl method approved gel, look no further than Dippity-Do Girls With Curls Gelee. This product is a gel designed specifically for curly hair, and it's approved by the curly girl method.
This gel is perfect for giving your curls definition and bounce, while minimizing frizz.
If you have curly hair, you know that finding the right products to help keep your curls looking their best can be a challenge. But never fear – we've got you covered! In this article, we'll be reviewing the Dippity-do Girls with Curls Gelee.
Affiliate Disclosure: "This post contains affiliate links, which means I receive a small commission, at no extra cost to you, if you make a purchase using this link."
Is Dippity Do Gelee Curly Girl Approved?
Yes, Dippity Do Girls with curls gelee is a curly girl approved gel, so it's perfect for the curly girl method. The formula was not tested on animals and is free from silicones, mineral oils, sulfates, parabens, and alcohol.
Made in Canada, this cg approved gel is pink, has a pleasant smell, and is lightweight. The texture provides lots of slip which makes it easy to apply to the hair and encourages curl clumping and definition.
The first ingredient is water, which makes it extremely easy to refresh your curls on days following your wash day.
Dippity-Do Girls With Curls Gelee ingredients:
Water (Aqua/Eau), PVP, Sobitol, Carbomer, Triethanolamine, Polysorbate 20, Trtrasodium EDTA, Propylene Glycol, Panthenol, Parfum/Fragrane, Aloe Barbadensis (Aloe) Leaf Juice, Tocopheryl Acetate, Hydrolyzed Wheat Protein, Diazolidinyl Urea, Iodopropynyl Butylcarbamate, Benzophenone-4, Benzyl Benzoate, Red 33 (CI 17200).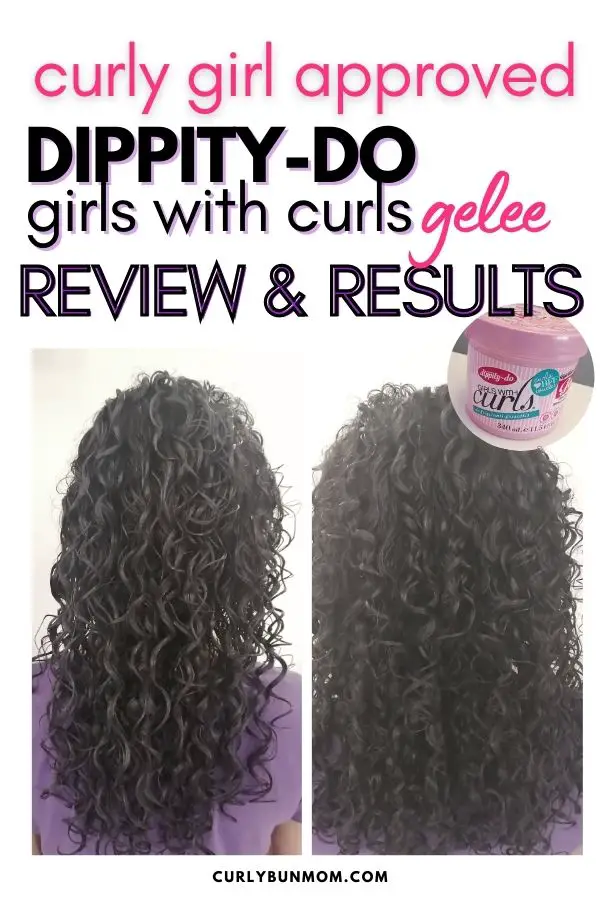 How To Use Dippity Do Curl Cream
Depending on your hair, you can use Dippity do gelee as a one-product wash and go.
However, I find that I get the best and longer-lasting results when I use a curl cream before applying the gel. This will ensure that your curls get the necessary moisture for maximum definition with minimum frizz.
I found that it worked best on my 3a 3b hair when I applied it to wet hair, after using a curl cream.
Steps to use Dippity Do Gelee:
Clarify using sulfate free shampoo
Condition & detangle
Apply leave in conditioner
Apply preferred curl cream
In small sections, use styling brush to encourage defintion
Gently scrunch defined curls with Dippity-do Gel
Air Dry or Diffuse
Srunch out the crunch (SOTC)
Tips for using the Dippity-Do Girls with Curls Gelee:
– Start by applying a small amount in the palms of your hands.
– Gently glide it over your defined curls, using the praying hands technique.
– Once your hair is completely coated, gently scrunch the product into your hair to maximize curl definition.
Dippity Do Gelee Results On 3a hair & 3b Hair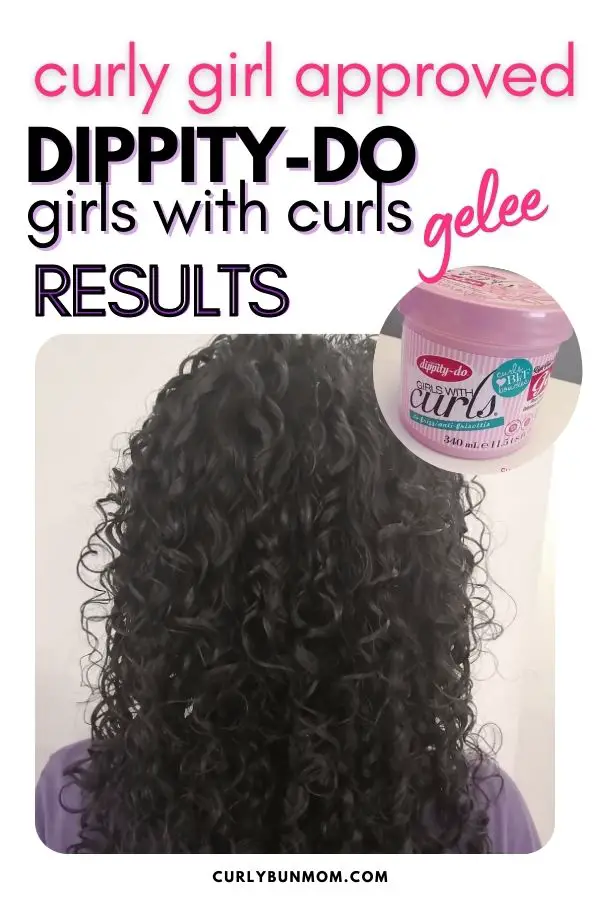 I tried this product on my 3a 3b curly hair and was impressed with how well it worked.
The gel comes in a twist-top jar, so it's easy to just scoop out the amount needed and apply to your hair.
It paired well with the Dippity do girls with curls curl enhancing smoothie, leaving no icky flakes.
The gel is light enough that it doesn't weigh down your curls, but still provides hold. It formed a fantastic gel cast, perfect for diffusing with minimum frizz.
After diffusing, my curls were bouncy and defined all day long and my wash day results held up for the week.
As expected, refresh days are a breeze as you only need water to reactivate the product.
Dippity-Do Girls With Curls Gelee is also great for people with 2b hair, 2c hair or 3c hair.
Where To Buy Dippity-Do Girls With Curls Gelee
Dippity-do gelee is easily accessible online but may sometimes be difficult to find in stores. You can buy it online, here on Amazon or Walmart or, instore at your local Walmart or beauty supply store.
If you're in Canada, it's almost always available at your local Walmart and other beauty supply stores.
Last Thoughts On Dippity Do Gelee
If you have 3a or 3b hair, give Dippity-Do Girls With Curls Gelee a try. You won't be disappointed!
Overall, I was very impressed with Dippity-Do Girls With Curls Gelee. It's a great option for anyone looking for a curly girl method-approved gel.
If you have 3a or 3b hair, I definitely recommend trying out Dippity-Do Girls With Curls Gelee. It's a great curly girl method-approved gel that gives you defined bouncy curls without the frizz.
Before You Go, You Will Love These Other Posts For Curly Hair:
Product Reviews
Product recommendations
Important Information To Care For Curls & Waves
Dyeing Textured Hair At Home Without Damaging It
Wavy & Curly Hair Routines & hairstyles