Memorable & Meaningful Family Christmas Activities For Kids 2022

Family Christmas activities ensure that Christmas is meaningful and memorable.
I love the entire Christmas season but Christmas Eve and Christmas Day are the front runner days because of the kids. Nothing beats experiencing their joy and feeling all the love.
Making these two days magical right now, is really important because these Santa days and childlike excitement won't last forever. So we intend to soak up every moment.
Affiliate Disclosure: "This post contains affiliate links, which means I receive a small commission, at no extra cost to you, if you make a purchase using this link."
Meaningful Family Christmas Eve & Day Activities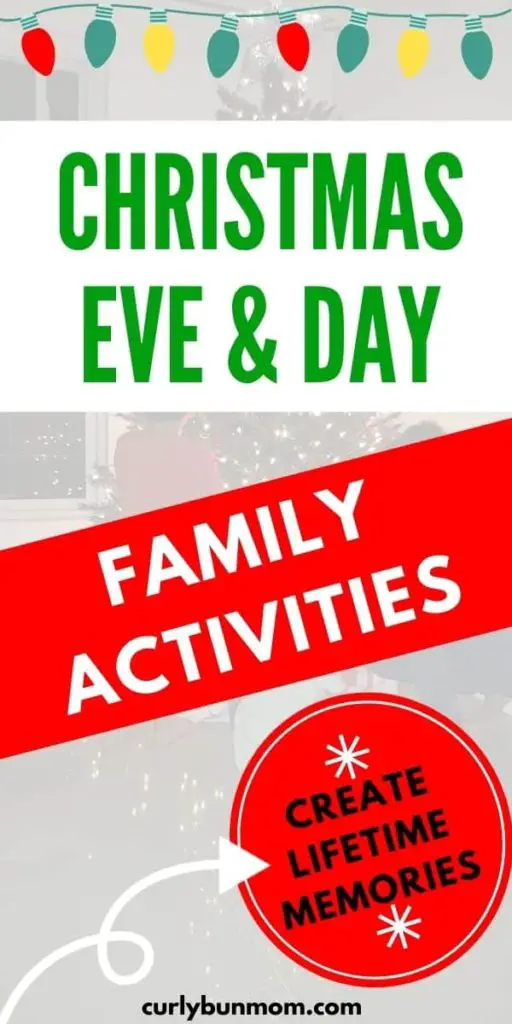 Making family Christmas traditions special is easy because it's so personal. Understanding what each family member loves is all you need to ensure that you have fun, meaningful Christmas activities and traditions planned.
As kids' personalities evolve and mature, we're able to tap into the unspoken clues that they give.
Our kids are pretty easy, like many others where a few surprises that are right up their alley is all that they need.
We also know that they love snuggles and movie time so we plan stuff like that as well.
And in our family, once there's good food, snacks, cake, ice cream and balloons, there's not much else that's needed.
Christmas Eve Activities For Families
Attend Christmas Service
Make Christmas playlists & enjoy them throughout the day
Get the kids to perform a new carol
Track Santa
Dance Together To Upbeat Christmas Music
Open Family Christmas Eve Box
Enjoy Your Favorite Christmas Movies
Make Your Favorite Dishes
Bake & Decorate Cookies for Santa
Take Super Cute & Funny Family Selfies
Christmas Day Activities For Families
Open Christmas Stockings before breakfast
Open Christmas gifts in your PJs
Have Christmas Breakfast, Lunch & Dinner together
Let the kids play while you and your partner relax
Enjoy Christmas music throughout the day
Family Video Call
Share the best part of your day and what you're grateful for
Christmas night sleepover
Family Christmas Eve Activities
We always spend Christmas Eve only doing fun things together. All shopping (including groceries) is done and so there's no reason for a "to do list".
In years gone by, we used to be the last minute shoppers. It was never planned really but the Christmas season just seemed to go by so quickly.
When we had kids though, we realized that last minute shopping was just ridiculous as we were just too tired to fully enjoy Christmas Eve & Christmas day with the kiddos. So instead, we've started coming up with only fun activites. Here are some of the best Christmas Eve activities to make it meaningful and memorable:
Attend Christmas Service
I think this is an important and special way of ensuring that kids remember the true meaning of Christmas. We try to attend church services regularly throughout the year, with Christmas being one of the more important ones for our family. The kids love all of the Christmas songs and the story of the birth of Jesus.
Make Christmas Playlists & Listen To Christmas Music
Listen to only Christmas music all day long. My youngest loves jingle bells so that is highly requested and often on repeat. They love to sing along to Christmas carols and we teach them new ones every year.
Other than that, we love introducing them to various genres of Christmas music. We're from a Caribbean Island and so we play parang for a large portion of the day.
We also love playing the classics and the pop Christmas songs for them.
Let The Kids Perform A Carol
At the start of the season, teach the kids a new carol and they are excited to dress up and perform it for us. We're planning to record it and send it out to family and friends as a nice Christmas gesture.
Track Santa
This is a super fun one! Let the kids track Santa all day. It's a great way to countdown and the kids will also enjoy seeing all the countries around the world.
An additional plus for parents is that as he's getting nearer, it's easy to get them off to bed quickly.
Dance Together To Upbeat Christmas Music
Of course, where there's music there must be dancing. Dancing is such an awesome source of stress relief and joy! We love letting loose and having dance-offs.
It's also a fantastic way to let the kids burn off some energy before bed 🙂 If you're looking for some more ideas to get the kids to fall asleep faster, try these amazing tips!
Open Family Christmas Eve Box
This is the first year that we're going to be trying out this one. I actually saw this recommendation on another post and instantly loved the idea. If you need some inspiration, check out my post about creating the best Christmas Eve box for your family.
We're going to open the box together and use the gifts for some evening Christmas Eve & Christmas day activities.
Make Your Favorite Christmas Meals
Before we settle down for movie time, we prepare and put the ham and turkey to bake. Not only do we end up with yummy ham and turkey while snuggling, but our home smells absolutely delicious and "Christmasy".
Similarly, you can make your favorite dish, or learn how to make something new that you and your family can start making every Christmas.
While I love to bake, cooking isn't really my thing so I depend on the pros for good recipes and tips. These are a few of my faves:
Enjoy Your Favorite Christmas Movies
We love to grab some popcorn and other little snacks, snuggle, and have some movie time. My youngest doesn't stay snuggled for the whole movie, of course, but she loves having everyone around.
A cool idea is to choose your favorite Christmas movie and make it a family tradition to look at that one every year.
Bake And Decorate Cookies For Santa
Before bedtime, we bake some cookies for Santa and decorate them. This doesn't take too much time as I prep them ahead of time with the kids. This year we're going to leave out some carrots for the reindeer too!
Take A Super Cute & Funny Family Selfies
Finally, you can end the Christmas Eve activities with a family selfie and pics of the kids. These pics make for really nice digital Christmas thank you cards, family calendar, or even next year's Christmas card!
Meaningful Family Christmas Day Activities
Now for the kids' ultimate day for the Christmas season. Let's jump right in with some great Christmas activity ideas for your family.
Open Christmas Stocking Before Breakfast
Once the kids get up, before everyone enjoys breakfast together, open Christmas stockings! It'll quell their anticipation for Santa's gifts long enough to have a hearty Christmas breakfast!
Open Christmas Gifts In Our PJs
This has always been something that we've done. Mainly because the kids always get up before us and are so eager to open Santa's gifts. We really love music in our family, so we put on our Christmas playlist and get down to business!
I also love snapping pics and videos of them to show them later and to send for our extended family and friends.
Have Christmas Breakfast, Lunch & Dinner Together
Throughout the year, we don't get to eat all meals together so on Christmas Day, we ensure that we eat every meal together.
To make it fun for kids, let them help with preparing the meals, the table and clearing up after. Play some soft Christmas music and enjoy listening to their stories. It's also a great opportunity to share stories about our childhood memories with them.
Kids Play & You relax
Even with young kids, I think this is the best day for mom and dad to take it easy and relax. All the prep is done – cleaning, decorating, shopping, gift wrapping, and so on. With the kids entertaining themselves practically all day, take the opportunity to relax and enjoy every moment.
Enjoy Christmas Music All Day!
We keep music on all day except for nap time (yes! they still nap and have rest time on Christmas day) and movie time. Having music on helps to keep everyong jolly and in the Christmas spirit – it sets the mood and tone for your day.
Family Video Call
We are so fortunate to live in a time where we can still see and chat with family who aren't near us. It's always a fun time when we get together with family and they get to show grandparents and cousins their gifts from Santa.
Share The Best Part Of Your Day & What You Are Grateful For
Before bed, spend some time talking about what you're grateful for and talk about the best part of your day. It's nice to hear from them what made their Christmas day special and meaningful because sometimes it's not even what we think!
Christmas Night Sleepover
This is a fun and memorable one! Our kids are always begging to have a sleepover with us. This year we're planning to snuggle together, eat popcorn and knock out! This will make such great memories for the whole family for years to come.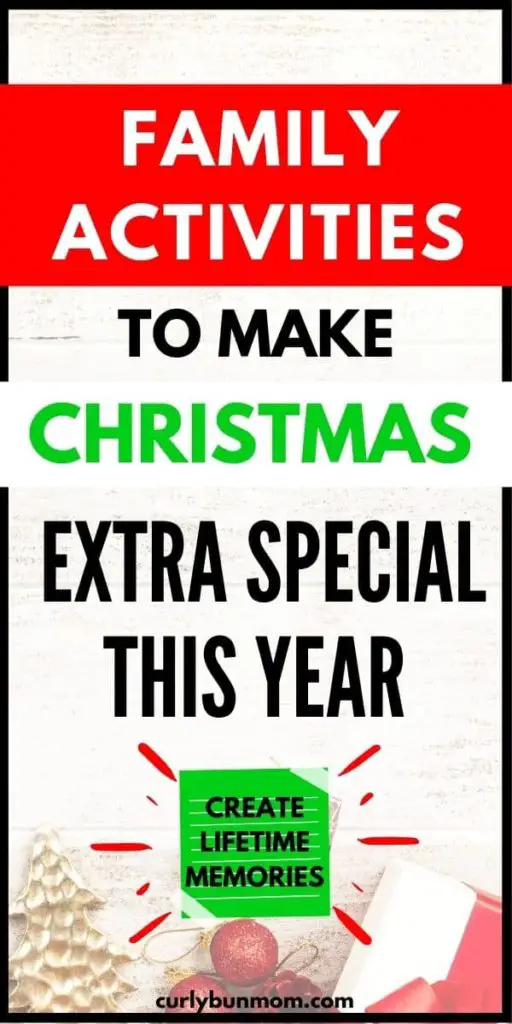 />
Wrapping Up Meaningful Family Christmas Activities
I hope these Christmas activities have inspired you to create some fun, meaningful moments with your family.
Just remember that all you need to do is focus on what you and your family love and what makes you happy. It can be everything on this list or any other that you come across, or it can be none at all. The important thing is to choose activities that everyone enjoys. Try your best to make it less of a to-do list and more of ensuring you experience every moment to the fullest.
Before you go, check out these other Christmas posts:
What family Christmas activities do you currently enjoy and what new ones would you love to start up this year to make your Christmas magical, merry and bright?
You May Also Like