Curly Hair Bun – How To Do Curly Messy Buns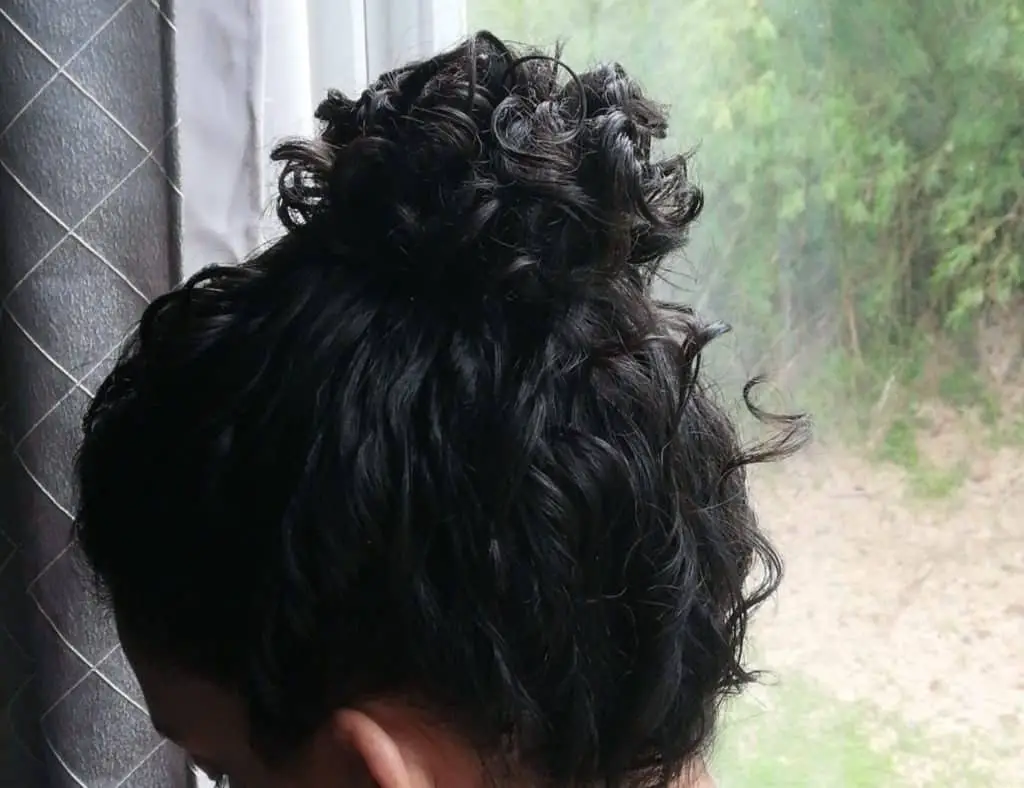 A curly hair bun or a curly messy bun is the number one go to curly updo hairstyle for many curly girls.
As the name of my website, Curly Bun Mom, suggests, I love to style my hair in a curly bun almost all the time. I've been rocking the cute messy curly hair bun for as long as I can remember.
A messy bun is just so fun, versatile and cute style for curly and way hair! So, allow me to break it down for you.
Instead of reinventing the wheel, I'll leave links to the easiest and best bun tutorials so that you can easily style create your own curly messy bun.
Affiliate Disclosure: "This post contains affiliate links, which means I receive a small commission, at no extra cost to you, if you make a purchase using this link."
Cute Buns For Curly Hair
Before we get into how to make cute buns for curly hair or wavy hair. Let's take a look at the various curly bun hairstyles:
Messy curly bun
Top knot curly bun
Low curly Bun
Half up half down curly bun
Long curly bun hairstyles
Short Curly Bun Hairstyles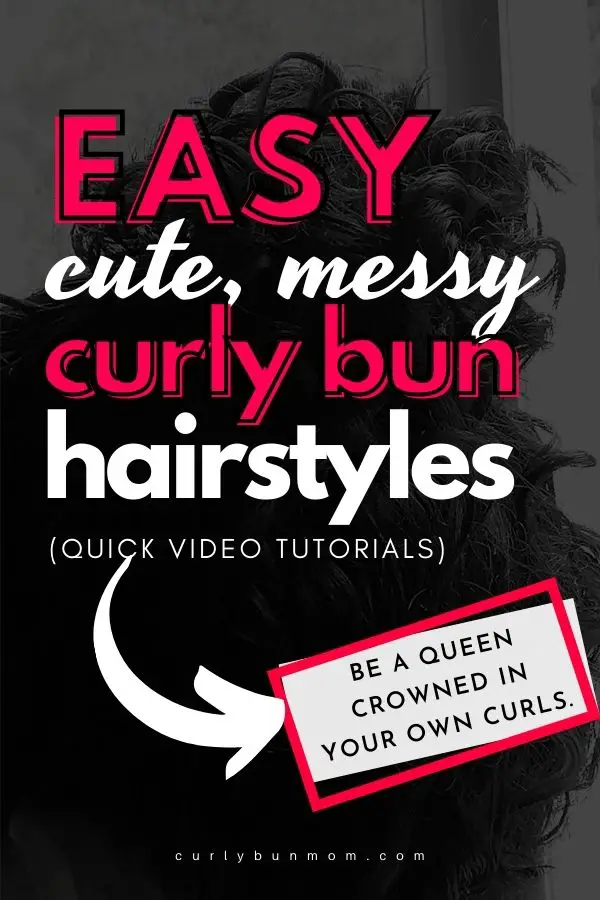 How To Do A messy bun for curly hair
My absolute favorite hairstyle is the messy bun. It's so quick and easy!
I think you will agree that curly hair routines and even sometimes refreshes can sometimes be long. This makes the curly messy bun a great updo hairstyle for third or fourth day curls.
So, whether you have unruly curly strands or if you're super busy and crunched for time, in a hurry, or late, then this is your best bet.
The messy bun is pretty foundational for all of the curly messy hairstyles.
How To Do A Messy Bun With Curly Hair
To style, simply follow these steps to get the cutest bun for your ringlets or waves.
Flip your hair over
Gently pull your defined curls to the crown of your head or any position that you'd like to have your messy bun
Loosely wrap your curls once in a satin scrunchy
Wrap your curls once again but this time don't pull through the length of your hair. You're basically creating a loop like when you pineapple long hair to sleep.
And that's it…seriously. That's how I style my natural curls in a messy bun every single time.
The result is always a natural-looking, gorgeous, soft, tousled messy bun.
Some things to note when styling your curly hair in a bun:
refresh your curls if necessary
always be gentle when styling your curls
loosely wrap your curls to secure your strands. Do not pull your hair tightly as you will experience breakage and damage your natural curls.
leave out some curls to soften the look and get a more elegant look.
How To Do An Easy Top Knot Bun
Another way to do a very easy messy curly bun is the top knot, especially for long curly hair:
Pull your long curls to the top of your head
Secure your curls in a satin scrunchy
Gently gather your curls and put your long curly hair into a ponytail
Then, loosely secure your ringlets with another scrunchy
Optional lay your edges
The top knot is another super easy hairstyle for curly girls and wavy hair. Check out this tutorial.
How To Do A Low curly bun
Instead of flipping your hair over, for the low curly bun, simply:
Gently gather your curls at the nape of your neck
Loosely wrap a satin scrunchy to secure your curls
Optional – gently pull out loose curls, ringlets or tendrils to frame your face
How To Do Half up half down curly bun
To get the cute messy half up half down bun for wavy or curly hair, follow these steps:
Gently separate your curls in half, gathering half at the crown of your head
Wrap your tendrils at the top and loosely secure with your satin scrunchy
For short hair, you can use one scrunch to secure your bun by not pulling the length of your hair through
For long hair, secure your hair in a ponytail first, then gently wrap the length of your curls around and secure with another scrunchy or hair pins.
How To Do Long curly bun styles
The messy, top knot or low bun are all perfect for long curly or wavy hair.
To put long curly hair in a messy bun may take an extra step or two to secure all the long curls. However, you're still going to follow the basic steps above.
Check out this great tutorial for long hair messy buns.
How To Do Short Bun Hairstyles For Your Ringlets
Just as with long hair, the messy and low buns are perfect for short curly hair. Just follow the steps above and you'll be looking gorgeous in no time. This short curly bun tutorial can help you create the perfect messy bun.
Is The Bun Good For Curly Hair?
Do buns ruin curly hair? Not if you style your bun the right way.
The key is not to pull your curls too tightly. If you pull your hair too tightly, you will run the risk. Also, use hair ties like a satin scrunchy so that you don't damage your hair.
There you have it! Some fantastic, quick and easy updo hairstyles for curly or wavy hair. I hope you have fun trying and love all of these curly buns.
Before you go, check out these other curly girl posts: