15 Best Drugstore Curly Hair Products In Canada For 2023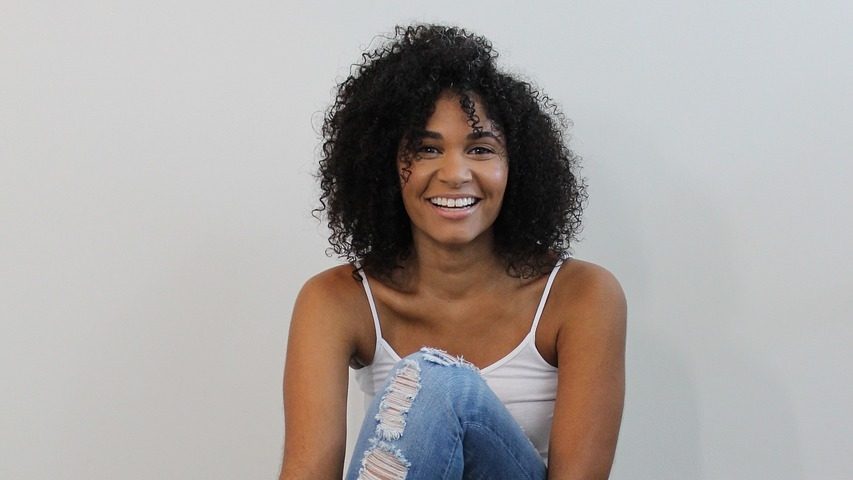 Today, I'm sharing my picks for the best affordable drugstore curly hair products for 2023, available in Canada.
Finding my regular favourite curly hair products in Canada proved to be a little challenging. Some of my faves were either unavailable or pretty expensive online.
So, I had to research and experiment with different curly brands and products to get the best results for my curls. This turned out to be pretty fun and I ended up with some new curly hair faves for 2021.
Best Affordable Drugstore Curly Hair Products In Canada
Affiliate Disclosure: "This post contains affiliate links, which means I receive a small commission, at no extra cost to you, if you make a purchase using this link."
These curly products are available in Walmart Canada, most drugstores or on Amazon Canada.
Herbal Essences Mango & Potent Aloe Shampoo
This sulfate free shampoo for curly hair from Herbal Essences gently cleanses your scalp and hair without drying them out.
It works well to remove build up without stripping your curly hair or leaving it feeling dry.
Additional bonuses are that it smells amazing and is extremely affordable.
This plant based and cruelty free curly girl shampoo is also paraben, paraffins and mineral oil free.
Herbal Essences Potent Mango & Potent Aloe Conditioner
The consistency of this curly girl conditioner makes it easy to apply to your curls and provides ample slip for easy detangling.
The ingredients of this drugstore curly hair conditioner do a great job of nourishing your curls leaving you with very hydrated, soft, and defined ringlets.
At this affordable price point, I'm completely satisfied and probably won't be reaching for another conditioner in the near future.
Aussie 3 Minute Miracle Moist Deep Conditioner
The ingredients of this miracle conditioner are incredibly nourishing and moisturizing for naturally curly hair. It provides fantastic slip which makes detangling a breeze.
Even though it's labelled as a deep conditioner, I won't recommend using it instead of the deep conditioners mentioned in this article, or your current favourtie.
It's a great conditioner for your curly hair if you're short on time and your curls need a little extra hydration.
Shea Moisture Jamaican Black Castor Oil Strengthen & Restore Treatment Masque
Shea Moisture is a well known curly girl approved favorite and it's such a win to find one of their products that work well for me.
This mask is thick, rich and is perfect to help with restoring strength and moisture.
After deep conditioning for 20 minutes, my curls look so juicy, soft, hydrated, and defined.
Shea Moisture Manuka Honey & Mafura Oil Intensive Hydration Hair Masque
Another favourite drugstore curly hair deep conditioner from Shea Moisture. This deep conditioner smells really nice and it's as thick as the Jamaican Black Castor Oil product. It provides lots of slip so that detangling is a dream and effortless.
You can leave it on for 5 minutes or for extra moisture cover with a plastic cap and rinse after 30 mins.
After a deep conditioning treatment with this product, my curls are hydrated, defined and styles so much easier!
Cantu Shea Butter For Natural Hair Moisturizing Curl Activator Cream
This curl activator cream for natural hair provides great slip and instantly makes your hair feel soft.
The nourishing ingredients work well to leave you with frizz-free, hydrated and defined curls.
I love this product because it can create a cast which is great for hold. It also means it's potentially great for a one-product curly wash and go, depending on your hair type.
For your wash day results to last longer though, you can pair this with your favourtie curly hair gel or mousse.
Shea Moisture Silicone Free Miracle Styler Leave In Treatment
The consistency of leave-in conditioner from Shea Moisture makes it so easy to apply to your hair. It has great slip and provides a great base for styling.
This protein free drugstore curly hair leave in conditioner is also great for curly girls who have protein sensitive hair.
I don't love the spray nozzle. Instead of spraying directly onto your hair, you can spray into your hands then apply to your curls.
Aussie Miracle Curls Frizz Taming Coconut Cream
Aussie's frizz-taming coconut curl cream is not curly girl approved so skip this one if you follow the curly girl method. This product contains dimethicone, mineral oil, and petrolatum which are not curly girl-approved ingredients.
If you don't closely follow the curly girl method this affordable drugstore curl cream is a must-try!
It's a thick cream but does not weigh down your curls. It's quite lightweight in your hair and helps to smooth and define curls.
For longer wash day results, I layer this product with a gel or mousse to lock in my hydrated, defined curls.
Cantu Shea Butter For Natural Hair Coconut Curling Cream
I was so happy to see this drugstore curl cream here in Canada. Back in my home country, I used to love this curl cream! Sadly, products were hard to get consistently and eventually I switched to Shea Moisture for a bit and then to Creme of Nature's curl cream.
Cantu's coconut curling cream does it all – hydrates, defines and provides a nice hold.
It leaves my curls so defined and soft and my wash day results last a couple of days, even without a gel or mousse.
It's a heavier product so if you try it, expect your curls to take longer to dry than if you used a lighter weight product.
Aussie Instant Freeze Gel
Curly girl approved, Aussie's Instant Freeze Gel boasts of a 20 hour max hold!
This drugstore curly girl gel is really thick but does not leave your curls sticky or with any residue. It leaves a cast which you can easily scrunch out once you've air dried or diffused.
I don't typically love gels but I was pleasantly surprised with this curly girl approved drugstore gel. The end result was soft, frizz-free, defined curls.
Herbal Essence Totally Twisted Curl Boosting Mousse
One of my favourite drugstore mousses for curly hair. It smells amazing and provides fantastic hold for my curls.
It's curly girl approved and so affordable. It never disappoints and always leaves me with bouncy defined, frizz free curls.
Aussie Miracle Curls Styling Mousse
I love this curly girl approved drugstore mousse from Aussie. It's affordable and does a great job of controlling frizz.
Aussie's mousse defines and holds my natural curls for a longer lasting wash and go.
Aussie Miracle Curls Curl Defining Oil
This is a nice sealing oil to finish off your wash day styling, though it's not curly girl approved.
A little goes a long way and it never leaves my hair too oily. It works well to scrunch out the crunch without creating any frizz and gives curls beautiful shine.
Denman Classic Styling Brush
A Denman brush is a must to easily define my curls. I've tried other brushes recommended in the curly community but I always go back to the Denman brush.
Styling with this brush significantly cuts my styling time and the definition and frizz-free curls I get is unmatched.
Kitsch Satin Scrunchies
These satin scrunchies are perfect to secure your curls in a pineapple at night. It leaves no rings around my hair and stays in all night.
These scrunchies protect my curls and never get stuck in my hair like other hair elastics do.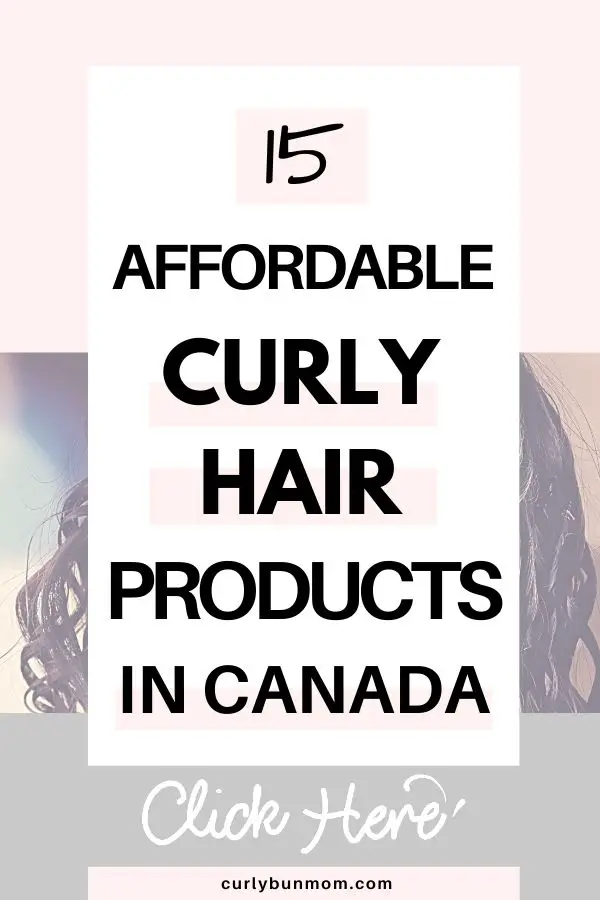 Overall Thoughts On Budget-Friendly Curly Hair Products In Canada
I'm really happy with the affordable drugstore products that I was able to find for my curls. I'll continue to experiment with the curly hair products available in Canada and update this post frequently as I find new gems to recommend.
I hope this list has been helpful for you on your curly journey and I would love to hear about your favourite drugstore curly hair products. Let me know in the comments below.
Before You Go, You Will Love These Other Posts For Curly Hair:
Product recommendations
Product Reviews
Important Information To Care For Curls & Waves
Dyeing Textured Hair At Home Without Damaging It
Wavy & Curly Hair Routines & hairstyles