The Best Winter Curly Hair Routine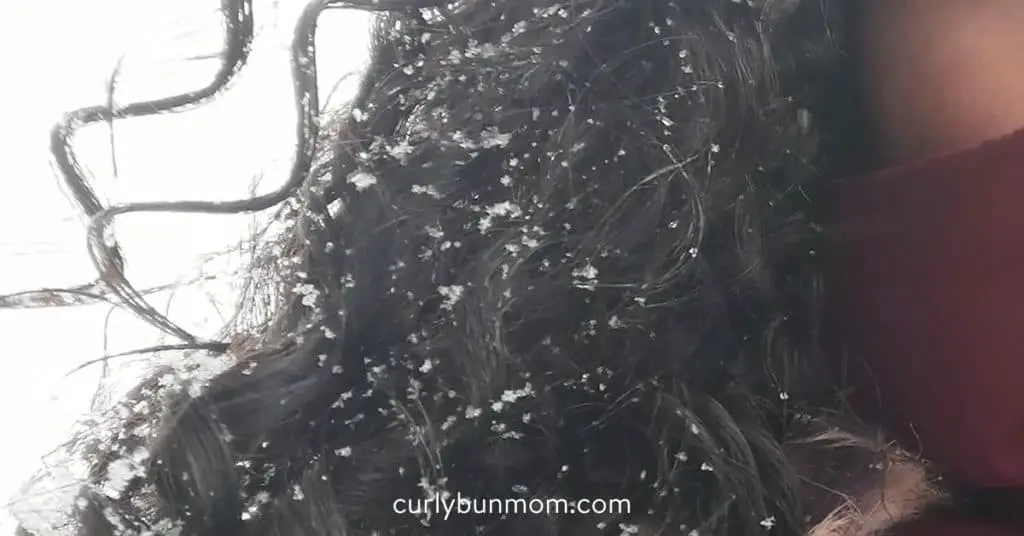 Try these great winter curly hair products & curly girl routine to keep curly hair moisturized and frizz-free in the winter. Do you lose your curls or does your curly hair go flat and straight in the winter? Try these winter curly hair tips to care for your hair in the winter and keep your curly hair hydrated in winter.
Affiliate Disclosure: "This post contains affiliate links, which means I receive a small commission, at no extra cost to you, if you make a purchase using this link."
What Happens To Curly Hair In The Winter?
In winter, when the temperature and dew points are low, the air is dryer and humidity is lower. The result is dryer than usual curls or waves. This also causes your hair to be frizzier and possibly even flatter (less volume).
As a curly or wavy girl, your main aim is to keep your hair well moisturized in these colder temps.
Winter Curly Hair Products
Before we take a look at a good winter curly hair routine, let's check out some awesome winter curly hair products to help with caring for your curls on colder days. 
Glycerin is a humectant that you want to avoid in extreme temperatures – either too hot or too cold. For this reason, when styling your winter curls and waves, it's best to look for glycerin free or low glycerin products. Glycerin in your shampoos and conditioners are generally still good, as you're washing your hair in a moisturizing environment.
When choosing curly girl styling products, remember to assess your hair before you wash and style to prevent moisture overload or protein overload.
If you closely follow the curly girl method, please check the product ingredients on a site like Is it CG, to ensure that it's a curly girl method safe product.
Click on any product below to easily purchase on Amazon.
Curly Girl Sulfate Free Shampoos For Winter
Shea Moisture Raw Shea Butter Moisture Retention Shampoo
Shea Moisture Coconut & Hibiscus Curl and Shine Shampoo
Winter Curly Hair Scalp Exfoliating Cleansers
Curl Smith Wash & Scrub Detox Pro-Biotic
Briogeo Scalp Revival Charcoal + Coconut Oil Micro-exfoliating Shampoo
Eva NYC Deeptox Exfoliating Salt Shampoo
Winter Curly Girl Co Wash
Cantu Shea Butter For Natural Hair Complete Conditioning Co Wash
Curlsmith Moisture Recipe Curl Quenching Conditioning Wash
As I Am Coconut Co Wash Cleansing Conditioner
Curly Girl Silicone Free Conditioner For Winter
Aveda Nutriplenish Conditioner
Shea Moisture Coconut & Hibiscus Curl and Shine Conditioner
Maui Moisture Heal & Hydrate Conditioner
Cantu Natural Hair Shea Butter Hydrating Conditioner
Garnier Fructis Nourishing Treat 1 Minute Hair Mask
OGX Shea Soft & Smooth Coniditioner
Winter Curly Hair Deep Conditioners
Shea Moisture Manuka and Maufura Oil Masque
Verb Manage + Restore Hydrating Hair Mask
Mielle Babassu & Mint Deep Conditioner
Briogeo Don't Despair Repair Deep Conditioner
Maui Moisture Heal & Hydrate Hair Masque
Leave In Conditioners For Winter Curly Girl Routine
Aveda Nutriplenish Leave In Conditioner
Soultanicals Frizz Whiz Curl Defining Leave In Conditioner
Winter Curly Hair Curl Creams
Bounce Curl Avocado & Rose Oil Clump & Define Cream
Treluxe Curl Supreme 4 in 1 Hydrating Creme
Not Your Mother's Kinky Moves Defining Cream
Curly Girl Approved Glycerin Free Gels For Winter
Dippity Do Girls With Curls Gelee
Treluxe Hi! Definition Curl Enhancer Styling Gel
Not Your Mother's Curl Talk Gel
Bounce Curl Light Hold Creme Gel
Winter Curly hair Sealing Oils
OGX Coconut Oil Weightless Hair Mist
Purad'or 100% Pure Cold Compressed Organic Argan Oil
Cliganic 100% Pure & Natural Jojoba Oil
Aveda Nutriplenish Multi Use Hair Oil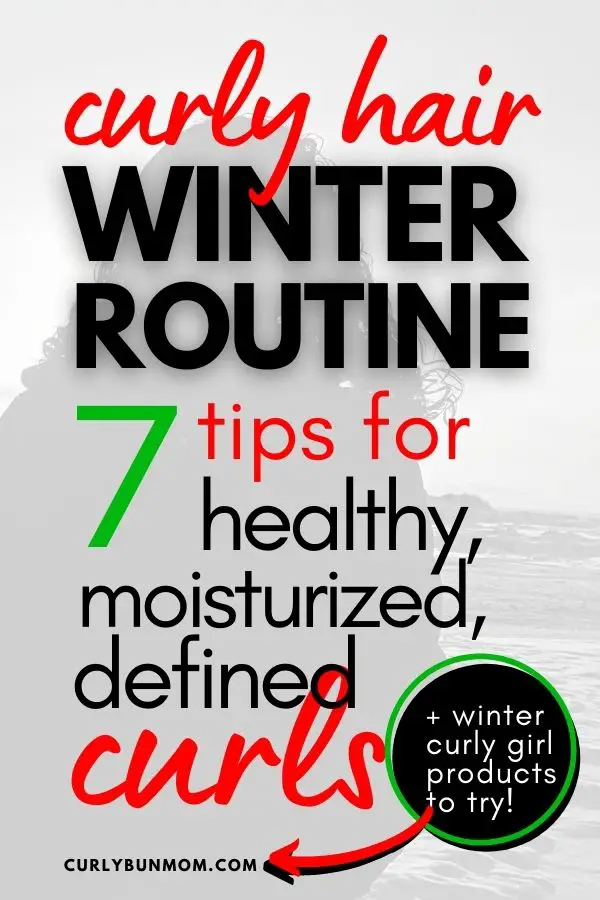 Best Winter Curly Hair Routine
Your winter curly routine steps will look similar to your regular routine. The main differences will be:
Frequency of your wash days

fewer wash days mean less chance of drying out your curls

The styling products you use (more moisture, with little to no glycerin)
Hair Drying method (if you don't normally diffuse).

During the winter, diffusing is best because the temperature is so low you run the risk of your hair freezing and then frizzing.
Your winter curly hair routine should start with a fantastic, long hold winter wash day routine. The more hold you have on wash day, the less often you would need to wash your hair.
A good winter curly hair routine continues throughout the week with your curly hair sleep habits and winter refresh day routines.
Pre Poo treatment
Wash your hair with sulfate free shampoo
Condition, detangle and rinse
Deep condition to nourish dry and frizzy curls
To fight frizz, style with winter curly hair products
Dry your curls with a diffuser on low or no heat after the gel cast forms
Srunch out the crunch (SOTC) with a sealing oil
Protect your curls while you sleep
Refresh curls in the morning
Pre Poo Curly hair Treatment
Start off your winter curly hair wash day with a pre poo treatment. A hot oil treatment or pre poo treatment, like coconut oil is fantastic for your curly hair in the winter months. It helps with hydrating your curls before clarifying.
Winter Curly Hair Wash Day
Then, wash your hair with a hydrating, sulfate free shampoo.
A good curly girl tip when clarifying hair is to apply the sulfate free shampoo to your scalp, then use a scalp massager or brush to exfoliate.
When rinsing, the shampoo will move down the length of your hair and that's usually enough to cleanse the length of your curls.
If you're experiencing a flaky, dry scalp, try an exfoliating cleanser to help with clarifying your scalp.
If your scalp and hair are extremely dry and doesn't need much cleansing then a co wash may be your best option.
Condition, detangle and rinse
Apply your conditioner from bottom to top and detangle with your fingers or a detangling brush like a tangle teezer.
Deep condition to nourish dry and frizzy curls
Deep conditioning is important for every curly girl but more so during winter.
A great way to hydrate your curls more is to add heat with a steam cap. This allows for deeper penetration of the deep condition, enabling your curls to get maximum benefits and moisture.
Remember to only leave in your deep conditioner for the recommended length of time as per the product directions.
Style With Winter Curly Girl Products
To fight frizz and get moisturized, defined curly hair, style with:
Leave in conditioner
Curl cream
Glycerin free curly girl gel
Diffuse Curls
Dry your curls with a diffuser on low or no heat after the gel cast forms.
During winter days, air drying and going out with wet hair is a terrible idea for your curls as your hair can freeze! This, of course, if damaging to your hair and will result in dry, frizzy hair.
To prevent that, diffusing is the best way to dry your curls in the winter months.
Some curly girls prefer high heat and high speed – this way they get the job done faster and they don't experience any heat damage.
Other curly girls recommend going in with low heat and low speed to reduce the amount of heat used while drying their defined curly hair. This method takes a little longer but the results are similar.
If you're unsure, try out both ways to see which one works best for you.
Srunch out the crunch (SOTC) with a sealing oil
SOTC and seal your winter curly hair wash day results with an oil will lock in the moisture from all the products you styled with. Using a sealing oil also reduces damage from the harsh winter temperature and environment (including heating in your home).
Protect your curls while you sleep
Remember to protect your curls while you sleep to preserve your curly hair wash day results. Check out these tips to add to your night time curly hair routine.
Refresh curls in the morning
Also, refresh your curls during the week to reduce the number of wash days during the week.
Check out these other curly hair routines:
How To Keep You Hair Moisturized In Winter
To recap, keep in mind these 7 tips for your winter curly hair routine and products:
Use sulfate free shampoo and wash less often – once a week is great!
Deep condition every week
Choose glycerin free or low glycerin, moisturizing styling products
Diffuse using low or no heat – Don't go out with wet curly or wavy hair
Use sealing oil to scrunch out the crunch
Maintain a good night time routine to protect your curls
Use protective styles like braids or curly buns to reduce friction and frizz
Before You Go, You Will Love These Other Posts For Curly Hair:
Wavy & Curly Hair Routines & hairstyles
Product recommendations
Product Reviews
Important Information To Care For Curls & Waves
Dyeing Textured Hair At Home Without Damaging It