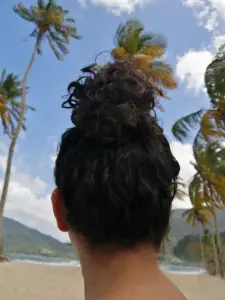 Hi, I'm Jen
I've been married for almost a decade and my hubby and I are raising two handsome boys and a precious little girl.
As the founder and owner of Curly Bun Mom, my goal is to help you live your best life. I write articles about Mom Life, Curly Hair Care, Self Development & Self Care. So, grab your fave drink, get comfy, and enjoy the journey to living your best life.
Get To Know me
I LOVE lists! So, here's the first of many that you'll see on the site.
Personality: Playful, hardworking, determined, loyal to a fault, sensitive and supportive.
Fave Things To Do: Spend time with my family, help others, write lists (lol) and crazy dance sessions with my kids (or alone)
Passions: I'm very analytical and I love figuring out solutions and finding simpler ways of getting stuff done. Anything that involves making life easier and allows me to have more time to spend doing the things I love.
Words I live by: Love Yourself| Believe in yourself | Dream big | Be determined | Stay focused | Work hard | Play hard
Corporate Career
I worked for about 15 years in customer experience, business solutions and commercial analysis. I also earned my BBA and went on to successfully complete my MBA. Even though I worked at a big communications company, the corporate world has never really fulfilled me. I never felt as though I made a meaningful impact.
Being a mom
Becoming a mom has been a tough but extremely rewarding road. I was diagnosed with PCOS at 18 and trying to conceive was an emotional roller coaster, to say the least.
It was only after my first son was born that I really dreamed of staying home to raise him. At that time I thought it would remain just that, a dream. Later on, when we had our second child, though, my heartache when I had to return to work was not any easier. Going back to work was the toughest thing I've ever had to do – I cried for days!
Nevertheless, I soon readjusted to corporate life and then, a couple years after having our second child, I had an opportunity to leave to pursue a new career path.
Just after I left my job, we found out we were blessed with baby #3! After some deliberation and hiccups, hubby and I decided that the best decision for our family was for me to be a stay at home mom. Being a stay at home mom has allowed me to help people through my website, volunteer and be at home to care for my kids.

One of the main reasons I wanted to stay at home to raise my kids was that I wanted my kids to have the best parts of me and I didn't feel like I was able to do that and have a full-time corporate job.
What I've found, though, is that being a stay at home mom fills my day as much as any outside job (if not more) and just like at any other job, you have to find ways to be more efficient. You also have to be able to find a balance between full-time child care and self-care – I'm still working on this part!
The thing I most want to share is I've realised that being a mom, whether staying at home or choosing to go the corporate route absolutely does not mean that we have to give up on any of our dreams. What might have to change is the way we approach fulfilling them.
This was really why I started Curly Bun Mom, to share my experiences and all that I've learned to inspire, motivate and help other moms to live their best lives.
I hope you love the blog as much as I love writing and creating content and I look forward to seeing and hearing from you often! Enjoy 🙂
Access To Freebie Library