How To Grow Curly Hair Fast – 8 Tips To Grow Out Short Curly Hair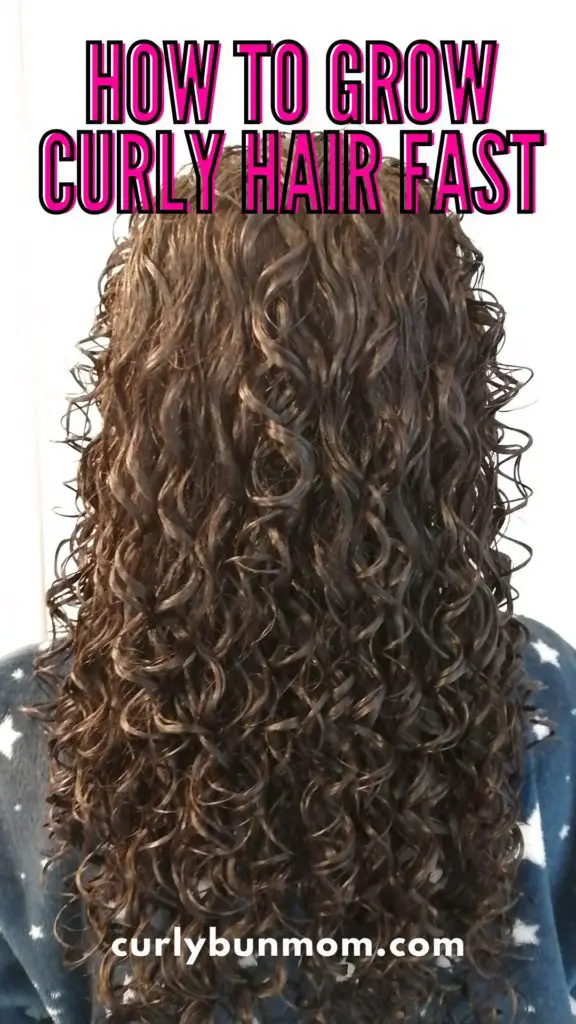 Do you want to learn how to grow curly hair fast ? In this post, I cover my top 8 tips for curly hair growth.
Growing out short curly hair fast can sometimes be challenging.
But, I've got the best tips for you that will help you learn how to make curly hair grow faster.
Whether you're looking to promote root hair growth or length retention, these curly habits will help you to grow longer curly hair faster.
Affiliate Disclosure: This post contains affiliate links, which means I receive a small commission, at no extra cost to you, if you make a purchase using this link.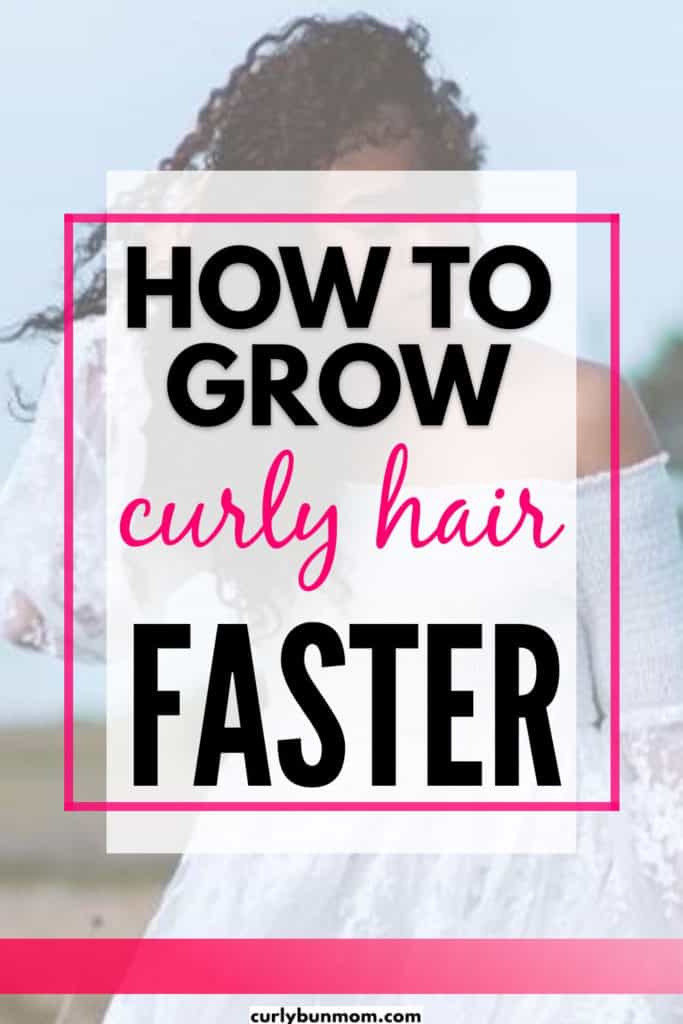 How Long Does It Take For Naturally Curly Hair To Grow?
The length of time it takes for your curly hair to grow is very dependent on your hair type and the effort put in to encourage hair growth.
Curly hair that is cared for regularly and protected is more likely to grow stronger and faster.
When I follow these naturally curly hair growth tips, I typically get about half to one inch of growth per month.
I don't always track my hair growth but if you'd like to, this is a pretty cool curly hair growth chart tshirt.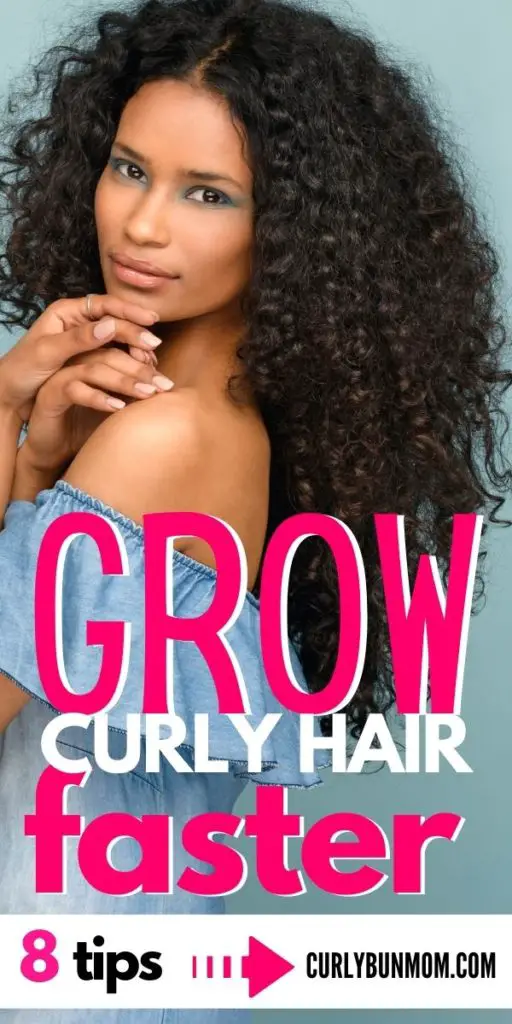 How To Grow Curly Hair Fast : My Best Curly Hair Growth Tips
How I grow my curly hair fast
Maintain a healthy diet to maximize hair growth
Trim your curly ends when you notice splitting
Give your scalp extra love to stimulate hair follicles and encourage hair growth
Follow curly hair care tips for your curl type and start the CG method
Use the best curly hair products for your curls
Follow a good curly hair routine
Protect your curls while you sleep to minimize breakage
Use protective hairstyles for your curly hair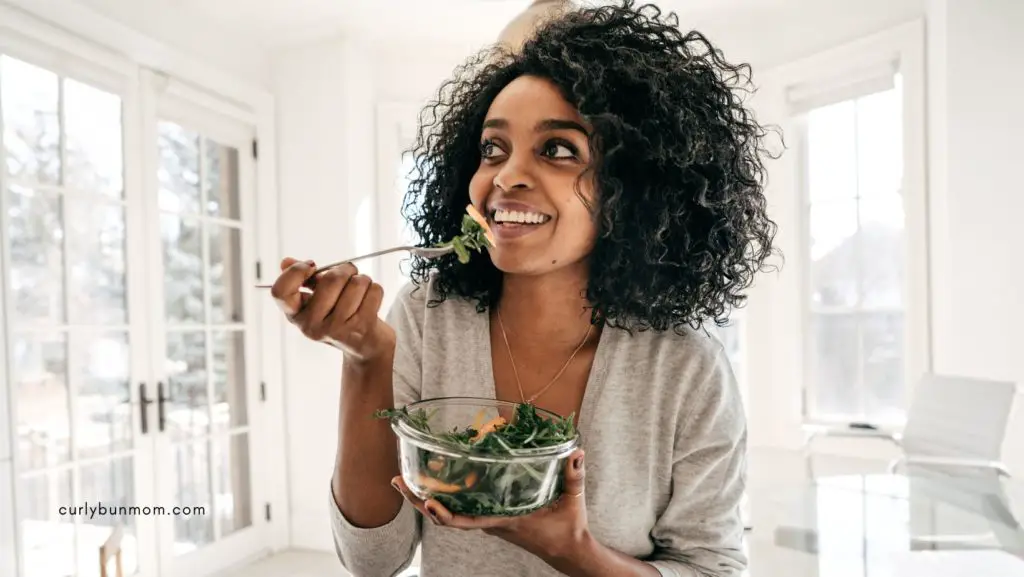 Maintain a healthy diet For Maximum Curly Hair Growth
As with most things in our lives, maintaining a healthy diet and getting sufficient water daily will help with curly hair growth.
Maintaining a healthy diet and lifestyle, balances your hormones which promote hair growth.
Ensuring that you get sufficient vitamins like A, B, C, D & E through food and supplements will help you to grow long, curly hair.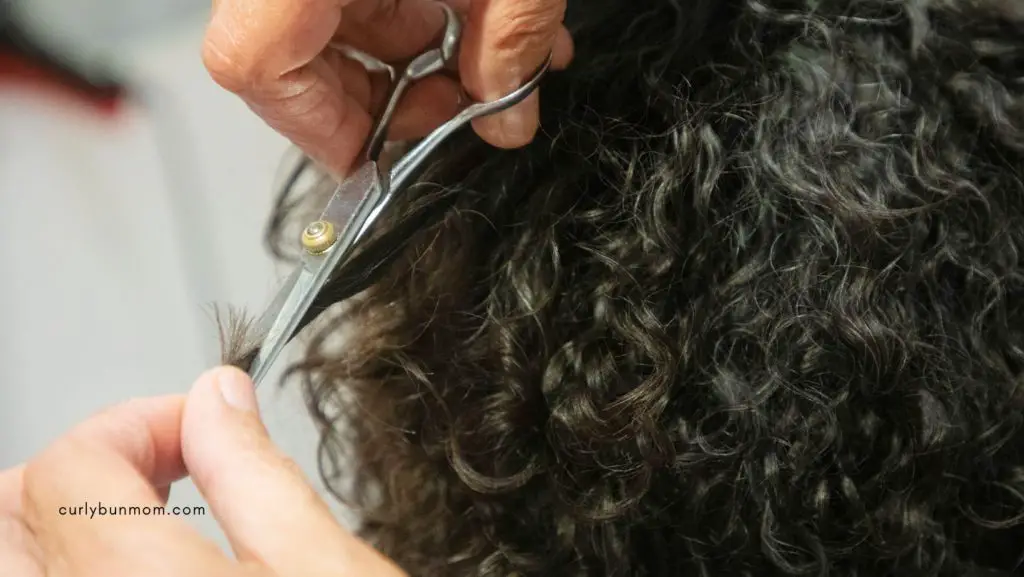 Pay Attention To Your Curly Hair Ends To Maintain The Length Of Your Hair
I don't love cutting my hair often, which includes the "regular" trims that my hairdresser would recommend.
Instead, I pay very close attention to my ends and I'm always on the lookout for signs of splitting.
Once my curly hair has split ends, I'll go in to have a trim.
Another great tip for your curly ends is to moisturize and hydrate them more than the top of your head.
Your ends are the oldest parts of your curls and will be more prone to being dry, frizzy and brittle, which would lead to more breakage and split ends.
This means that even though you're achieving hair growth from your roots, you're not retaining your curly length.
This is probably why it feels as though your naturally curly hair isn't growing.
By taking good care of your curly length, you will realize that your don't split as quickly as they used to.
Of course, this means, you can go longer without getting a trim so you maintain your curly length.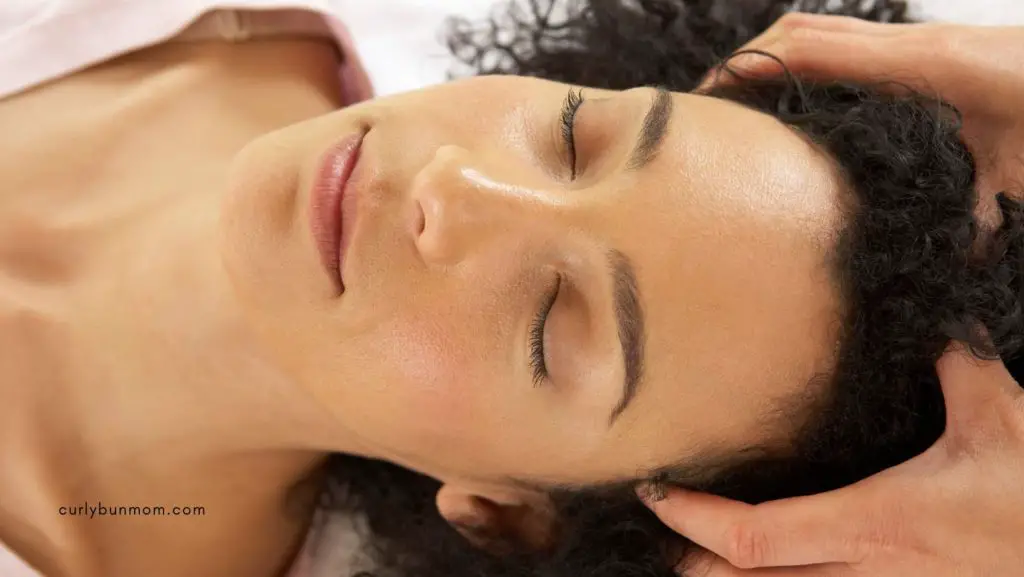 Give Your Scalp Some Extra Love For Curly Hair Growth
Similar to having a skin care routine, it's essential to have a scalp care routine.
For your normal curly girl routine, dedicate some time before your wash day routine to moisturize and massage your scalp.
For a curly girl hair growth routine, add daily scalp massages with your favorite hair growth oil.
The best time to stimulate your hair follicles with scalp massages for hair growth is at night, right before bedtime.
With a small amount of your hair growth product on your fingertips, gently massage your scalp.
This will stimulate your hair follicles, increase blood flow, and promote curly hair growth.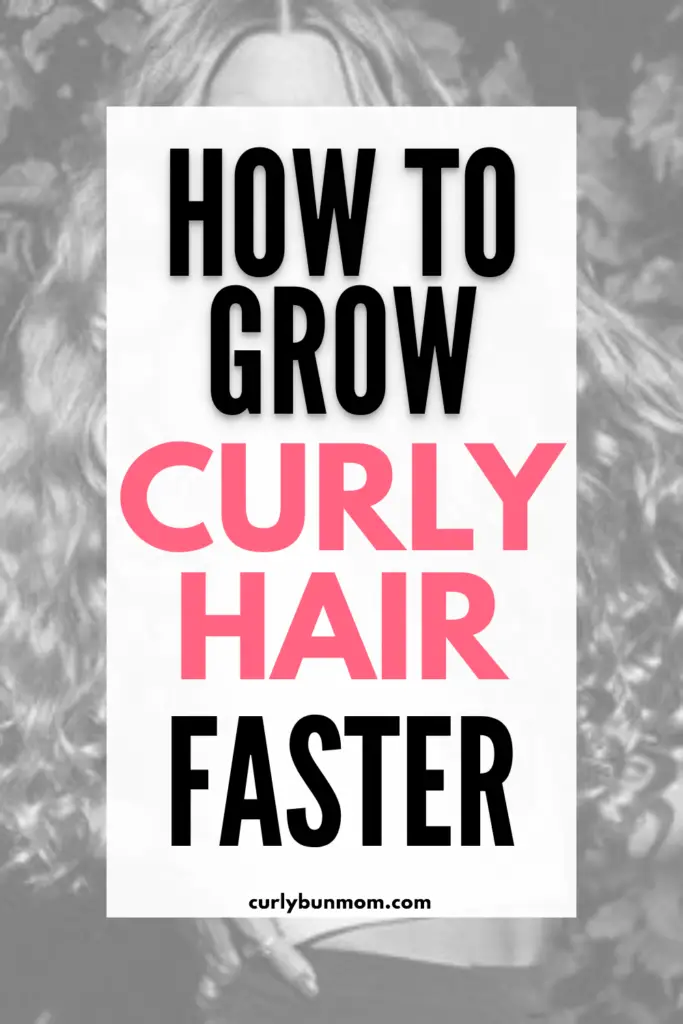 Follow Curly Girl Tips For Your Hair Type To Grow Your Hair
One of the most important aspects of growing long curly hair is maintaining your length.
This means that you have to prioritize minimizing breakage.
One of the most important curly hair growth practices deep conditioning your curls at least once a week.
Deep conditioning hydrates and strengthens your curls, preventing breakage so that you maintain healthy long curls.
Additionally, spend some time researching best practices for your curly hair type and incorporate them into your routines.
If you don't know where to start, check out these posts: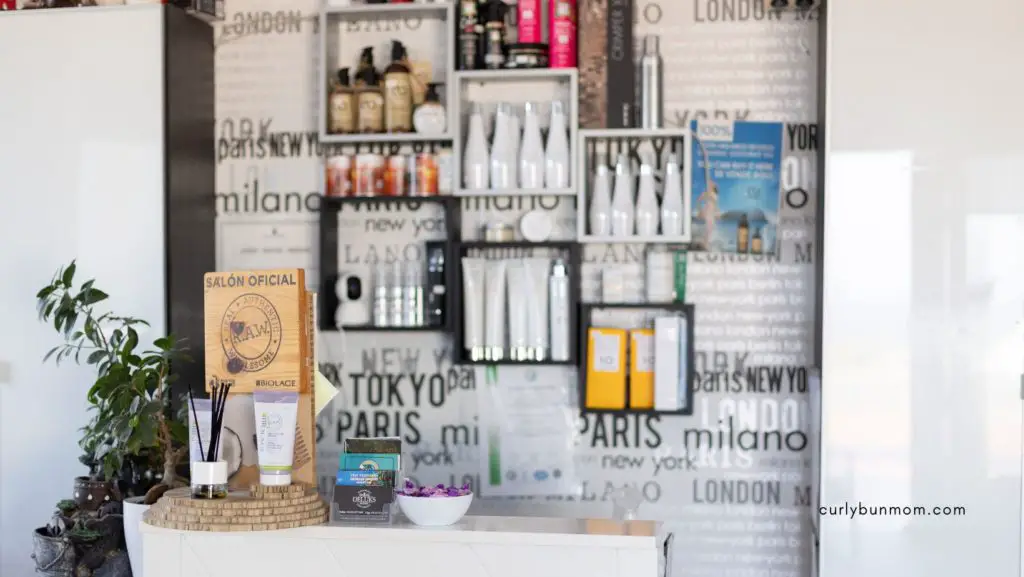 Use The Best Curly Girl Products For Your Hair Type & Hair Growth
The products you use for your curly hair are essential for curly hair growth success.
If you're using products that are drying and damaging to the length of your hair, you're more likely to experience breakage.
Finding the right products for your naturally curly hair will take a bit of trial and error but the results will definitely be worth it.
Your curls will be healthier, more defined and you will grow your curly hair longer, faster.
Using the best curly hair products for your natural curls doesn't have to break the bank.
You will love these Curly Hair product recommendations: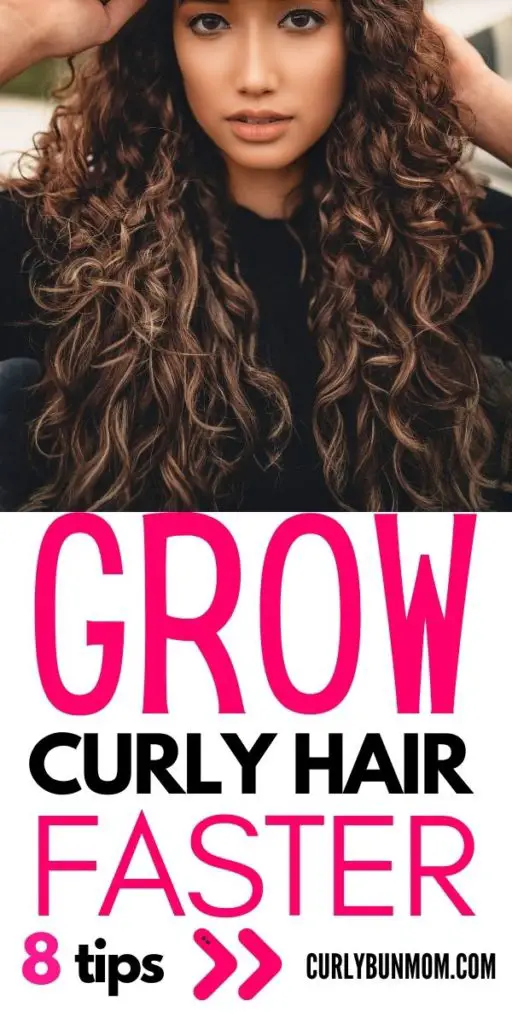 Follow A Good Curly Hair Growth Routine
Being consistent with a curly hair routine for your hair type is also very important to encourage hair growth.
Your curly hair routine doesn't have to take up half of your morning.
If you're looking for simple hair routines, check these out:
Wavy hair (2a, 2b, 2c hair) routine & 3a 3b hair curly routine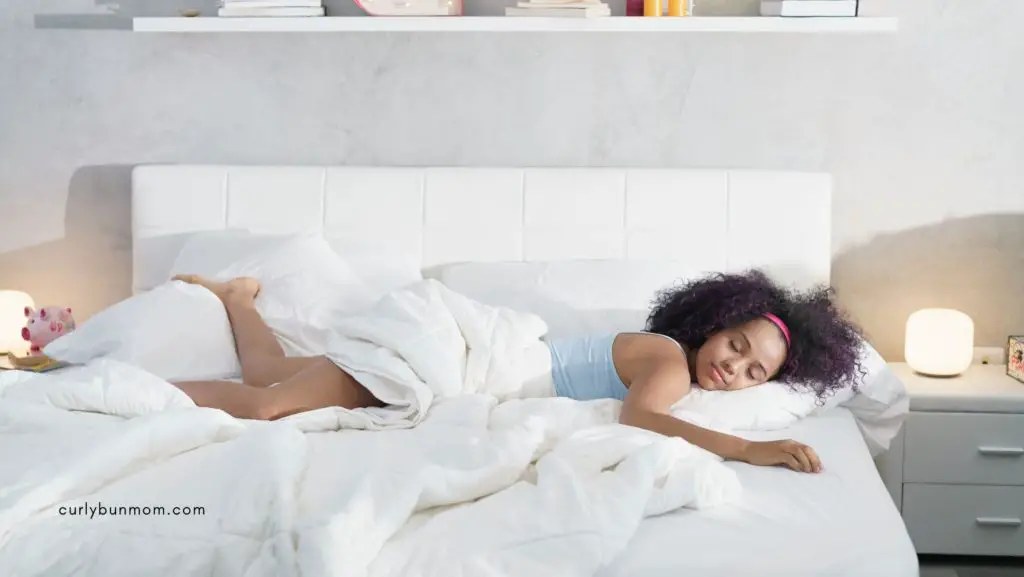 Protect Your Curls While You Sleep
As you toss and turn in your sleep, the friction on your pillow can cause breakage.
It's therefore important to protect your curls while you sleep.
This will ensure that the length of your curly hair stays healthy and strong and won't break easily.
Check out these easy tips on how to protect your curls while you sleep.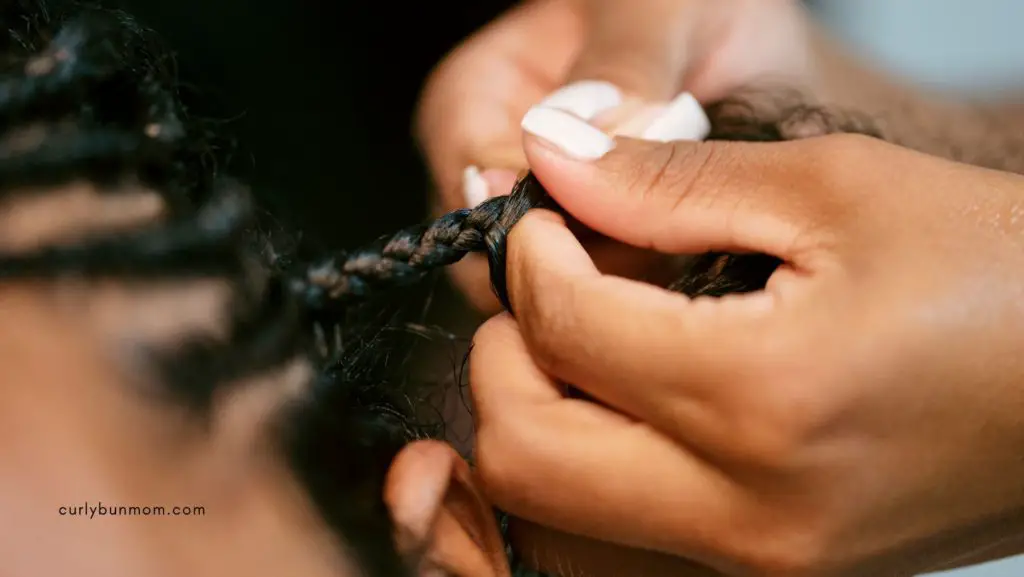 Use Protective Hairstyles For Your Hair To Promote Curly Hair Growth
One of my best tips to make curly hair grow faster is to use protective styles often.
Styling your hair once a week and only maintaining it throughout the week will help to minimize breakage and therefore, maintain the length of your curls.
The more you style and manipulate your hair, the more likely it will break.
To make your wash and go last longer, try adding a curl cream or curly girl gel to add hold to your defined curls.
This helps reduce frizz, locks in moisture, and reduces the number of times you have to touch and manipulate your hair on refresh days.
Using hairstyles to protect your curls will help to protect the length of your naturally curly hair from breakage.
Examples of protective hairstyles For Curly Hair Growth:
double dutch braids
french braids
twist outs
simple high-top curly bun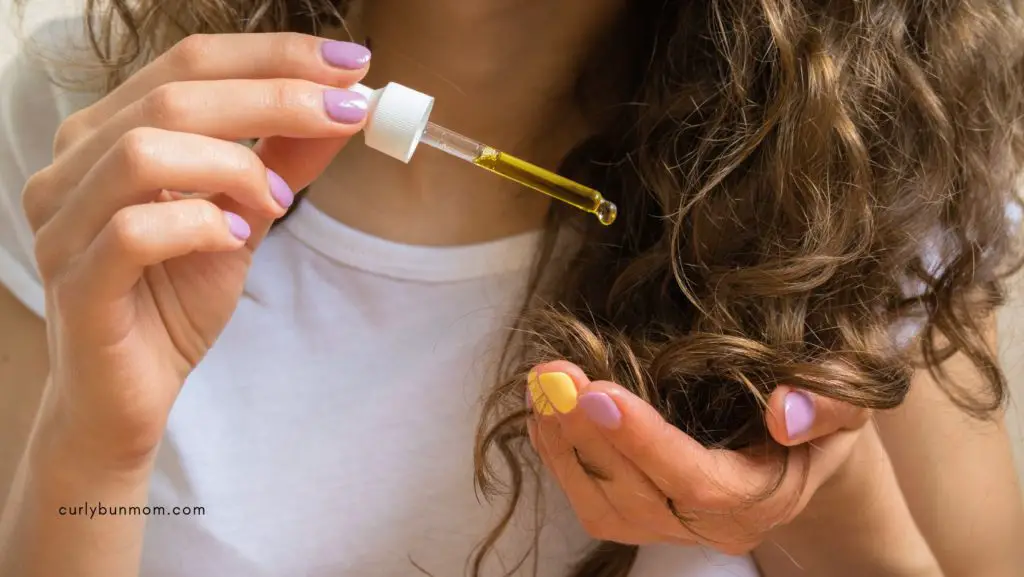 Curly Hair Growth Oils
The best hair growth oil products will typically have 2 types of oils at the top of the ingredient list in its formula – a carrier oil and an essential oil.
Essential oils are great for hair growth but it's not recommended to use them directly on your scalp.
Essential oils like peppermint, eucalyptus, rosemary, lavender, and tea tree are paired with carrier oils like castor, coconut, jojoba and olive.
There are a few preferred oils that are used by many curly and wavy girls to grow their hair – try out any below. You can click to purchase easily on Amazon.
Curly girl hair growth oils and products to try: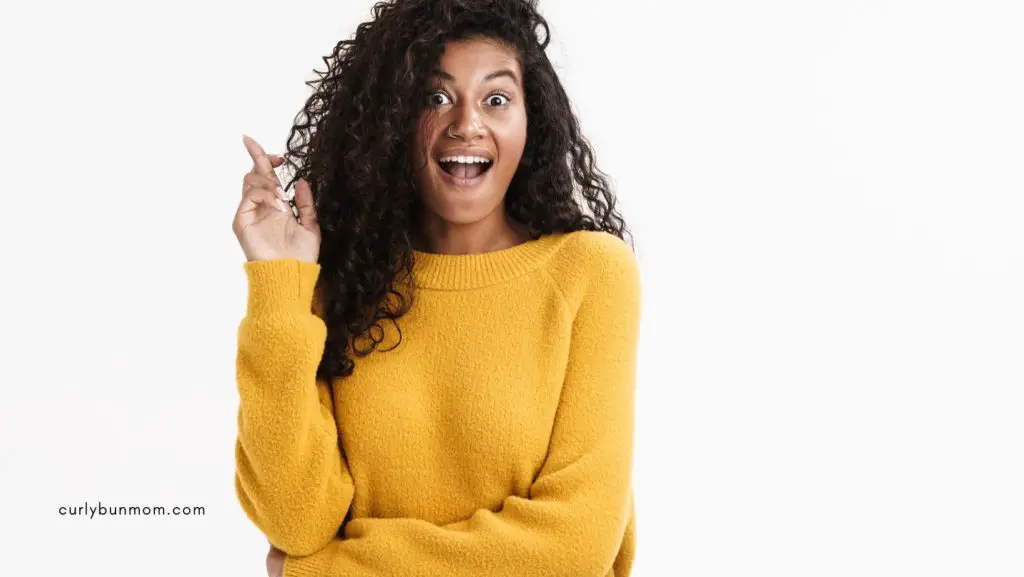 Last thoughts On How To Grow Curly Hair fast
Growing out your short curly hair may not be as daunting as you may have once thought.
Remember that caring for your scalp and the length of your curly hair is critical to promoting curly hair growth.
Also, using the right products for your curls, using protective curly hairstyles, and protecting your curls while you sleep all help to strengthen your hair and minimize breakage.
I hope this post will inspire you to continue on your curly hair growth journey to get the long curly hair of your dreams. 🙂
Curly Girl Product Recommendations
Curly Girl Routines
Curly Girl Hair Care
Curly Girl Product Reviews