Best Deep Conditioner For Curly Hair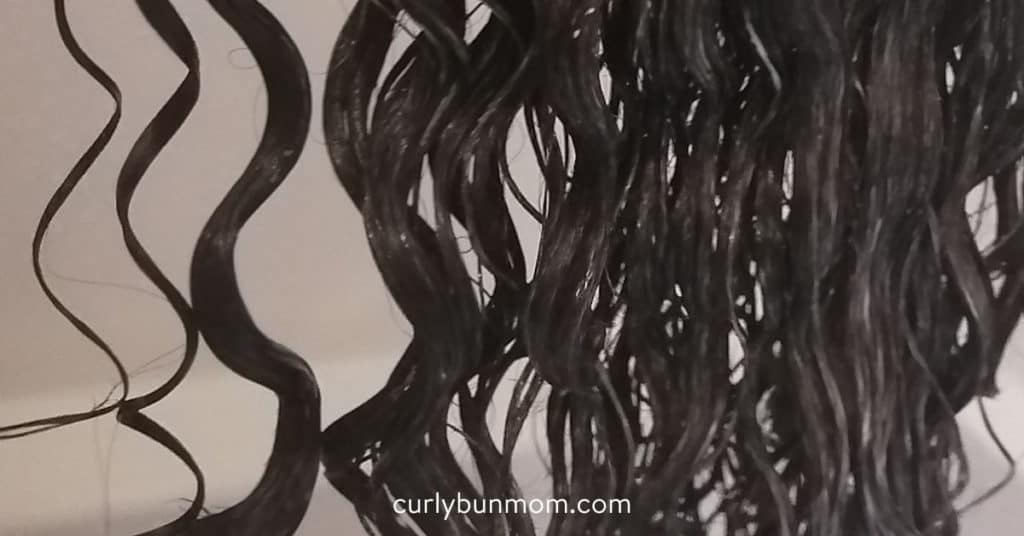 Using the best curly girl approved deep conditioner while following the curly girl method is crucial to the health of your curls.
A good curly girl approved deep conditioner helps by increasing hydration, improving the elasticity of your curls, tames frizz, repairs damaged hair and defines curls and waves more.
The best curly girl method approved deep conditioners will contain no:
sulfates
parabens
silicones
Click to read more information on tips and how to deep condition curly hair.
When looking for the best curly girl approved deep conditioner for your hair, you want to ensure that you know if your hair needs extra moisture or more protein.
To make it easy for you to find the best deep conditioner for your hair, I've split the top curly girl deep conditioners into Protein Free and Moisture Rich formulas.
You can also easily purchase any of these curly girl approved deep conditioners on Amazon by clicking on the product.
Please keep in mind that companies tend to change the ingredients in their products so check to ensure that the product's ingredients at the time of your purchase are still curly girl approved.
My favorite site to check ingredients for curly girl safety is Is It CG.
Affiliate Disclosure: "This post contains affiliate links, which means I receive a small commission, at no extra cost to you, if you make a purchase using this link."
Best Protein Free Deep Conditioners
Not Your Mother's Matcha Green Tea & Wild Apple Blossom Nutrient Rich Butter Masque
Garnier Fructis Nourishing Treat 3 in 1 Hair Mask + Coconut Extract
Garnier Fructis Hair Food Aloe Vera 3 in 1 Hydrating Mask
Garnier Fructis Strengthening Treat One Minute Hair Mask + Banana Extract
Garnier Ultimate Blends Repairing Hair Food Papaya & 3 in 1 Hair Mask For Damaged Hair
CurlSmith Double Cream Deep Quencher
Camille Rose Algae Renew Deep Conditioner
JessiCurl Deep Conditioning Treatment
As I Am Hydration Elation Intensive Conditioner
Eden Bodyworks Almond Marshmallow Split End Repair Masque
Eden Bodyworks Jojoba Monoi Natural Deep Conditioner
Biolage Hydrasource Conditioning Balm For Dry Hair
Mielle Organics Babassu Oil Mint Deep Conditioner
Rizos Curls Deep Conditioner For Curly Hair
Shea Moisture Green Coconut & Activated Charcol Purifying & Hydrating Multi Masque
Best Deep Conditioners With Protein
Kinky Curly Stellar Strands Hydrating Deep Treatment
CurlSmith Strength Recipe Multi Tasking Conditioner
Curls Blueberry Bliss Reparative Hair Mask
Shea Moisture Jamaican Black Castor Oil Strengthen & Restore Treatment Masque w/ Shea Butter, Peppermint & Apple Cider Vinegar – Best Drugstore Deep Conditioner for heat damaged or chemically processed hair.
Shea Moisture Manuka Honey & Mafura Oil Intensive Hydration Hair Masque
Shea Moisture Manuka Honey & Yogurt Hydrate + Repair Protein Strong Treatment
Shea Moisture Raw Shea Butter Deep Treatment Masque
Shea Moisture Purple Rice Water Strength + Color Care Masque – Best Drugstore Deep Conditioner for dyed curly hair.
Other Drugstore Curly Girl Deep Conditioners
If you don't strictly follow the curly girl method, you may like to try these deep conditioners which contain no sulfates, silicones or parabens.
Each of the following deep conditioners contains one ingredient that isn't recommended by the cg method.
These drugstore deep conditioners are really popular with some curly girls and they're very affordable.
Maui Moisture Revive & Hydrate + Shea Butter contains microcrystalline wax (cera microcristallina) which is not cg approved.
However, it's a great drugstore protein free deep conditioner, if you don't follow the cg method closely.
Maui Moisture Curl Quench + Coconut Oil – Despite the fact that this protein free deep conditioner contains alcohol (which is a drying alcohol and not cg method approved), it leaves my hair extremely moisturized.
Carol's Daughter Coco Creme Curl Quenching Deep Moisture Mask is another protein free deep conditioner to try. It does contain drying alcohol – isopropyl alcohol which isn't cg method approved.
Cantu Grapeseed Strengthening Treatment Masque – contains cera alba (beeswax) which is not curly girl method approved. This protein deep Conditioning mask is still loved by many curly girls.
I hope this list of curly girl approved deep conditioners helps you choose the best deep conditioner for your hair.
Before You Go, You Will Love These Other Posts For Curly Hair:
Product recommendations
Product Reviews
Important Information To Care For Curls & Waves
Dyeing Textured Hair At Home Without Damaging It
Wavy & Curly Hair Routines & hairstyles