Why You Should Love Your Messy Curly Bun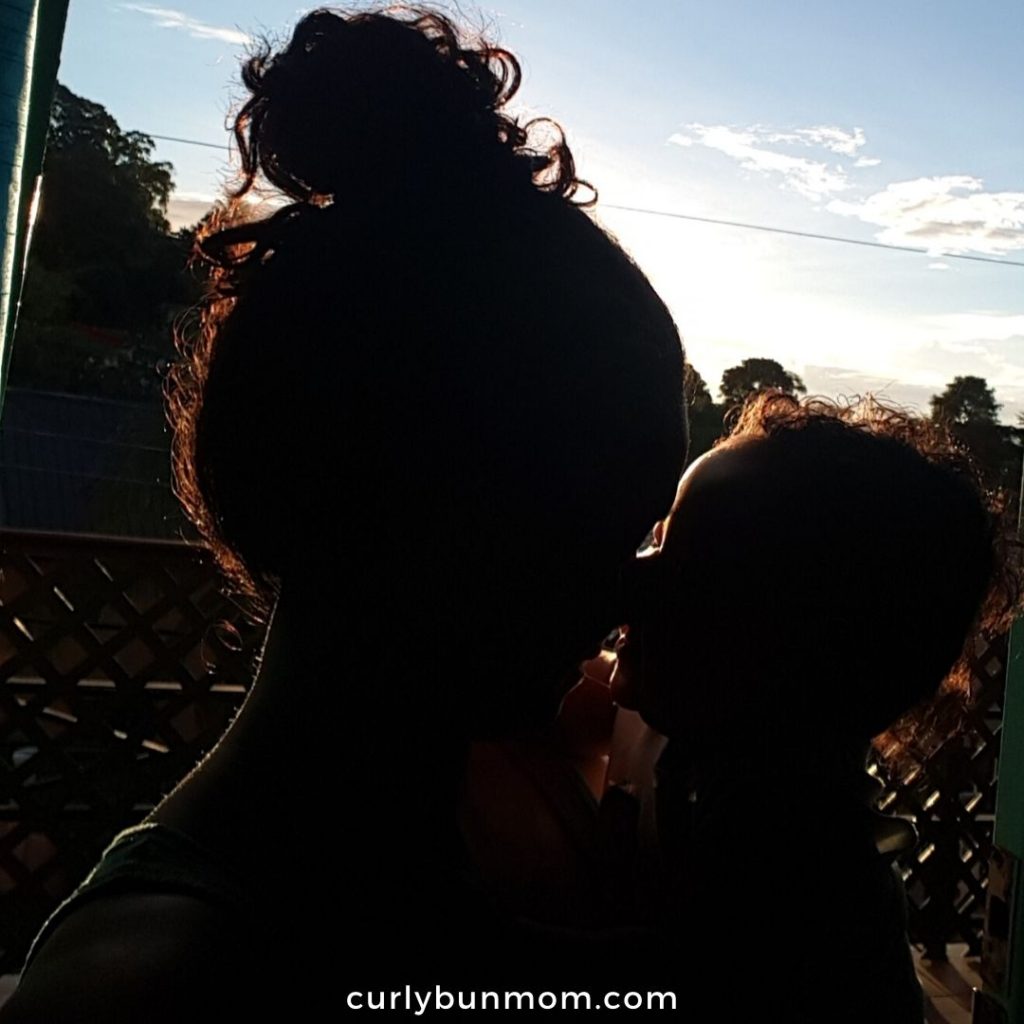 The messy curly bun has been my signature look long before I was rocking the mom bun.
No matter what hairstyle I start off with, at some point, my curls sometimes always end up in an awesome curly messy bun. It's rarely in any other style because the convenience and comfort can't be beaten for me.
Typically, on a Sunday, I wash, style and air dry my hair. At night, I protect my curls by sleeping with my hair in a pineapple and on a satin pillow. When I get up the next morning, my curls look so cute and awesome I usually just adjust them and leave them in a high messy bun with some tendrils hanging out. 
Affiliate disclosure: "This post contains affiliate links, which means I receive a small commission, at no extra cost to you, if you make a purchase using this link."
Messy Mom Bun
I've seen quite a few memes over time suggesting moms let themselves go because they choose the "mom bun".
First of all, if this hairstyle is "the mom bun", then I've been a mom for most of my adult life, lol! I don't think of my messy curly bun as a "mom bun" at all – I honestly think it just looks cute, it's convenient and it's comfortable.
Secondly, my curly bun doesn't mean that I let myself go or that I care less about myself. It's just the opposite.
I take curly hair care seriously because I'm in love with my hair! It takes time and energy and I definitely prioritize hair care over daily styling. 
Sometimes, yes! I don't even do the best job with my hair care and I prefer to snuggle with my kids or get some much-needed rest. There have been times when my kids are sick or when I'm sick and that bun stays in the same position for the week!
Even at those times, I don't see my bun as a sign that I've let myself go – I've put others before my hair and I'm totally happy and content with that choice. 
Essentially, my curly bun is a representation of my personal style and comfort. I feel like a superhero when I have my hair in a curly messy bun 😉
Pros and Cons of the Curly Hair Bun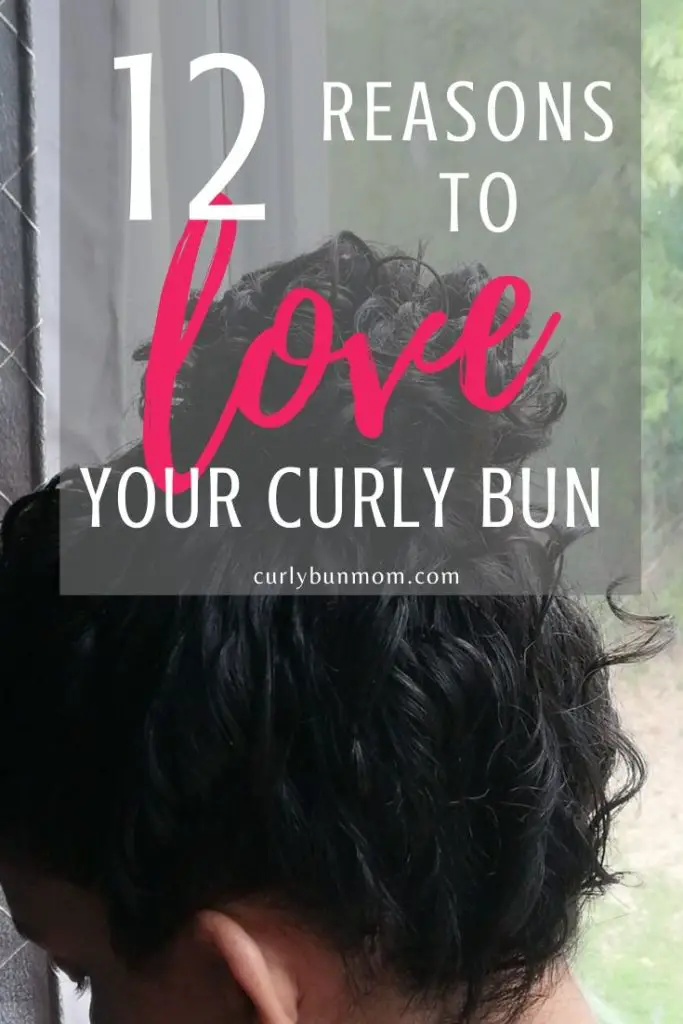 Over time, I've found these are the benefits and the shortcomings of the curly messy bun style
Pros
So cute at any length
So easy – lol, have I mentioned this?
Sooooo quick
Extremely convenient
Super comfortable
Takes the heat off – when the weather is warm, there's absolutely no other way to style my hair! 
It's not in the way – I can tackle everything without constantly having to adjust my hair
Doesn't require a touch up throughout the day 
Many variations – sleek, messy, protective, top knot, ballerina 
Simple and awesome solution if you're at an event and want to put up your long hairstyle  
Preserves curls so that refreshing is a breeze 
When I style my hair differently to go to an event, the "wow" factor is in full effect
Cons
(I really struggled to come up with cons lol)
Possible hair damage depending on the hair tie you use and how tightly you do the bun
Could change curl pattern (happened to me) in the parts that are stretched to go in the bun
Variations of the Cute Curly Buns
I love the fact that the messy bun looks so cute with curly, wavy or straight hair.
The super easy and quick up do hairstyle has many variations so that even though it's my go-to for comfort, you can switch it up to look chic and elegant or cool and comfy.
A quick google image search will bring up tons of pictures for some inspiration. If you know your hair type, you can search specifically for it.
For instance, I do a quick search for my 3b hair type.
This is a simple list of my favorite curly hair bun styles:
Messy – super easy and carefree
Ballerina – poised and sophisticated
Braided – neat and protective style
Low – sleek or loose. All back, side part or with bangs
Topknot – High sleek or messy bun
Side – sleek or loose
Minimize Potential Curly Bun Damage
If you love rocking your curly bun hairstyle (whether messy or sleek) a lot, here are four simple ways you can minimize possible ill effects:
1. Use a Silk or Satin Hair Tie
These are awesome because they're inexpensive, long-lasting and easy on the hair. Silk or Satin products (scarfs, bonnets, pillows, sheets, hair ties) are so gentle on hair and skin. They prevent breakage as they're soft and your hair doesn't get caught as easily. They also help to minimize frizz.
2. Switch the position of your bun
I've found that putting up my hair in a bun in the same place can damage not only where the hair tie is but it used to change my curl pattern (as some hairs are stretched too much for too long) slightly. Now, I typically alternate between high and low. The middle or ballerina buns tend to get in my way. 
3. Forget the hair tie altogether! 
While the hair tie is the most convenient way to secure your bun, on occasion you can use bobby pins or hair clamps to secure your bun. These are good options for sleek looks.
Regardless of how you style your hair, having a good hair care routine is essential. I almost never used to deep condition until I came across a YouTuber who mentioned it in almost every video I looked at. I gave it a try because her curls look fabulous. And, WOW! from the first time I deep conditioned, I was hooked! The difference I saw and felt was nothing short of remarkable.
These are a couple of my curly girl product favorites:
Take away
As curly girls, sometimes we have to do things differently because of the demands on our time and energy.
Wearing a messy curly bun, or any hairstyle you love, should only empower you and never make you feel frowsy.
So, forget the noise, find what works for you and do YOU – PROUDLY!
Let me know in the comments below – what are some of your go-to curly hairstyles?
Before You Go, You Will Love These Other Posts For Curly Hair:
You May Also Like