Fourth Month Blog Report
Welcome to my fourth-month blog report. April went by so quickly. I feel like it was just last week that I was writing about my first-quarter performance.
Before continuing, catch up with my first month, second month and third month of blogging 🙂
Looking for more ways to make money as a stay at home mom? Check out the best jobs for stay at home moms.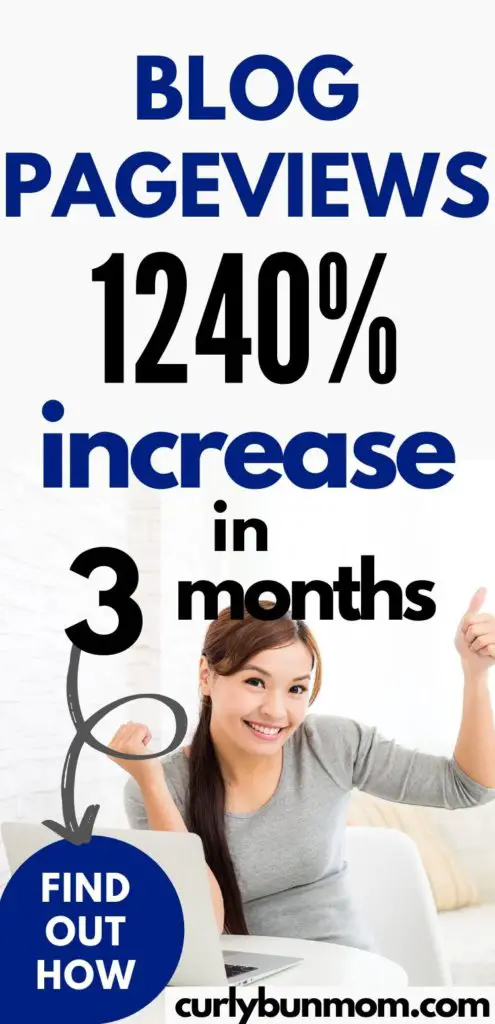 Fourth Month Blog Goals
This month my plan was to continue focusing on increasing blog and Pinterest traffic.
As you would remember from last month,
April 2020 goals: 
Blog page views: 13500
Blog sessions: 2500
Pinterest followers: 300
Pinterest unique monthly viewers: 95k
Fourth Month Blog Performance
Spoiler: I'm happy to report that I've been able to reach all the goals that I've set for myself. I'm super happy about my blog growth so far (especially given the current time constraints with the kids being at home).
I put in more work this month and both pageviews and sessions went up in April. It was much harder than I anticipated though as the kids are at home. I honestly feel a little burned out and so, I know that I have to dial it back a bit and set some new priorities (more on this later).
The kids being at home is so awesome but I feel like I'm not getting to fully enjoy the experience with them. Towards the end of April, I started being a little more cranky and wasn't looking forward to blog-related tasks anymore. I really don't want to get to the point of not enjoying growing my blog so a little reprioritization is definitely in order.
But the best thing is that now I feel more confident that I know exactly what needs to be done to grow my little corner of the internet.
Ok, now that my feelings are out of the way, on to the numbers!
Pageviews & Sessions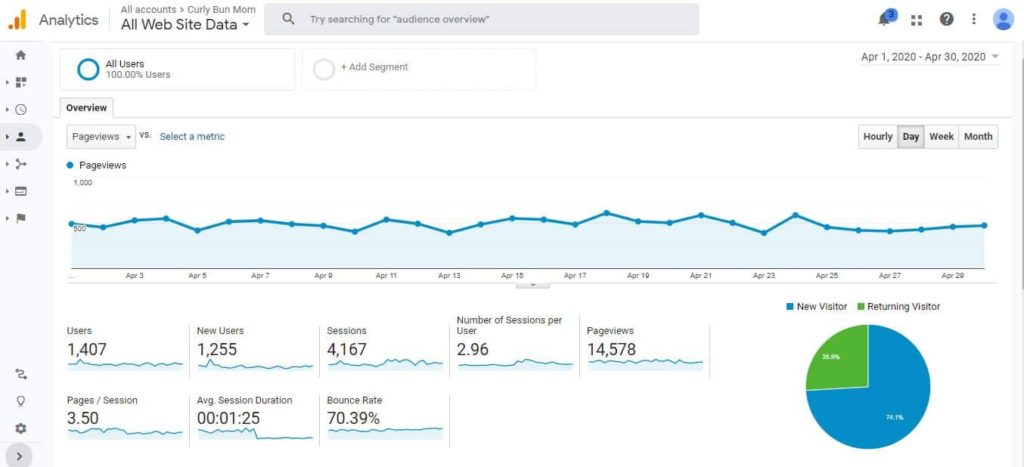 Traffic – Pageviews
Pageviews goal of 13500 surpassed: from 10,434 to 14,578
I planned to monetize with ads at the end of my first year of blogging. Before I launched my blog, I didn't expect this level of traffic. The Facebook communities have been ah-mazing!!!
Therefore, at the end of March, my blog traffic was enough for me to apply to Monumetric or Ezoic (or so I thought!).
Unfortunately, I could not sign up for Monumetric because my country was not listed.
I switched gears and tried Ezoic. Seems like I misunderstood something during the application. In their FAQs, the requirement is 10,000 pageviews. However, the representative told me it was actually 10,000 sessions. UGH!
I'm pretty far from 10,000 sessions at this point and so I was a little disappointed. I'm still determined to meet my goal of ads monetization by the end of my first year.
Sessions
I finally saw some good movement in the number of my sessions, going from 2050 to 4167. This represents an amazing increase of 108%!
Google Ranking
I'm still ranking first on Google for these posts:
I ended April by ranking with my second Google snippet for "Curly Hair Basics for Busy Moms"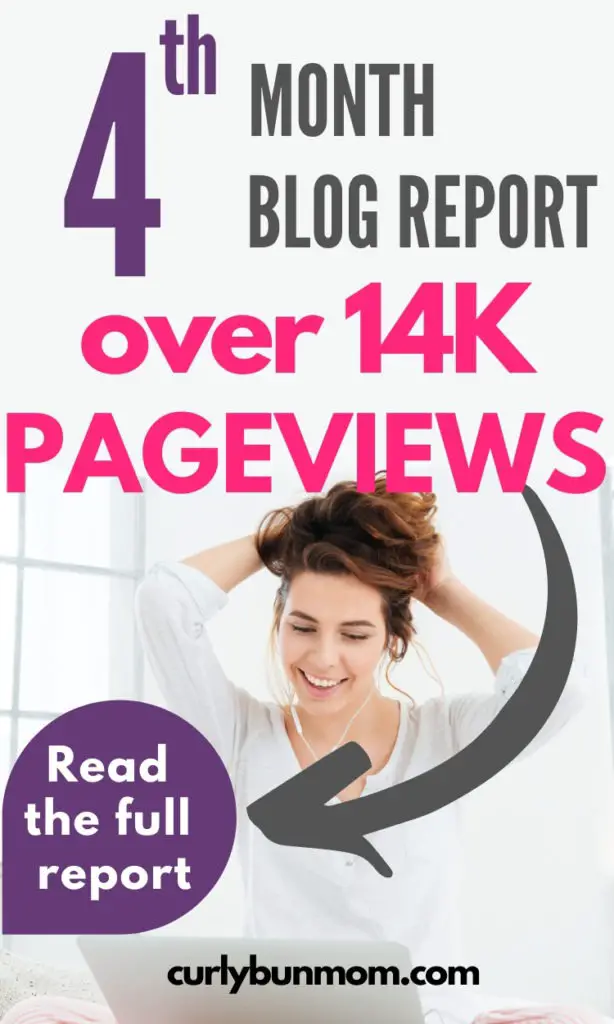 May 2020 Blog Traffic Goals
For the next three months, I'm going to be more conservative with my pageview goals. As I mentioned earlier, I need to set some new priorities and goals. Our family may be migrating (once flights resume) and I won't have the time to promote as much.
Pageviews: 9000
Sessions: 3000
Pinterest Performance
Quick look at overall stats:
Followers: 300 surpassed – 342 followers
Unique monthly viewers: 95K surpassed – 119K
Impressions: 100K surpassed – 135k
Create new pins regularly – uploaded a new pin every day!
Improve number of link clicks on pins – 1362 to 1841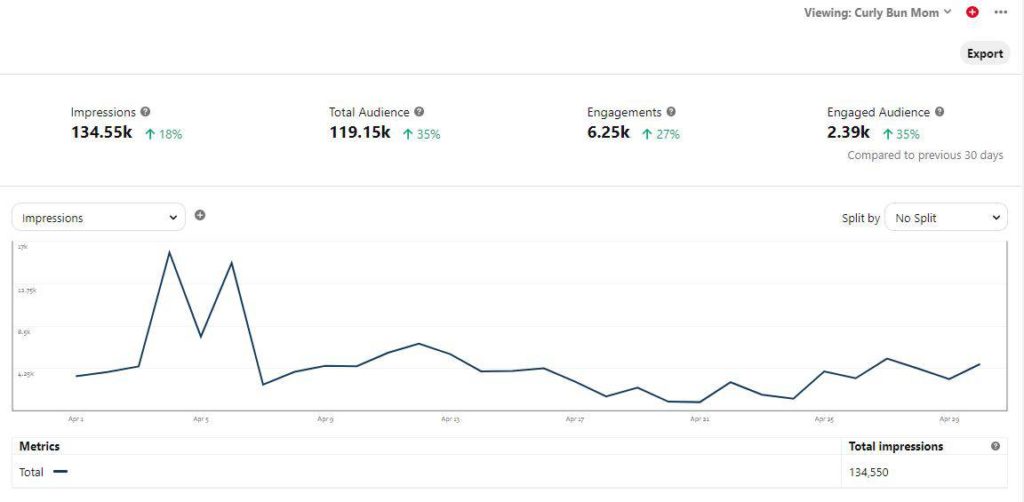 Everything was up from month three and I surpassed all of my goals which is great!
In April, I put in a lot of work and uploaded a new pin every day. It was the first month I've done this to see the return on my investment (time) and I have noted that my Pinterest account had a bigger percentage increase in all categories from month 2 to month 3.
At the beginning of month 4, I had a couple of pins that did REALLY well with both impressions and link clicks. That was super motivating. However, in true Pinterest form (at least in my experience) things went a bit wonky.
I used to get around 1K impressions and 20 link clicks on the first day of uploading a new pin, but I suddenly dropped to getting 0-200 impressions and 0-5 link clicks.
So far, the pins slowly gain traction over time which I think is a great end result. Even though it's a bit frustrating and can be demotivating to see this change but once the pageviews are coming in, then that's all that really matters.
Another goal for me for May, therefore, is to stop obsessing over Pinterest numbers! Because Pinterest clearly plays with my emotions.
My link clicks saw a 35% increase from 1362 to 1841 and the link click rate also slightly increased from 1.19% to 1.37%.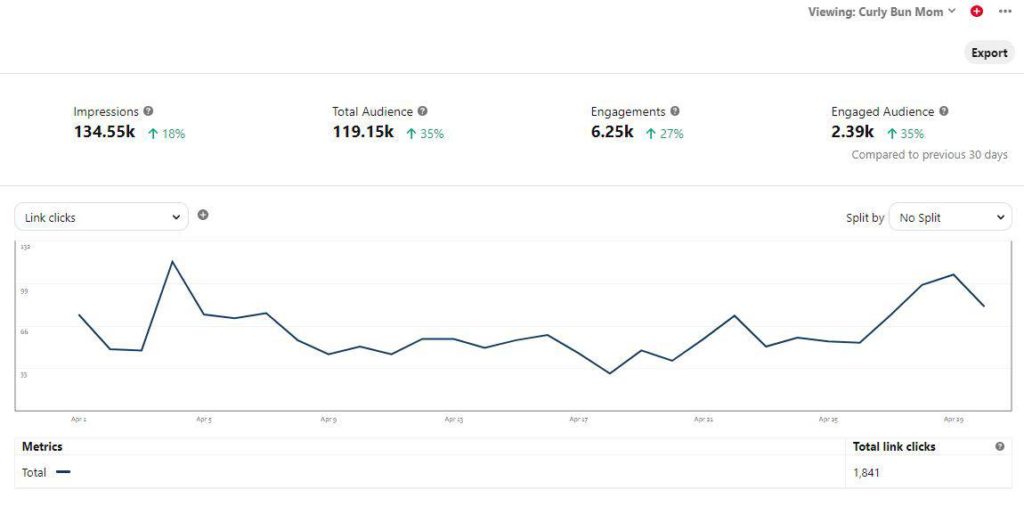 Overall Goals for May 2020
For May, I'm going to actually dial it back a bit and put out at least 5 pins each week. While I'm happy with my increases for April, I don't think the return on my time is worth it right now as we're migrating and I'm homeschooling the kids.
As soon as we're settled I'll jump back in with new daily pins.
Because of this decision, I do expect to see a fall in the following months but I'm hoping to stay steady at 100K monthly views and 1.4% link click rate. That should keep my blog traffic steady until I'm able to focus more efforts on my blog.
Followers: 360
Unique monthly viewers: 100K
Impressions: 150K
I hope this has helped to get a good idea of what a fourth month blog traffic report can look like.. I'd love to hear from you! – What was your experience in your fourth month?
You May Also Like