Secrets Of The Best 2a 2b 2c Wavy Hair Routine
Try this super simple and easy wavy hair routine for 2a 2b 2c hair. Follow this wavy hair routine from wash day to refresh days to have the healthiest and cutest waves.
Ready to make your type 2 wavy hair look good? Let's get started.
Affiliate Disclosure: "This post contains affiliate links, which means I receive a small commission, at no extra cost to you, if you make a purchase using this link."
What Is 2b 2c Hair Type
Is 2b and 2c hair curly or wavy?
2a, 2b and 2c are considered wavy hair types.
2a hair is often fine, thin, and requires the use of lightweight products like mousse, and light gels. Heavier products, like thick curl creams, will weigh down type 2a hair, making it look limp and flat.
2b wavy hair is a bit more wavy than 2a and is prone to some frizz. 2b hair is typically fine as well and light weight products are also recommended to tame frizz and enhance waves.
2c hair is wavy hair that tends to frizz more easily compared with 2a and 2b hair types. Your best bet for 2c hair is still light weight hair products with a bit more gel to tame frizz and define waves.
Curly Girl Method For 2a, 2b and 2c Hair
The curly girl method is not just for curly girls. It's a hair care method with best practices for textured hair. 2a 2b 2c hair is textured and wavy and will therefore benefit from following the curly girl method.
If you're new to the curly girl method, the information can be a bit overwhelming. You don't have to do every thing all at once to start. Starting with a few best practices for your textured hair is better than continuing to damage it.
The main things to start immediately are:
Stop heat styling your wavy hair
Deep condition to start repairing damage
Use curly girl approved hair products that contain no parabens, silicones, and
I don't want you to give up on your wavy hair before you even get started. So, check out this post for more easy to follow guidelines of the curly girl method for beginners.
How Can I Make Type 2 Hair Curlier
By following the guidelines of the curly girl method, your 2a 2b or 2c hair will be healthy. Healthy textured hair will be more defined and your natural wavy or curly hair will be enhanced.
When your waves are damaged from heat straightening or harsh coloring, the result is loose waves or curls. When you use best textured hair practices, your damaged hair will transition and your natural hair type will emerge and will most likely be wavier or curlier.
By using curly girl techniques such as finger coiling or hair plopping, you can train your 2a 2b hair to be tighter or curlier.
How often should you wash 2a 2b 2c Hair?
If you're gently cleansing your hair with a sulfate free shampoo, it's safe to wash wavy hair once or twice a week.
2a 2b 2c Wash Day Routine
Similar to my 3a 3b curly hair routine, your wavy hair wash day routine is important for long lasting waves.
My mom has types 2b 2c hair and this is the routine she follows to get gorgeous, long lasting waves. Curly girls with 2b 3a hair also follow this routine and get great results:
Wash with a sulfate free shampoo
Condition or deep condition – squish to condish
Rinse out
Shampooing wavy hair
Begin your type 2 wavy hair wash day with a sulfate free shampoo. Gently scrub your scalp to ensure all the build-up is removed. Then gently move the shampoo down your hair shaft to cleanse the length of your hair. That's sufficient to cleanse the length of your hair without causing any damage. Rinse shampoo thoroughly.
Conditioning 2a 2b 2c hair
Next, apply enough conditioner or deep conditioner and distribute it through your hair. You can use a detangling brush or your fingers to detangle and help with even distribution. Most wavy girls opt to squish to condish at this point.
Squish To Condish
Squish to condish is a wavy & curly girl technique used to hydrate and encourage definition.
To squish to condish, simply scrunch your hair after even distribution of conditioner. This technique allows moisture to really get into your hair shaft and hydrate your wavy hair.
Once the recommended time has passed, rinse the conditioner your hair.
How To Style & Define 2a 2b 2c Wavy Hair
Styling wavy hair depends on your hair responds to product application. These styling techniques work well on many curl patterns – 2a, 2b, 2c, 3a etc. and it's worth trying to see your results.
Some wavy girls love to apply styling products when their hair is soaking wet while others get better results when they apply to damp hair.
Some wavy girls love to apply their products standing upright, while others like to style with their heads upside down.
Experimenting is the best way to find out which methods work best for you.
No matter which styling techniques work best for you, apply your products in this order for best results:
This is a great routine to style type 2 hair:
Apply a leave in conditioner and brush through to distribute
Apply lightweight cream (optional)
Smooth Gel Over Your Waves
Scrunch
Air dry or diffuse
Scrunch out the crunch with your preferred oil or serum
Leave In Conditioner
Most wavy girls get better results by using the praying hands technique to apply leave in conditioner to their hair. This method distributes the product through your hair without breaking up the wavy clumps too much. It also helps to prevent stringy wavy hair.
Once you've applied your leave in conditioner, use a denman brush to ensure even distribution and maximum definition.
Apply lightweight cream
Using a curl cream is optional as the leave in conditioner may be sufficient moisture for your wavy hair. However, if your waves need additional moisture, apply a small amount of your preferred curl cream
You can use the praying hands method again to apply the curl cream and then use the denman brush to ensure even distribution.
At this point, gently scrunch your wavy hair to encourage clumping and definition.
Smooth Gel Over Your Waves
Smooth a small amount of gel or mousse to hold your waves in place. After rubbing some gel in the palm of your hands, smooth the product over your wavy clumps.
To apply mousse, use one pump of the product and scrunch into your hair.
Scrunch
With the gel or mousse applied, scrunch your clumped waves for maximum definition. Once you're satisfied with the definition and you've finished scrunching, don't touch your hair again until it's completely dried. As your hair dries, a gel cast will form to hold your waves in place.
Air dry or diffuse
Air drying is best until the gel cast forms completely. Be careful not to touch your hair to prevent frizz.
Once the gel cast forms and your hair is almost dry, you can diffuse to encourage volume while completely drying your waves.
Your gel cast may be broken as you diffuse or your hair may still look flat and hard because of the gel cast. This is totally normal and ok – next, we'll sotc (scrunch out the crunch).
Pro tip: Try not to touch your waves as you diffuse.
Scrunch out the crunch with your preferred oil or serum
Once your hair is totally dry, you can scrunch out the crunch in a few ways.
Most wavy girls get great results by scrunching with their hands and no additional products. However, if you prefer, you can rub a small amount of oil or frizz free serum in the palm of your hands before scrunching out the crunch. This prevents frizz and adds shine to your waves.
Flip your hair over and from side to side as you scrunch to encourage volume.
Once you've scrunched out the crunch, the result will be gorgeous, soft beach waves.
If you've used strong enough hold products to style your wavy hair, you can expect your wavy hair to last a few days with refreshes in between.
My mom's wavy wash day hair can last her all week, with very quick daily refreshes.
How To Sleep With 2a 2b 2c Hair
After styling your wavy hair, you don't want to get it messed up while you sleep, right? So, learning how to sleep with wavy hair is key to preserving your waves for the next day. How you sleep with wavy hair will also work to protect your waves and minimize hair damage.
This is how you should sleep with short or long 2a 2b or 2c wavy hair:
Sleep with your hair in a loose pineapple, secured with a satin scrunchie
Use a satin bonnet or scarf
Sleep on a satin pillowcase to reduce friction
For more tips on how to sleep with your waves, check out this post.
Refresh Routine For 2a 2b 2c Hair
Refreshing wavy hair starts on wash day and learning the best ways to sleep with type 2 hair.
Using the right products on wash day will provide a good foundation for the week and will make refreshing your waves so easy!
Protecting your waves while you sleep will also help on refresh days by minimizing frizz and damage while you sleep.
On the days following your wash day, there are a few ways to refresh your hair but these are the most popular ways for 2a 2b or 2c hair.
Refresh Day Routine Option 1 For Wavy Hair (2a 2b 2c hair): Dry Refresh
Take down your hair from the pineapple
Shake out your waves gently
Smooth a serum to beat any frizz
Scrunch
And that's it! This refresh method works the best for my mom's wavy hair. So easy and super simple.
Refresh Day Routine Option 2 For Wavy Hair (2a 2b 2c hair): Damp Refresh
Take down your hair from the pineapple
Shake out your waves gently
Spritz water or leave in conditioner over your hair
Scrunch with your hands or a cotton t shirt
Apply mousse or lightweight gel
Scrunch
Air dry or Diffuse
Scrunch out the crunch with an oil or serum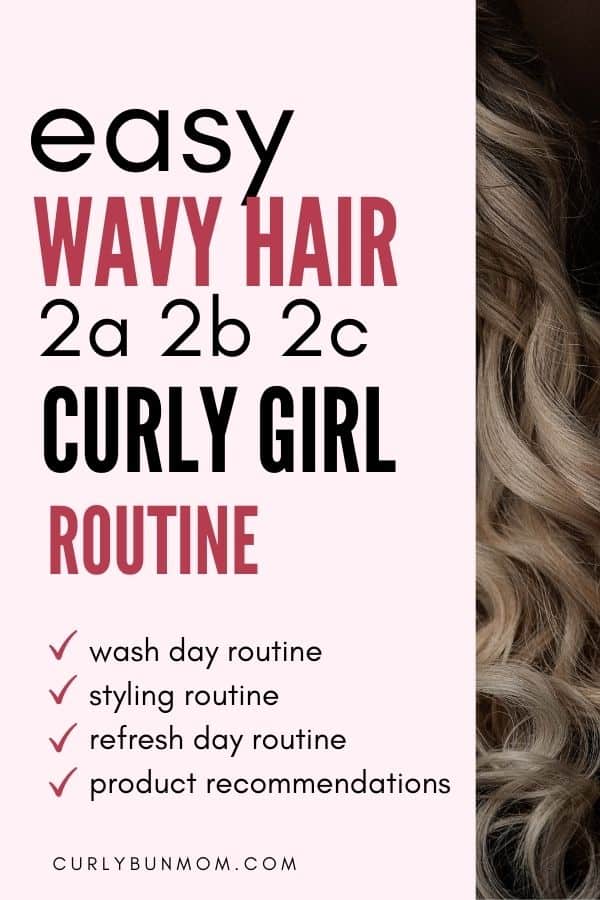 What Products Are Good For 2A 2B 2C Hair?
Try these curly girl method approved products for type 2 hair (2a 2b 2c hair):
To purchase any of these on Amazon, just click on the product above 🙂
Wrapping Up This Easy Wavy Hair Routine
I hope this easy wavy hair routine will help you with your type 2 hair. Whether you have 2a 2b or 2c hair, the techniques and products in this post should help you figure out what works best for your hair type.
Remember, what works best on one wavy girl may not work best for you. And, what works for you this month, may not work next month.
Always assess your hair to determine what products your hair needs (moisture or protein) and the techniques that your hair responds to the best.
Before you go, check out these other posts for your wavy hair: