Twist By Ouidad : Curly Girl Twist Hair Product Review & results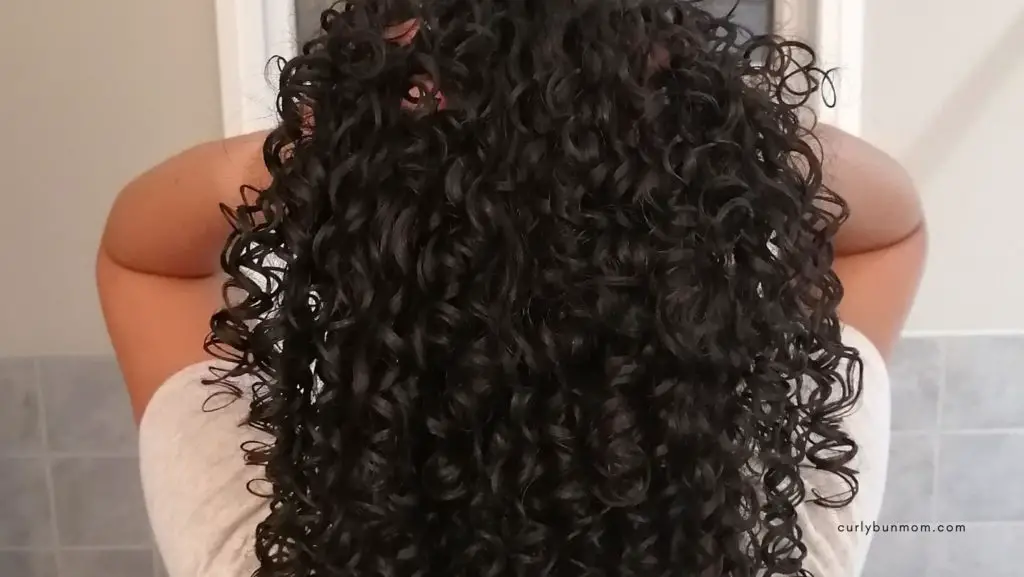 Twist by Ouidad is a curly hair product line that puts moisture first and might be exactly what your curls have been waiting for.
Their products are designed with moisturizing, reducing frizz, and curl definition in mind.
Twist Hair offers many different product lines so that you can choose the product that's right for your curly hair needs.
You can even take a fun hair quiz to help find the best products for you. I'm sometimes skeptical about these types of quizzes, but it was pretty spot on with recommending what my curly hair needed.
In this post, I'll be sharing my review of the recommended Twist Hair products and why I loved each one.
Affiliate Disclosure: "This post contains affiliate links, which means I receive a small commission, at no extra cost to you, if you make a purchase using this link."
Next, I'll review the products I've used from the Twist by Ouidad product lines.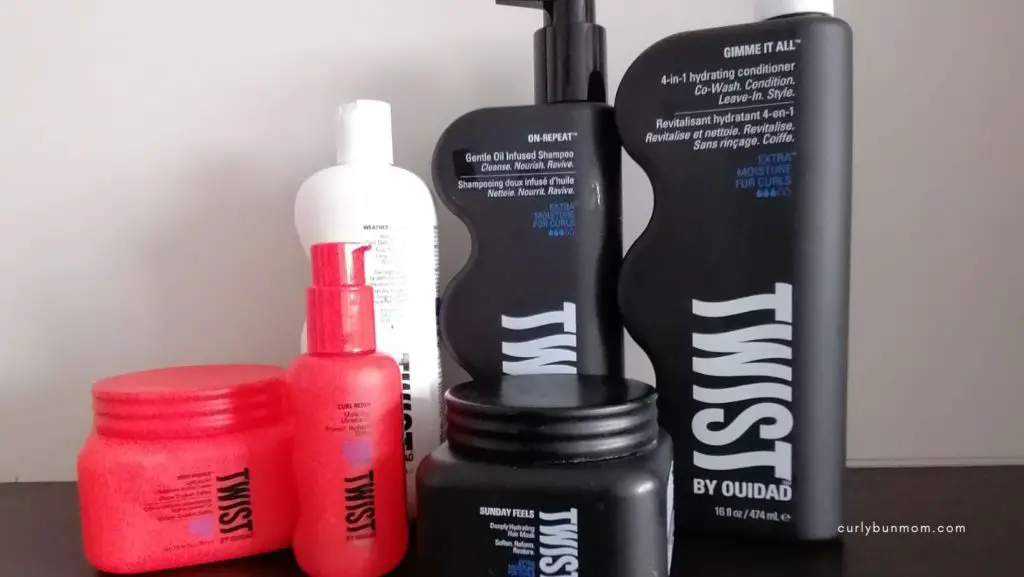 Twist By Ouidad Light Clarifying Shampoo
The Hit Reset Light Clarifying Shampoo is gentle, lathers well and doesn't leave my hair looking or feeling dry.
According to their website, this clarifying shampoo contains aloe vera which helps to soothe the scalp as you gently cleanse. This amazing shampoo also contains rice protein and panthenol to protect your hair's trexture and encourage volume and lift.
My 3a 3b curls really love it!
After one wash, my curls no longer felt weighed down with product and oil build up and didn't feel stripped or dry either – a true instant reset!
After rinsing the shampoo, my scalp and hair felt clean and my hair felt very soft and hydrated. I really love this feeling after I've cleansed my hair.
I highly recommend this light clarifying shampoo for your weekend wash days.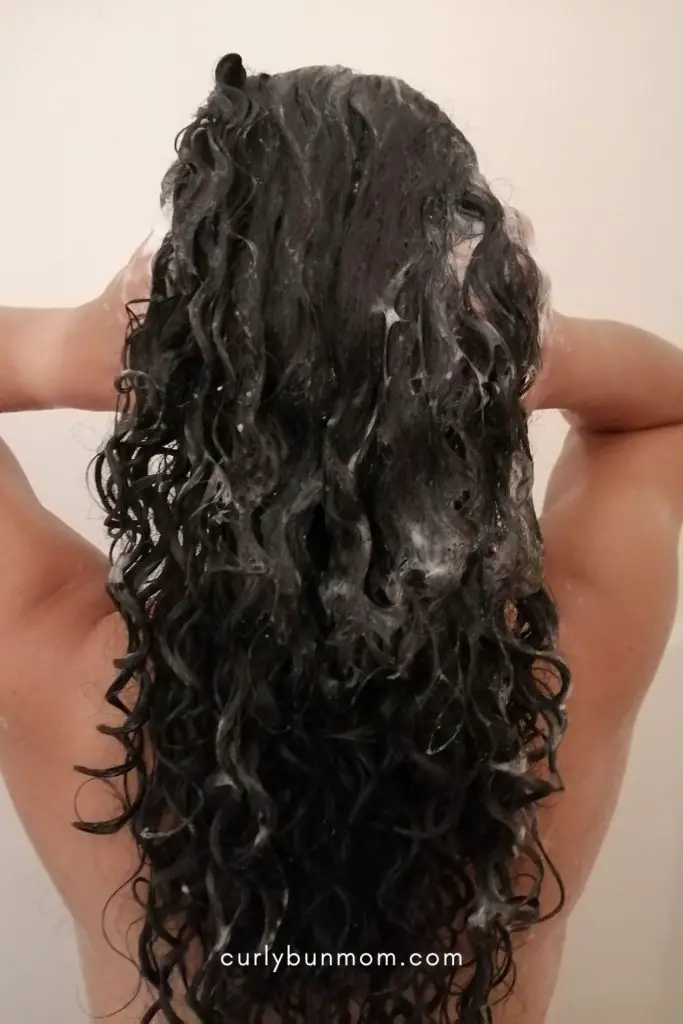 Twist By Ouidad Gentle Oil Infused Shampoo
This shampoo does it's job well of gently cleansing and restoring moisture to my dry curls.
After washing, my scalp and hair felt clean but this shampoo didn't leave my hair feeling stripped, which made detangling with the conditioner so easy.
It's gentle enough to use more often than once a week and it's perfect for a weekly wash once you don't have too much build up.
Twist By Ouidad Gimme It All 4-in-1 Hydrating Conditioner
This product really does deliver on its name – it gives you all options to use in your routine.
This Twist Hair product can be used to:
co wash
condition
treat
style
I've used it as a conditioner and in my styling routine and love the results.
As a styler,
This conditioner is not curly girl method approved as it contains isohexadecane that should be avoided.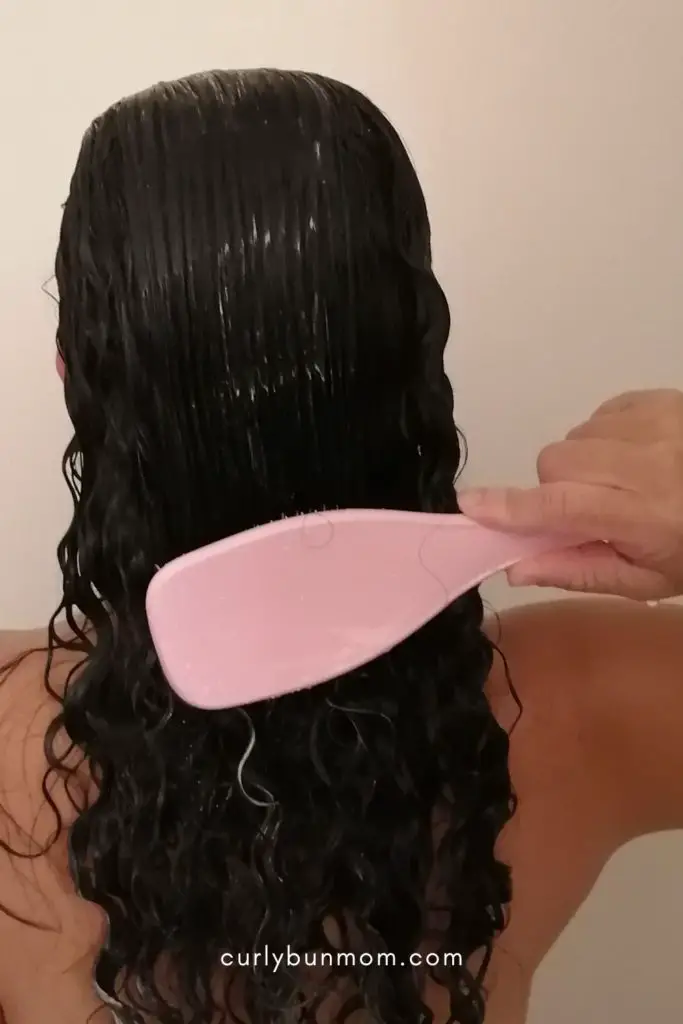 Twist Sunday Feels Deeply Hydrating Hair Mask
Twist by Ouidad's Hydrating hair mask is impressive!
After just one use, for just 5 minutes, this mask made my curls so hydrated and defined.
The slip is incredible and makes the hair mask easy to apply. The recommended length of time to leave this mask on is 3-5 minutes or overnight if you're looking for a deeper treatment.
After using this mask, my hair is a lot easier to style and I've found that I don't need to use as much styling product as I used to.
Twist Boss Bounce Light As Air Buildable Styling Cream
I've tried many curl creams over the years and I always go back to the Shea Moisture Hibiscus Curl Cream, simply because it works the best for my curly hair.
I was very excited to try Twist's styling cream as I loved the results from just cleansing and conditioning my curls. I'm happy that I was not disappointed at all.
The one thing I didn't love about this product was the smell but thankfully, it doesn't leave my hair smelling like the product.
The moisture and definition I get from styling with this product is truly remarkable. The ingredients work really well to moisturize, define and minimize frizz.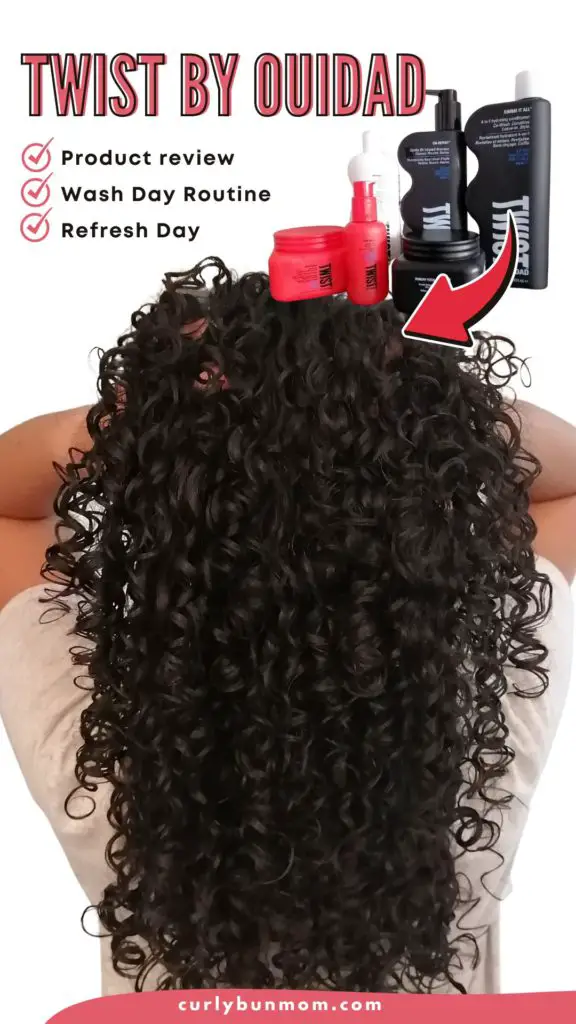 Twist Weather Up Gel
This is my absolute favorite styling product from Twist by Ouidad.
This weightess curly defining gel is perfect for humid weather. It reduces frizz and enhances curl definition to leave you with bouncy defined curls.
This gel is incredibly moisturizing, defines my curls and minimizes frizz – leaving me with a pretty awesome wash day result.
If you have dry curly hair – this gel is a definite MUST HAVE for your curly hair routine.
Twist By Ouidad Wash Day Routine
This is my very simple curly girl routine using the Twist by Ouidad Products reviewed in this post: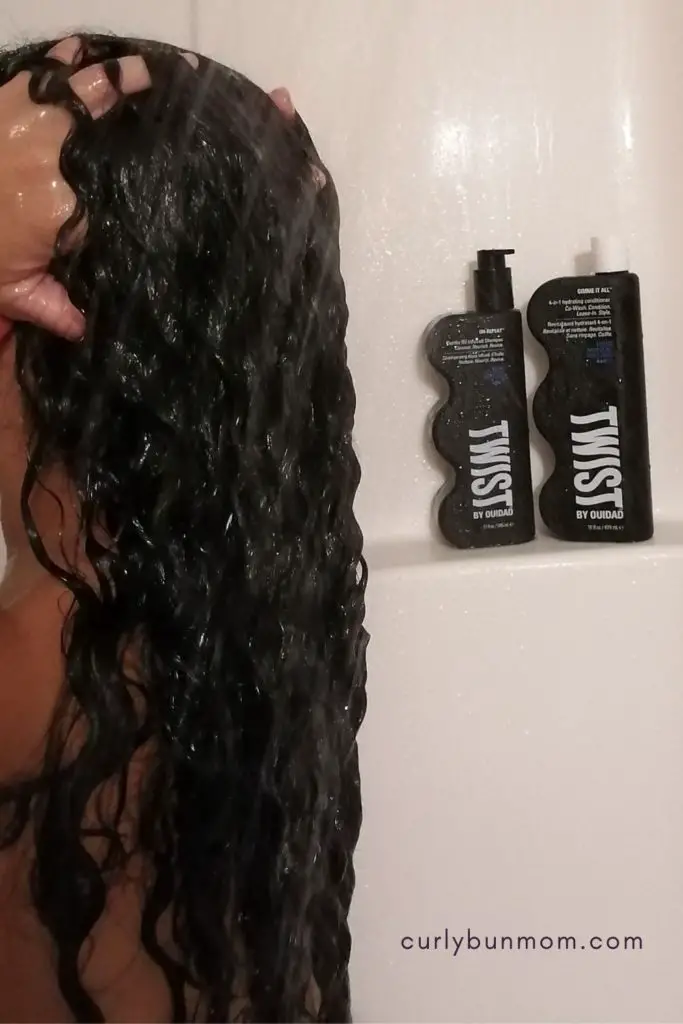 Step 1: Cleanse & Condition
Cleanse with the Hit Reset Light Clarifying Shampoo
Detangle & Condition using Gimme It All Conditioner
Deep Condition with Sunday Feels Hydrating Hair Mask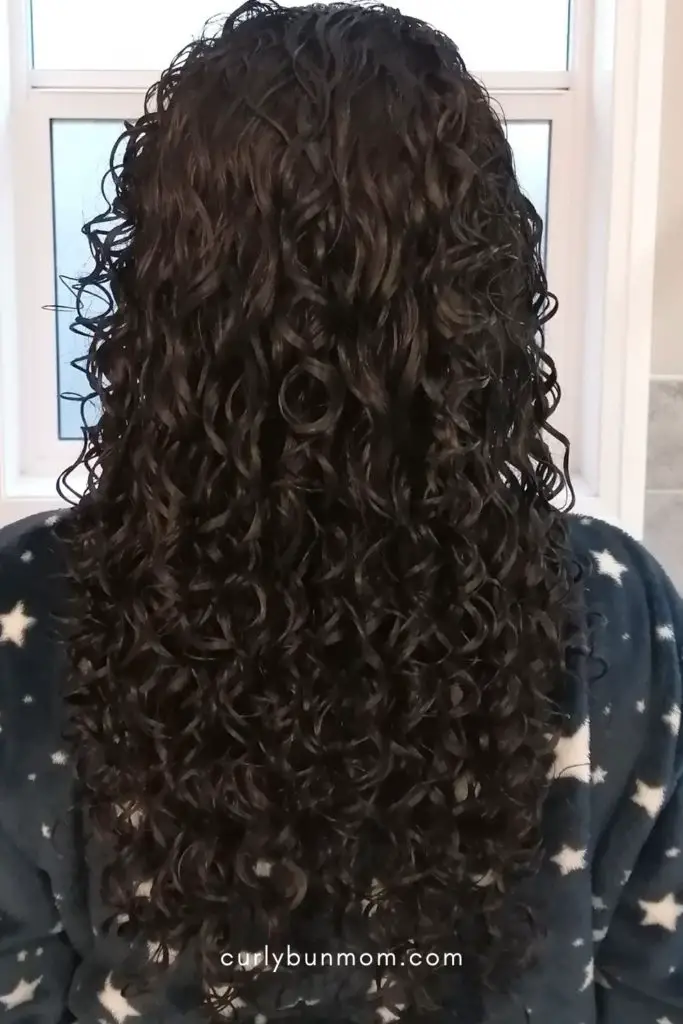 Step 2: Style
In sections, rake a small amount of Boss Up Bounce Styling Cream to each section. The number of sections you decide on will depend on your hair's texture and thickness.
I style my hair in three sections, because the middle of my hair needs a lot of extra TLC.
For super quick styling, I can get away with just 2 sections but refresh days take a little longer.
So, I style each section in this way:
Apply your styling cream to the section and brush using Tangle Teezer to ensure the product is distributed evenly.
Next, smooth weightless gel over the section.
Lastly, define curls using a Denman Brush or your preferred styling brush. You can also choose to simply scrunch in the gel.
Once all of the sections are styled, plop your hair to encourage root definition and for the curls to "set".The length of time you plop for is ultimately a personal preference, so experiement and see what works best for you.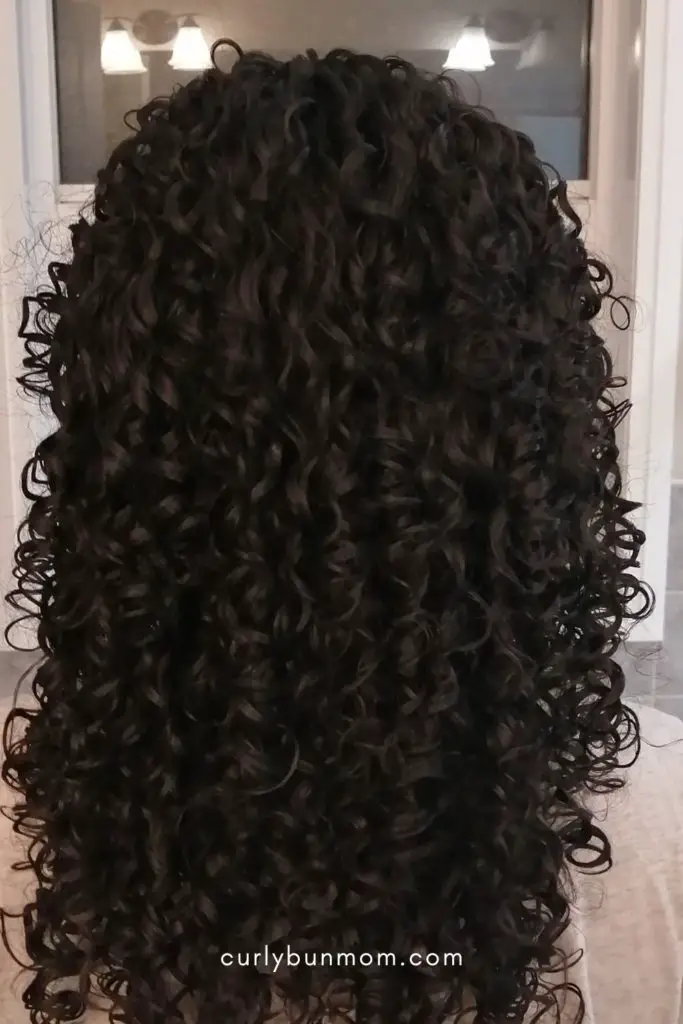 Step 3: Diffuse & Scrunch Out The Crunch
After plopping, it's time to diffuse and scrunch out the crunch once your curls are dry.
After sleeping with my hair in a loose pineapple, these are my results. I didn't add any more product, I simply took out my satin scrunchie and gently shook out my curls.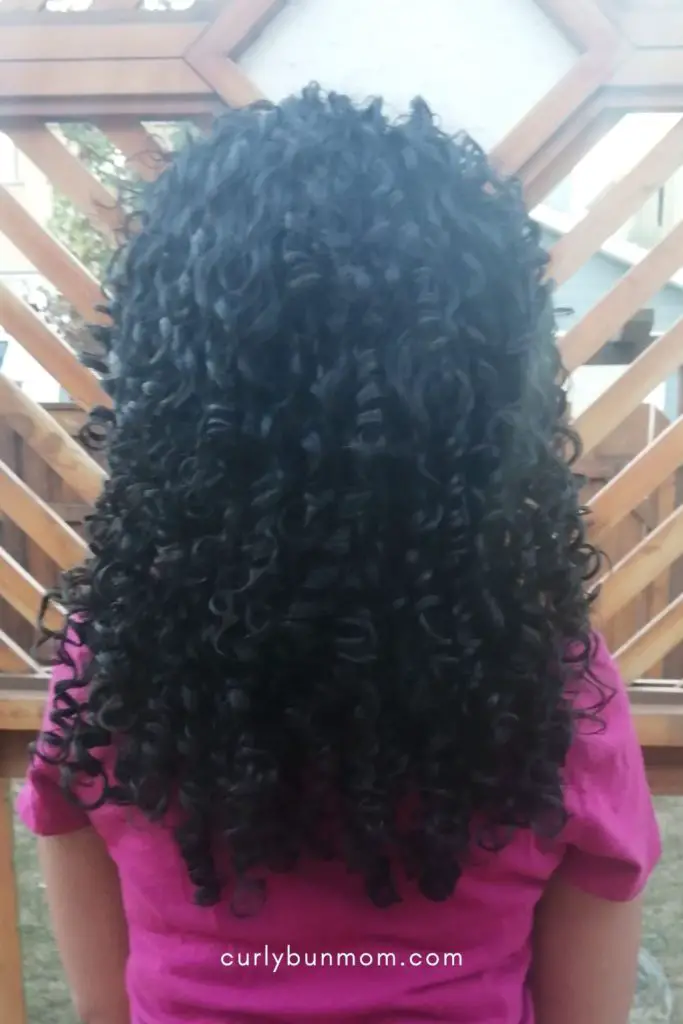 Is Twist By Ouidad Curly Girl Approved?
Are Twist Products curly girl Method approved?
Not all Twist Hair Products are curly girl approved but many of them are safe to use for the curly girl method.
Even though some Twist products are not curly girl method approved, all of their products are safe from:
D4, D5 and D6 silicones
Harsh sulfates
Mieral Oil
Parabens
Petrolatum
Phthalates
List of curly girl approved products from Twist by Ouidad:
Twist Hair Cleansers
Twist Hair Conditioners
Twist Hair Cream Stylers
Twist Hair Gel
Twist Hair Oil
Twist Hair Refresh Spray
As mentioned in the intro, Twist hair products aim to put moisture first, which is very welcomed by girls with naturally dry hair. There are 3 lines:
Please remember that brands can change their formulas at any time so if you are following the curly girl method, it's a good idea to check the site for the ingredients and enter them into a site like isitcg.com to see if it's curly girl approved.
Final Thoughts On Twist By Ouidad Curly Girl Products
Twist by Ouidad products have certainly proved that it deserves a spot in my curly routine. The price point of the products and the results I get from these curly girl products are really hard to ignore.
All of the products feels great, smell great and make my curls look great.
Most importantly, Twist by Ouidad has improved the health of my curls in a very short space of time without breaking the bank!
What about you? Have you've already tried any products from this brand? If so, let me know what you think of these products in the comments below.
You will also love these curly Hair Posts