The Best Dance Songs Playlist For Kids & Parents
Dancing to upbeat songs is the perfect remedy for any bad mood, to encourage kids to tidy up and do chores and of course, to get some energy out and have fun together.
We love to see the cool moves they come up with and how they teach one another their new moves. Most of all we love to see their joy, freedom of expression, and their carefree movements. Even our one year old welcomes the break from nursery rhymes to hear different types of music and create her own little dance moves.
Affiliate Disclosure: "This post contains affiliate links, which means I receive a small commission, at no extra cost to you, if you make a purchase using this link."
Best Songs For Kids & Parents To Dance To
Dancing like nobody's watching is one of our favorite things to do in our family. I like to put on dance music on youtube and just freestyle dance with the kids!
However, I've gotten into some tricky situations by not vetting the videos beforehand. Many songs have lyrics or videos that aren't appropriate for all ages. So, I wanted to create a list of dance songs of clean versions so it's good fun for everyone.
These songs are perfect for an everyday family dance party or even to include in your kids' party playlist. I also love to listen to these while I do chores like washing wares or folding clothes – it makes it fun!
This dance songs list includes a few different genres – Soca, Pop and Latin and my kids helped to pick these, so I know your kids will love them too.
Now that you have a great list of dance songs for kids and parents to enjoy – clear some space and get to it! Happy dancing 🙂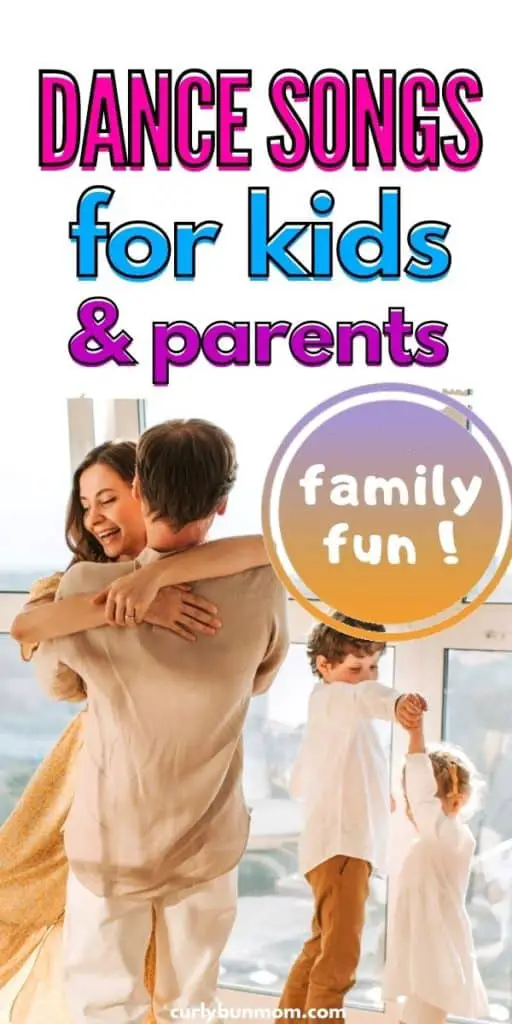 You May Also Like