How To Find Mom Motivation For Tired Moms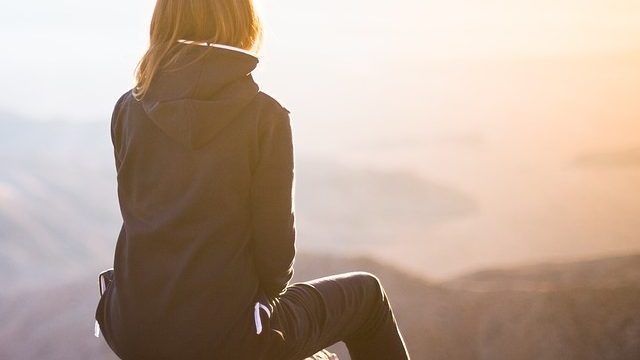 Finding mom motivation as tired moms can sometimes feel like a superpower you just don't have.
As a tired mom, you somehow find the motivation needed to care for everyone, even when exhausted, drained, and overwhelmed.
To some, it seems that motivation comes easily for me. I consider myself a go-getter and more often than not, I don't like letting obstacles defeat me. But really, it's a struggle to find mom motivation as a mom of three young kids.
There are days when I feel like doing nothing! 
Sometimes I struggle to get out of my pj's and I go through the motions of the day only because I have to! 

From time to time, the laundry piles up because the thought of folding and putting away another basket of clothes feels apocalyptic.

Some days I want to quit because something is too difficult or because I'm comfortable enough and feel like I don't need to be doing anything more. 

Sometimes, especially when I'm tired and drained, I need the motivation to get motivated! 

This happens to all of us at some point and I personally don't know anyone who has never gotten into a slump or a bad place. 

To figure out and overcome your motivational slump as a tired mom, it's important to figure out what the issues are, what drives you, and how to get back to that place. I have some awesome tips to get you motivated!
These motivational tips have worked for me and for other people I've shared them with.
What is Mom Motivation & Why is it Important? 
I thought it would be best to start off by exploring exactly what motivation means and why it's so important to us.

According to Very Well Mind, motivation is the process that initiates, guides, and maintains goal-oriented behaviors. Motivation is what causes you to act.
Motivation involves the biological, emotional, social, and cognitive forces that activate behavior. In everyday usage, the term motivation is frequently used to describe why a person does something.

Motivation plays a critical role in goal setting, following through, being persistent (especially when met with adversity) and working hard to achieve those goals. 
From this definition, it's clear why tired moms need a little extra motivational boost from time to time.

4 Benefits of Being Motivated When You're A Tired Mom

1. Get pumped and raring to go!
Naturally, when we get excited and pumped up, we're in a fantastic state of mind and get the energy boost that's needed to tackle our tasks. This is especially important when you have a never ending mom to do list!

2. Greater chances of being happy and successful
When moms are motivated, they work hard and push through even when things get tough. Mom motivation helps you to find ways to work through and past obstacles. 

3. Mom Motivation is an awesome fear killer. 
Being a motivated mom helps to drown out negative thoughts and lack of self-confidence. This is important for our self love and self care journey which in turn, increases your ability to give the best to your kids and family.

4. Mom motivation fosters the best environment for innovation and brilliant ideas. 
As a mom, when you are met with any obstacle, being motivated enables you to think outside of the box. This often leads to innovative ideas and a better quality of life.

Why Do Tired Moms Struggle With Motivation
Fear of failure
Sometimes you're your own worst enemy. Our inner critic can wreak havoc on our lives. We tell ourselves that we can't do something so much that we believe it and don't even try. 

Too comfortable 
Sometimes you get to that sweet comfortable spot in life and stay there. In these times, you may only be motivated by big or negative things, such a losing something or someone. 
The fact of the matter is though that growth happens when we get out of our comfort zone and challenge ourselves. 
Too difficult
Nothing worthwhile in life comes easy right? You work hard for the things that mean the most to you. But, when things get tough, it's easy to feel to quit and try to be content with our current circumstances. 

Even when we fail, we have to get back up and try again. You have to practice and stick with something to get better and  through practicing, more often than not find a much better way of doing things. 
Goal not realistic and clear
Having a realistic goal is key for staying motivated. You're setting yourself up for failure when you set an unrealistic goal.
You're either going to get demotivated when you're not reaching your goal, or you're going to quit because it's too unattainable.
Being realistic doesn't mean that you aren't reaching for the stars – it's sensible to ensure that you are on the path to reach for the stars.

Being clear about your goals provides the necessary direction and drive. It helps you to map your road to success.  

Too many goals
Having many goals isn't a bad thing but starting with too many goals at the same time is a recipe for chaos and can be overwhelming, which will inevitably demotivate you.
This is where streamlining and prioritizing are beneficial – you can focus on what's important and what you can handle now before moving on to another goal.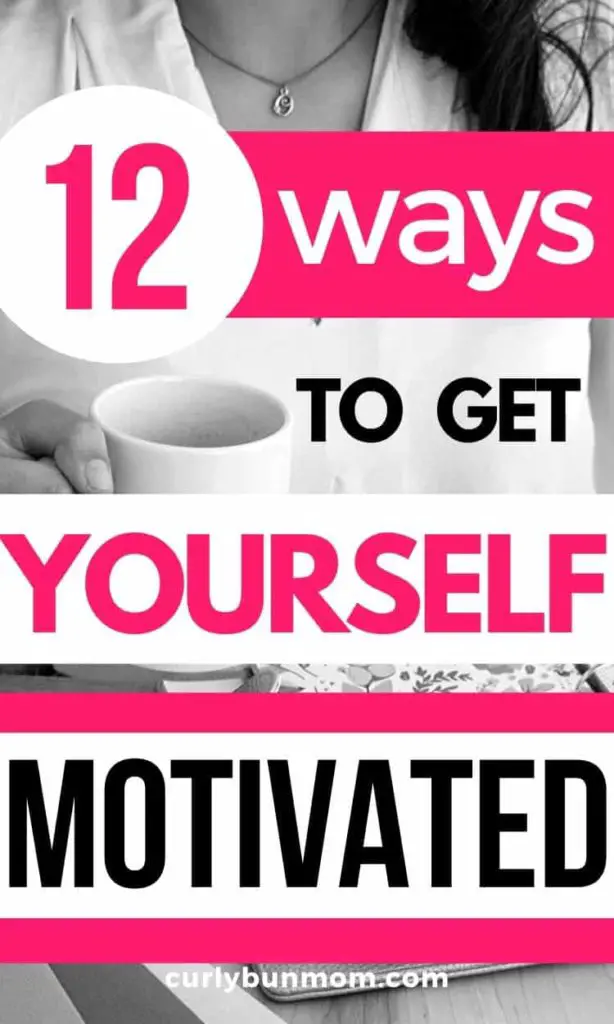 12 Ways To Stay Motivated For Tired Moms
The following tips have successfully kept me going and pulled me out of many slumps and bumps along the way. These motivation tips for tired moms will give you the boost you need when you feel overwhelmed.

1. Right Mindset
Perhaps the most important motivation tip for moms is to get the right mindset. Find your why. Once you understand why you are doing or have to do something, it's a game changer.
Sometimes, just figuring out your why gives you the motivation you need. Sometimes, it's the starting point and you're able to progress from there.
2. Your motivation
Figure out what gets you motivated, gets you going, and what makes you feel accomplished.
Naturally, this isn't the same for everyone so spend some quality time with yourself and find out your motivation. Is it happiness, success, money, love?
When you know what your motivation is, it's easier to find and keep your mom motivation.
3. Read something motivational and inspiring
I love reading motivational and inspiring quotes. I also love reading positive affirmations daily and it has been working wonders in helping me to stay motivated with homeschooling and just mom life in general.
This has never failed me.
Sometimes, I also read some inspiring experiences from other moms and that usually gives me a boost. Other times, I simply look at my accomplishments to find inspiration. 
4. Goal setting
Once I set a goal, small or large it helps me find my motivation. Something about setting a goal and mapping out the route of getting there motivates me.
When you feel overwhlemed or feel like you're in a rut, aim to set small goals and don't forget to reward yourself. Once you've accomplished your goal, take it up a notch, and keep going.
5. Plan Your Day
I love routines. Especially with young kids, routines keep our home running as smoothly as possible.
However, there are things that you need to do that are outside of your normal routine. Take some time the night before or even in the morning, to plan your day.
6. Practice Daily Self-care
A mom can easily lose motivation if she is burned out and exhausted from seeing about everyone else in the family.
This is where self care comes in and is so important. Make it a habit to practice self care daily. Take a few minutes every day to rejuvenate your mind, body and soul.
7. Get Enough Sleep
Being a tired mom will most definitely lead to feeling unmotivated. Getting enough rest will enable you to get up ready for your day as opposed to getting up feeling sluggish and just going through the motions.
A good evening and nighttime routine can set you up to have restful, quality sleep. If you have trouble falling asleep, these are some great natural sleep tips for moms and kids!
8. Eat A Balanced Diet
Fueling your body with healthy choices prepares your mind and body for your day. It balances your hormones and helps with fatigue and your mood. These go a long way in ensuring your mom motivation is intact.
Maintaining a balanced diet therefore helps you to have the motivation to tackle your daily tasks with the attention that is necessary to accomplish everything you set out to do. 
9. Exercise
I know this might be one of the things that you need some serious mom motivation to start. You're definitely not alone. Exercising can certainly feel like a chore.
One of the best things about exercising though is that the benefits are immediate.
When you exercise you're balancing our hormones, which makes our mood better and we're simultaneously increasing our energy levels.
As with everything else, if this is a struggle for you – start small!
You certainly don't have to start with an hour-long exercise program – you actually never have to even get to that level. Start with just 10 minutes a day. You will be pleasantly surprised with how motivated you feel after working out.
10. Get Sufficient Water
Getting enough water seems to have endless benefits for our minds and bodies.
To name a few – it's the best hydrator, it helps with energy levels, it promotes healthy skin and it aids with digestion. It really keeps us at our best. 

11. Music Motivation
Music fuels our souls! I love cranking up some of my favorite upbeat songs pretty much all the time!
Music is magical because it has the power to change a bad or stressful mood and make daunting tasks go by quickly and more enjoyable. 
So, next time you feel overwhelmed and demotivated, try cranking up your favorite motivational tunes and just dance! This can also work as a form of exercise: win-win!

12. Change Of Scenery
If you can, get out of the house for a bit!
Even if you don't feel like going far, just get out for some fresh air. If it's possible go for a walk and that way you get some exercise and some fresh air. 
A change of scenery can be a much needed break to declutter your mind and get your mindset right!
Motivation For Tired Moms
I hope these motivation tips for tired moms help you to find your motivation and stay motivated so that you can continue to be super mom 🙂
I'd love to hear from you – what gets you motivated or what do you struggle with?