9 Of The Best Affordable Flocked Christmas Trees 2022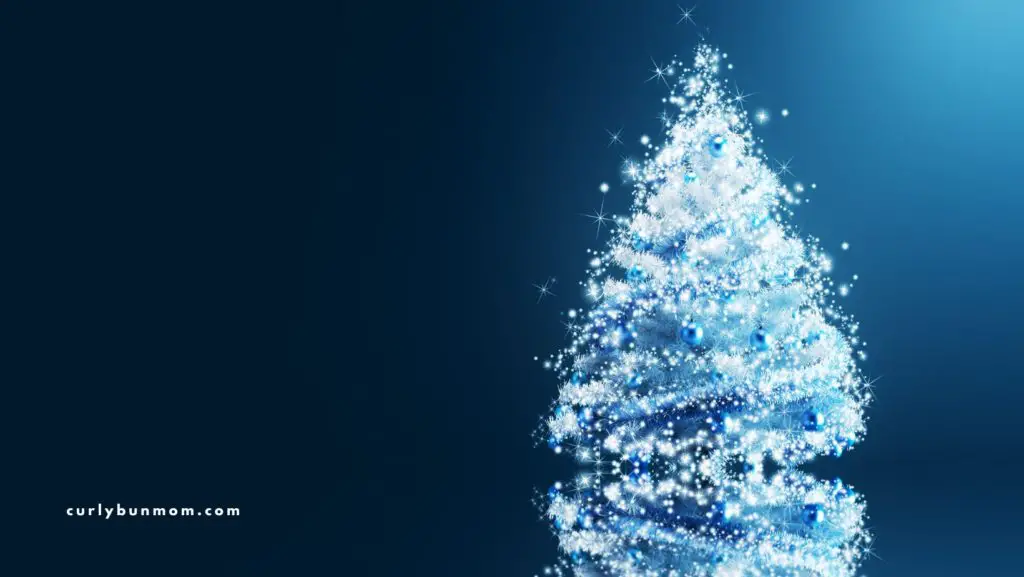 Flocked Christmas trees can make Christmas extra special and magical.
Even better, I've found 9 of the most affordable flocked Christmas trees for you to check out for your family this year so that you can save money & get a beautiful flocked tree!
What Is A Flocked Christmas Tree?
But first off, what is a flocked Christmas tree?
It's simply a tree that looks like it has snow on its branches (perfect for those of us who love a white Christmas!)
You get this look by applying artificial snow, or flocking, to the tree branches and you can do this to both real and artificial trees.
The best flocked Christmas trees are super hard to tell from the real thing!
Flocking is definitely a pretty messy process though, so unless you have a decent-sized outdoor space or you are a committed DIYer it's going to be easier to buy a pre-flocked tree.
Affiliate Disclosure: "This post contains affiliate links, which means I receive a small commission, at no extra cost to you, if you make a purchase using this link."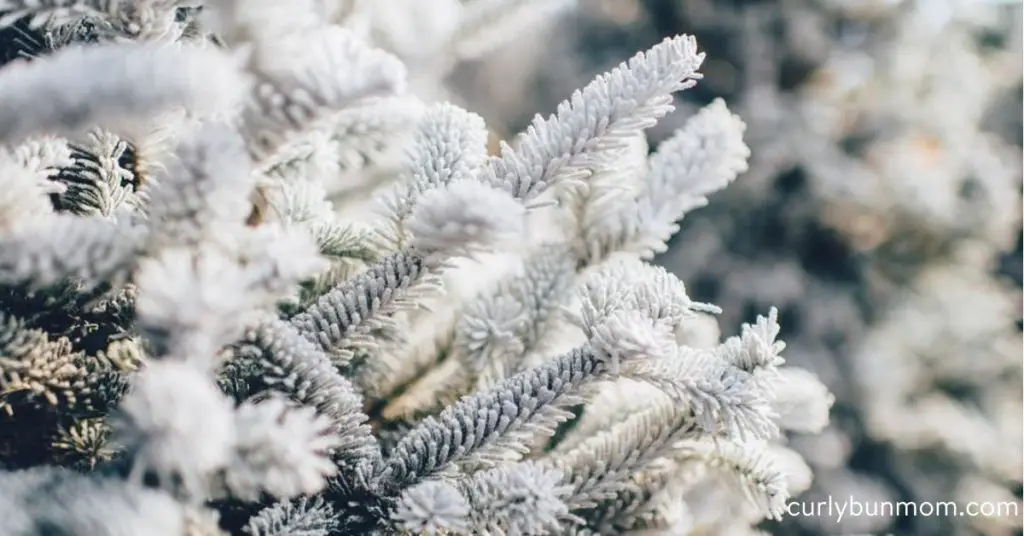 How Much Do Flocked Christmas Trees Cost?
Flocked Christmas trees can cost anywhere from $50 (really!) to upwards of $2000, depending on the size, brand, number of tips, and whether they are pre-lit or unlit.
In general, they are a bit more expensive than the same tree without flocking, as you might expect.
The Best Places To Buy The Most Affordable Flocked Christmas Trees
Amazon is my go-to for all kinds of online shopping, and it's no different for flocked Christmas trees!
They have a great selection of trees including several under $100.
Wayfair also has quite a wide selection of flocked Christmas trees.
All shapes and sizes and some awesome deals plus free shipping, hard to beat!
King of Christmas has more than 50 great hand-made trees for you to choose from.
They may be more high-end than some of the other options, but in this case, you definitely get what you pay for! If you love quality craftsmanship this is the site for you.
They also have pre-Christmas sales where you can get super discounts and offer free shipping (in the USA).
Walmart has several great affordable flocked Christmas trees.
They also have a great selection of trees under $100, my personal favorite is this one: Best Choice Products 6ft Premium Holiday Christmas Pine Tree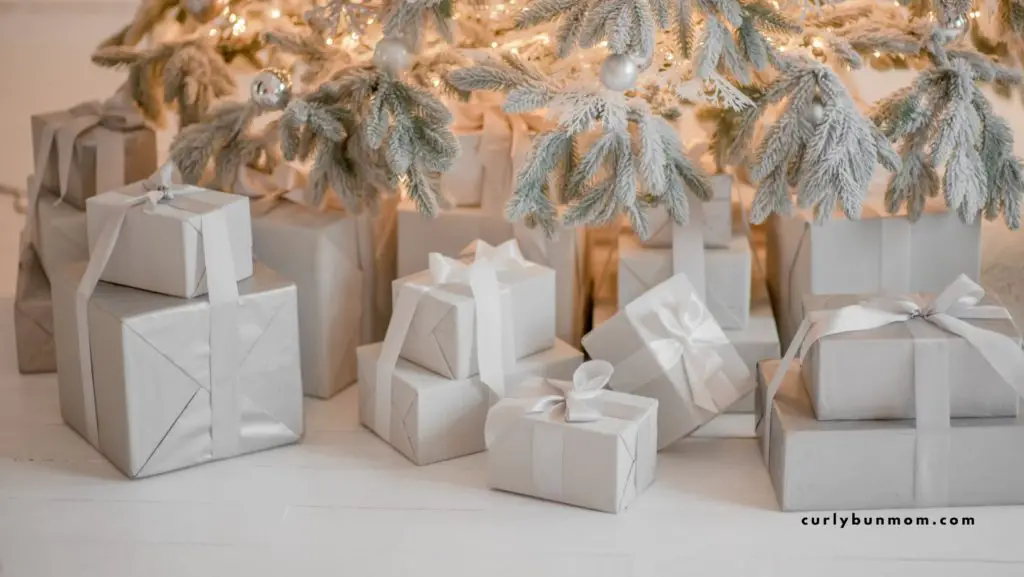 The 9 Best Flocked Christmas Trees On Amazon
I've only gone for trees 6 feet and over for this list so you can have an affordable flocked Christmas tree as your main tree for the holidays!
Check out these affordable flocked Christmas trees on Amazon: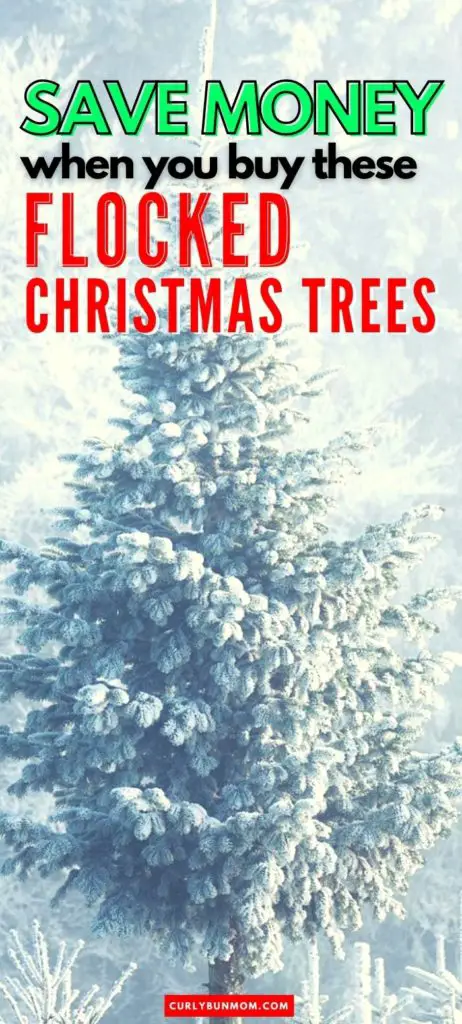 Super Holiday Snow Flocked Hinged Artificial Pine Christmas Tree
This amazing tree comes in 6ft and 7.5 ft options and can only be described as well-flocked.
Perfect for the White Christmas look.
Nearly Natural 6.5ft Flocked Livingston Fir Artificial Christmas Tree
This tree comes complete with clear lights and flocked pinecones so all you need to do is hang your own decorations and you're ready for Christmas!
Winregh Artificial Christmas Tree Snow Flocked
Only the tips of this tree are flocked which gives it a really cool lightly snow-dusted look.
Although it's unlit, it comes with flocked pinecones and is the widest of the trees on this list at each height.
This tree can really fill a space!
Nearly Natural Flocked White River Mountain Pine Artificial Christmas Tree
Although this 6ft tree is a bit narrower than the others on this list it comes pre-lit with flocked pinecones for easy decoration.
Puleo International 7.5ft Pre-Lit Slim Flocked Aspen Fir
Priced amazingly for a pre-lit tree and 44 inches wide, this uniquely shaped tree can also be a great conversation piece.
Perfect Holiday Christmas Tree, 8-Feet, Flocked Snow
I couldn't believe the price of this giant tree! It's unlit but looks absolutely beautiful and can surely fill any room. Buy Now on Amazon
Prextex 6ft Premium Artificial Spruce Hinged Christmas Tree
Another incredible tree at an unbelievable price. Only the tips are flocked though, so if you really want more than a dusting of snow you may want to invest in your own flocking kit. Buy Now on Amazon
LOKASS Artificial Christmas Tree 6ft Christmas Pine Tree
At only 8 pounds, this slim tree is ultra lightweight and really well-priced. It has a very traditional look. Buy Now on Amazon
Perfect Holiday 6.5ft Snow Flocked Alpine Fir
The second Perfect Holiday tree on this list is very unique and is sure to look gorgeous when fully decorated. Buy Now on Amazon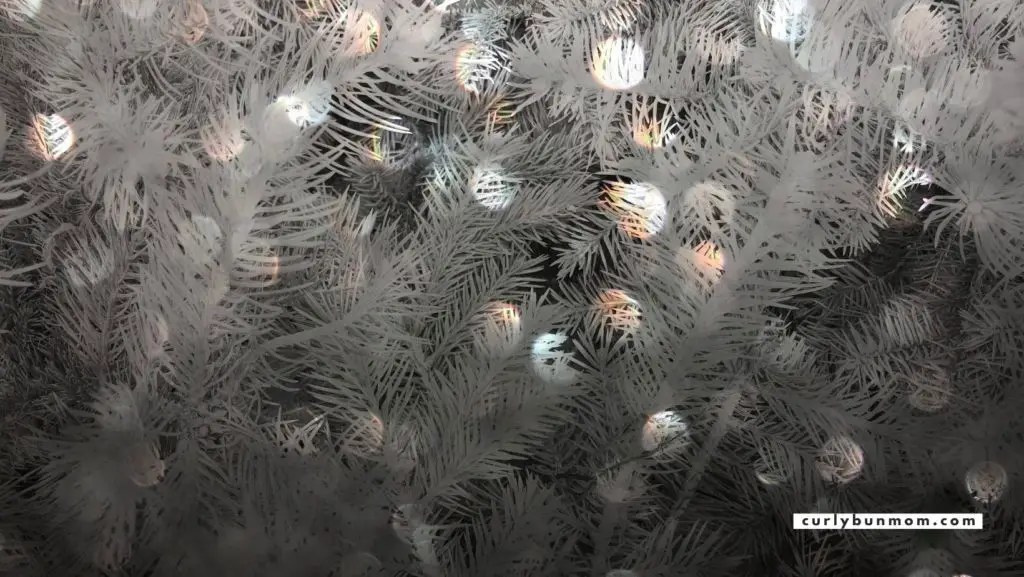 Where to Buy Extra Flocking
If you need to refresh your flocked Christmas tree, you can find extra flocking on Amazon.
Here are 2 of the most popular products:
SnoFlock The Original Premium Self-Adhesive Snow Flock Powder with ShimmerSpec – One of the better known, safe and very highly rated.
Amazing Super Snow Powder By Be Amazing! Toys – Great for getting the little ones involved in decorating the tree, just add water! It isn't self-adhesive though, so something to consider if your tree is in a high-traffic area.
I hope this list of affordable flocked Christmas trees has inspired you to get one this year.
I'd love to hear which one you've settled on – let me know in the comments below.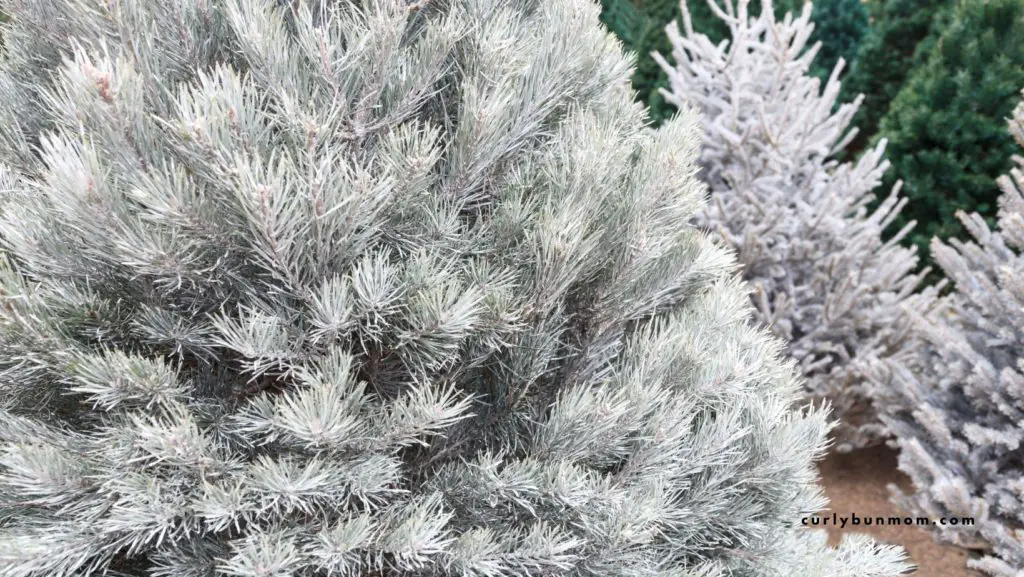 You May Also Like