Family Christmas Traditions – Ideas To Make Christmas Magical In 2021

Start some of these Family Christmas Traditions in 2021 to have the happiest Christmas yet.
When I was a kid family Christmas traditions made Christmas magical! Now that I'm a mom, it feels even more magical. Now, I get to start my own family Christmas traditions and made it magical for my kids.
This winter is going to be our FIRST winter Christmas – it's one that I've always dreamed of having. Now that our family is complete, we're going to be starting a few family Christmas Traditions and activities of our own.
Family traditions also seek to teach our kids what's important in life! It can most certainly be argued that Christmas has become a commercial holiday. But, I believe that's only true if we let it be true. There's still so much magic.
Affiliate Disclosure: "This post contains affiliate links, which means I receive a small commission, at no extra cost to you, if you make a purchase using this link."
What Are good family Christmas traditions
Family traditions make us feel a sense of belonging. They made us feel secure and loved. They're a beautiful way of bringing family together, no matter what, to celebrate a certain event or time.
Good family Christmas traditions seek to do the same things. They seek to bring us closer together, to feel loved, secured, and a sense of belonging.
There's something about having special activities and traditions for one time of the year. Over the years, Christmas has become pretty commercial. So, to ensure that we remember and celebrate the true meaning of Christmas, these traditions are even more important to us.
how to Make Traditions Special For The Kids
Making family Christmas traditions special is easy because it's so personal and unique to you and your family. From the Christmas activities to the meaning behind what your family does, it all works to make Christmas special and memorable.
You can use any idea you see in this post or any other Christmas traditions post as inspiration. Tailor to suit your personality and family and make it your own.
Family traditions should be meaningful and fun! They should bring us closer together, to enjoy one another and experience occasions and events together.
For our family, it's about slowing down and enjoying the moments with our loved ones.
Whether it's cooking, decorating, gift wrapping, family games, singing or giving. It's about having fun with ever family activity and tradition. It's about laughing so much that your tummy hurts.
Family Christmas Traditions To Start In 2021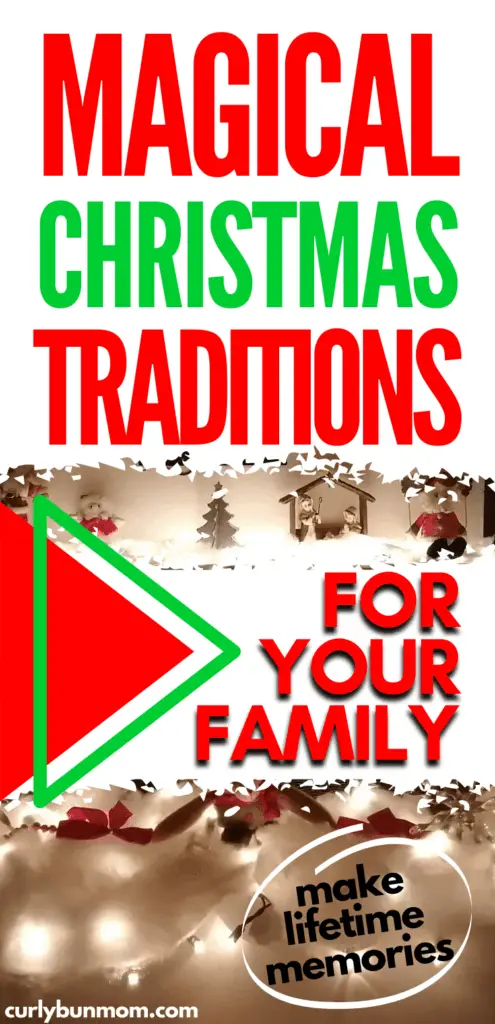 />
Family Christmas Traditions can start long before Christmas Eve and Christmas Day. This year, our family is going to try some of these ideas to have a very merry, memorable Christmas.
Family Christmas Traditions For the Christmas season or only for the 12 days of Christmas:
Read a Christmas story every night
Look at Family Christmas movies while sipping on homemade hot chocolate
Make a few Christmas playlists
Listen to Christmas music and spend some quality time together
Participate in a toy drive
Participate in a hamper drive
Volunteer at your church or community center
Family game nights
Attend local Christmas Tree lighting event
Attend local Christmas Fairs or Markets
Drive around and look at Christmas lights
Pick & decorate a Christmas Tree
Make Christmas crafts and decorate the house
Have fun creating handmade gifts and cards for parents, grandparents, and cousins
Make a countdown Advent Calender with the kids
Write letters to Santa
Visit Santa
Write letters from Santa to each kid, highlighting that they've made it to the nice list and why
Making and choosing gifts for one another and other family members
Wrap gifts
Hang Christmas stockings for Santa to fill up
Learn a new carol
Perform carols or the Christmas story
Snow fun if there's snow
Attend or host a family Christmas Party
Indulge in some much-needed self-care (get some ideas here)
Make your favorite Christmas dishes together
Attend Christmas Service
Track Santa
Have Santa calls
Make a favorite or signature dish e.g. Bake Christmas Ham & Turkey
Do a family Christmas Eve Box
Open gifts from Santa and Christmas stockings in our PJs
Keep some gifts to open during the 12 days of Christmas
Have all Christmas meals together
Family Video Chats
Spend some time to highlight what we're grateful for
Spend time with extended family
Taking down decorations and packing up
Making New Years resolutions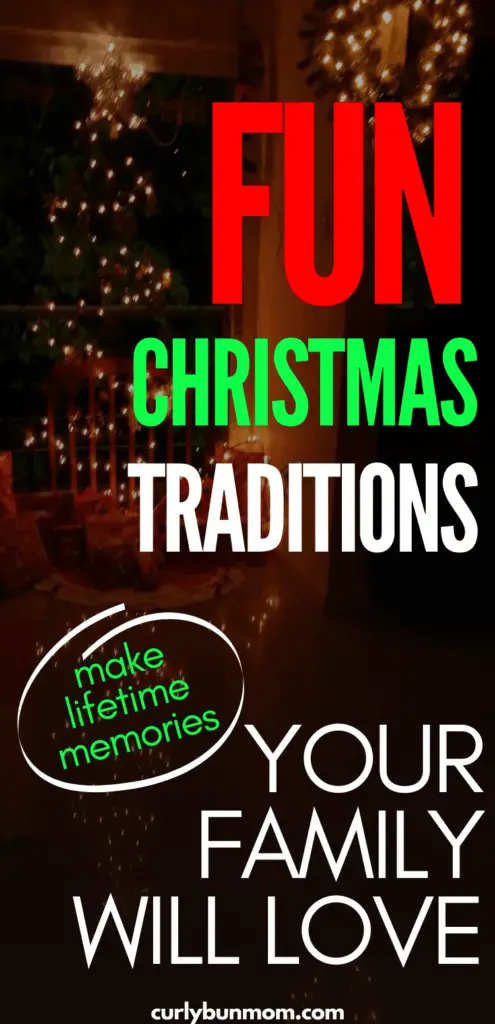 Wrapping Up Family Christmas Traditions To Start In 2021
I hope these ideas provide some fantastic inspiration for starting your own family Christmas traditions and activities. Remember, it's not about a to-do list or a bucket list, it's about enjoying the moments this and every Christmas. There's no right or wrong way to celebrate Christmas or to have family traditions. It's all about you and your family totally loving the season.
Whether it's attending mass and having spiritual traditions, volunteering, donating to others, cooking together, snuggling, and watching movies…whatever makes your family happy, that's what you need to do!
Before you go, you will love these other Christmas posts:
What family Christmas traditions do you currently enjoy and what new ones would you love to start up this year to make your Christmas magical, merry and bright?
You May Also Like