how To Set Goals That You Will Achieve – 10 Step guide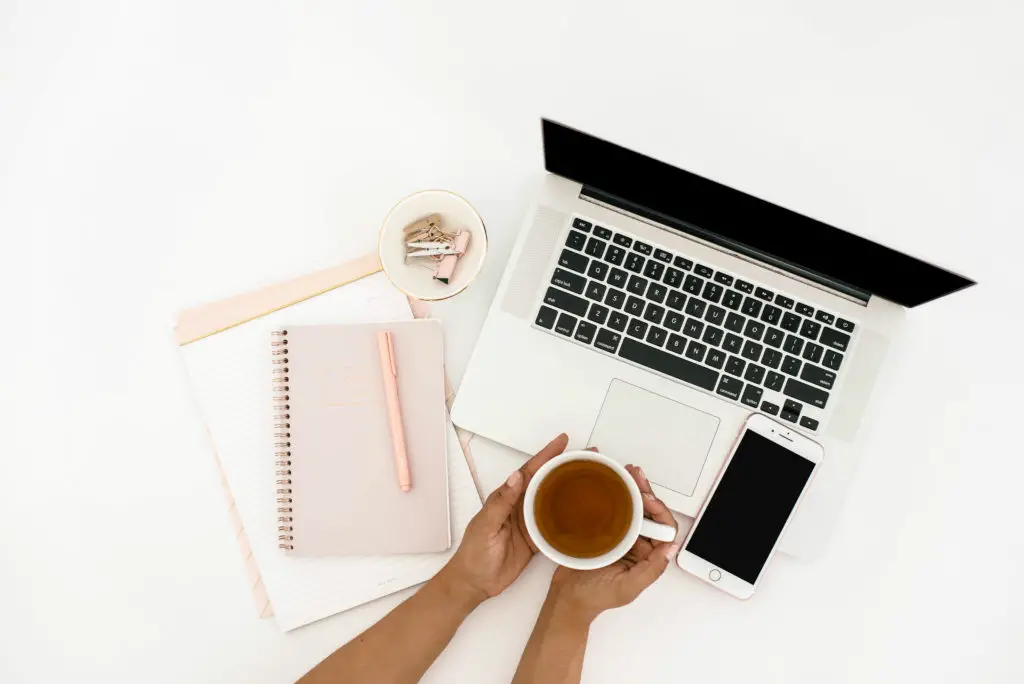 Your goals are the stepping stones to achieving your dreams. When you set goals that guarantee success, you provide yourself with focus and motivation to continue on the path to your dream. In essence, it's your action plan.
When I was younger I had lots of dreams – I mean lots! I had so many that they overwhelmed and frustrated me because I had no idea how to make them a reality.
I heard the same type of motivational advice –  "follow your dreams", "dream big", "you can do anything". But I had no guidance as to how I was supposed to actually achieve any of those dreams.
Through a lot of trial and error, I've been able to learn proper goal setting routines that have been life-changing. Not only have I been able to achieve many of my dreams, but the road hasn't been as scary or overwhelming.
With my goal setting strategy I've made what felt like impossible fantasies, realities. I've gained so much confidence in my abilities and it's helped me tackle even bigger dreams because I know this works!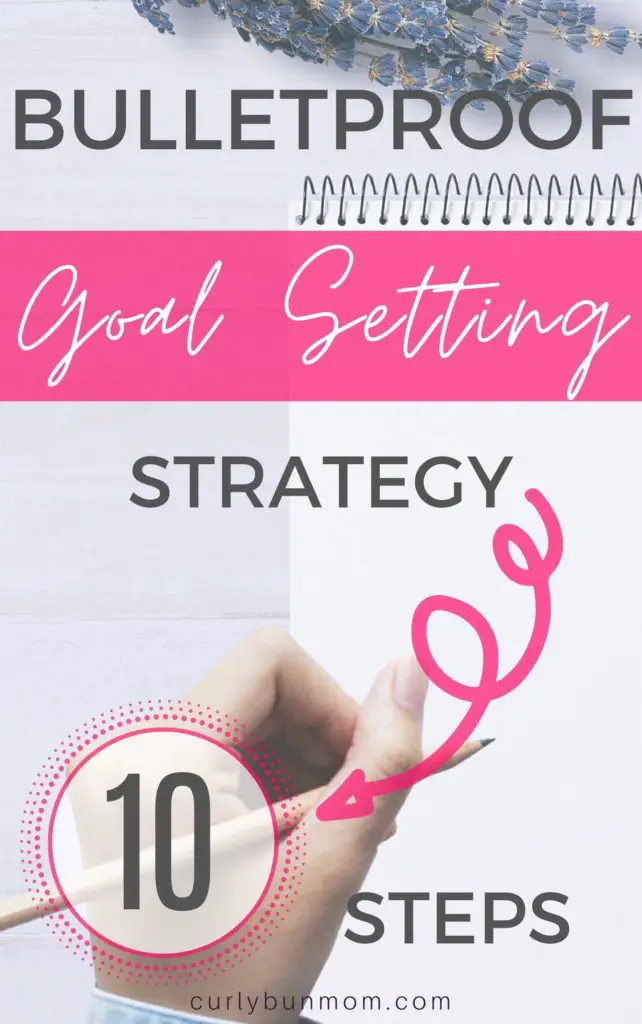 10 steps to set goals that You Will Achieve
Ok, so let's dive into this process. These are the ten steps I take to set every goal in my life (no matter how big or small). I've used them time and again to motivate and guide myself to successfully reach my goals.
1. Goal determination
First, you have to start with a selected dream.
My dream helps me sculpt my goals. When my dream was to become a homeowner, I set many goals for myself and for our family to get us there.
It involved smaller goals such as – setting a budget, cutting costs and decluttering. The dream is your endgame – it's the purpose of your goals and routines.
Then write a list of all the goals needed to achieve your dream (in no specific order, for now).
A visual representation of our dreams and goals, instead of keeping them in your head, allows you to be precise and logical especially when it comes to creating a plan to attain that dream.
2. Be specific & realistic with your dream and goals
Being specific is incredibly important. Dreaming big is awesome! But if you're too general when you set goals, you're setting yourself up for failure.
For example, it's not enough to say that your goal is to buy a home.
Break it down. Ask yourself – what type of home? In what area? What's my budget? When do I want to own a home? And why is home ownership important to me.
When you are realistic with your goals, you have a much higher chance of being successful. Also, be realistic with your current circumstances.
This will help you to understand what you're doing and why you're doing it. It will also help you to formulate your plans and routines. It will help you assign a realistic deadline to help you achieve that goal.
3. Goal prioritization
This is where you're going to rank your goals based on importance to you.
Once you have all your goals listed, decide on a sensible order of your goals (what goal needs to be achieved before another).
This will help bring clarity for what comes next and will make your goals more attainable.
4. Break up large goals and tasks into smaller manageable goals
Again, be very realistic here. What you don't want to do is give yourself more than you can handle.
For instance, if my goal is to have a clean kitchen daily/weekly, then I give myself smaller goals to get there.
I start with managing the dishes and when that becomes a habit, I move on to incorporating wiping down the counters and so forth.
5. Do Research
Sometimes we know what we want but need some help with starting or finding out what it takes to get there.
Researching provides knowledge and insight to tailor my needs and wants, which in turn helps me to set good goals.
Simply sharing ideas with others and talking to others who have experience can provide the necessary guidance. Of course, Google and Pinterest are always great resources for researching new ideas or building on current ones.
6. Assign a deadline
Having a deadline can increase your productivity and efficiency in mind-blowing ways.
It increases your focus and helps to motivate you to complete the task at hand in time.
Again, ensure that it is realistic while still challenging yourself.
I've found this to be an effective tip for my kids as well. Sometimes, for instance, they complain about chores but if I turn on the timer then it becomes a fun game to "beat the timer".
7. Visualize living your dream
Visualization of your dreams and goals is an effective way to imagine where you will end up and drives you to put in the necessary work.
Some of my dreams that had been so unattainable and even overwhelming became attainable after I took the time to see myself living that dream.
I close my eyes when I have some quiet time (most times before bed) and I see myself being successful.
8. Positive mindset
Positivity breeds positivity!
It can be hard to constantly be positive. I've had lots of days when I feel like I can't – I struggle and I get down on myself. I feel discouraged. I feel like a dream or goal is too large for me and I was silly to think I could achieve it.
In fact, one of my former goals was to change my mindset – to stop listening to and believing the negative thoughts. I wanted to have a progressive and positive mind and I set out to do just that!
Now, while I still have a few negative moments, I try to quickly snap out of it. If I can't snap out of it, I open up to my husband or friends.
Sometimes just releasing the negative thoughts help me to gain perspective or to hear out loud how silly (or not!) I'm being about something.
Or sometimes, I just need to get some fresh air, take a deep breath and I say to myself "I can do it ! – Find a way! – Because, I can"
9. Track your progress
My favorite part! Tracking my progress lets me know whether I'm on the right path or not. It allows me to stop and tweak things if what I'm doing is not yielding my desired result.
10. Never give up
This is quite possibly the best tip! If you take anything from this article, let it be this!
I didn't always have someone to guide me or to teach me to achieve my goals and dreams. So, I taught myself. I've persisted and now, I have a pretty bulletproof strategy to set goals that guarantee success.
Never giving up has made me into who I am today and has allowed me to enjoy the many successes in my life.
I've learned from every mistake I've ever made. After every obstacle knocked me down, I got back up and found a different way to fight! I'm stronger for it, and I have my success in life because of it.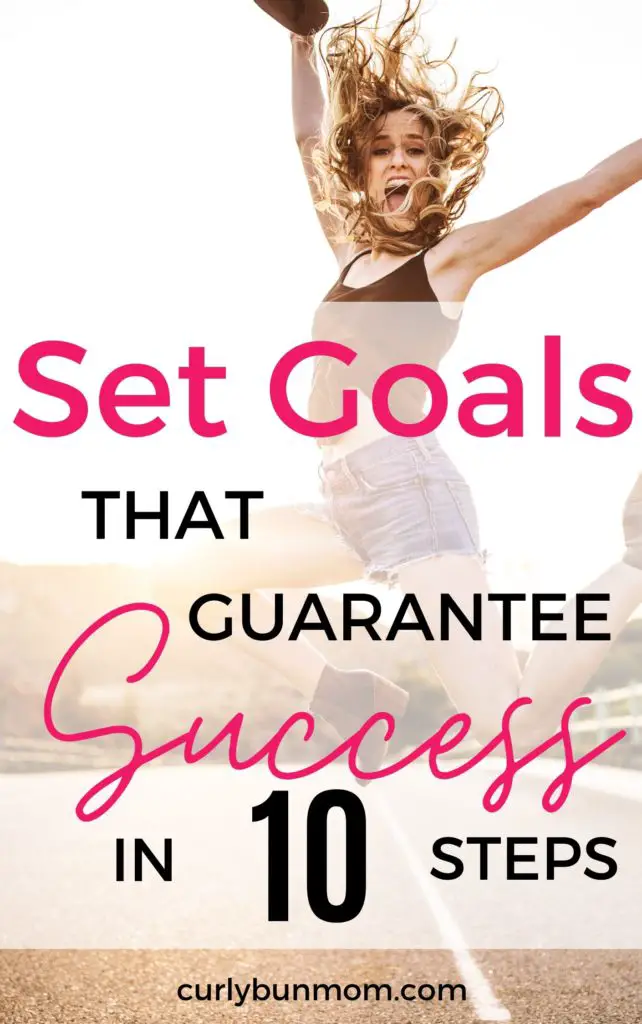 Having a dream is a great place to start, but learning how to set achievable goals can be the difference between realizing your dreams and not. I hope this post provides a great place for you to start on your own journey of learning to set goals that guarantee success.
What goals and dreams have you achieved and what some of your aspirations? I'd love to hear about them in the comments.