Self Love Journal Prompts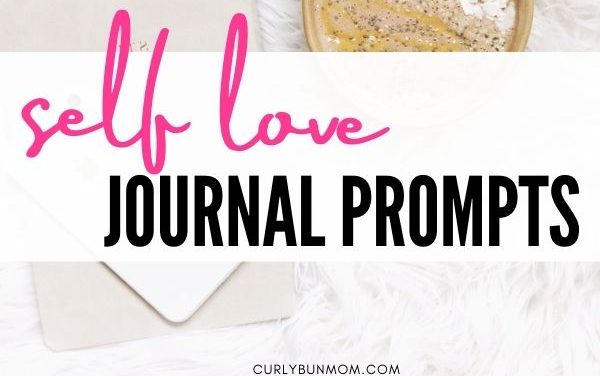 Self love journal prompts are great for morning journaling and work incredibly well with self love affirmations to love yourself more and to improve the relationship you have with yourself.
Loving yourself more, means that you have a meaningful appreciation for yourself and a deeper appreciation for your self worth.
Be sure to download the self love journal prompts pdf from the freebie library to help start your day right, with these awesome morning journal prompts.
Journal Prompts For Self Love
These self love writing prompts can be used as formally or informally as you wish. You can have a dedicated journal to write in or you can use an app on your phone or laptop if that's your preference.
The key is to get yourself in the habit of writing positively about yourself. Writing has a more powerful impact than thinking only. These questions about yourself allow you to dig deep so that you can quiet the noise and love yourself for who you are.
Writing helps you to focus on thinking only about yourself for a designated part of your day. It's a time for yourself, about yourself and most of all, to improve yourself.
Benefits of Journal Prompts For Self Love
These self love writing prompts will help you:
love yourself more
develop healthy self love habits
increase your self worth
increase your self esteem
give more freely to loved ones
build healthier relationships with others
Self Love Journal Challenge
There is no limit to how much you should write or when you should journal. You can journal as often as you like and when is most convenient you to devote uninterrupted time to yourself.
To start journaling to build self love, you can try to challenge yourself. Decide on when you will journal – first thing in the morning or when you're winding down every day. Whatever works best for you will be the best time.
7 Day Self Love Journal Challenge
Plan in advance for a week where you will have enough time to set aside to begin your self love journal.
You can choose 7 self love journal prompts before you being the self love journal challenge. Or, you can choose your self love journal prompts just before you begin to journal every day.
Try your best to stick to journaling everyday for the 7 days you set out, even if it's short. The key is to begin and be consistent.
30 Day Self Love Challenge
You can also challenge yourself to write everyday for 30 days to improve you self love habits and love yourself more.
Use the journal prompts every day for the next 30 days and feel the love you have for yourself grow.
Again, the key is to begin and be consistent with journaling.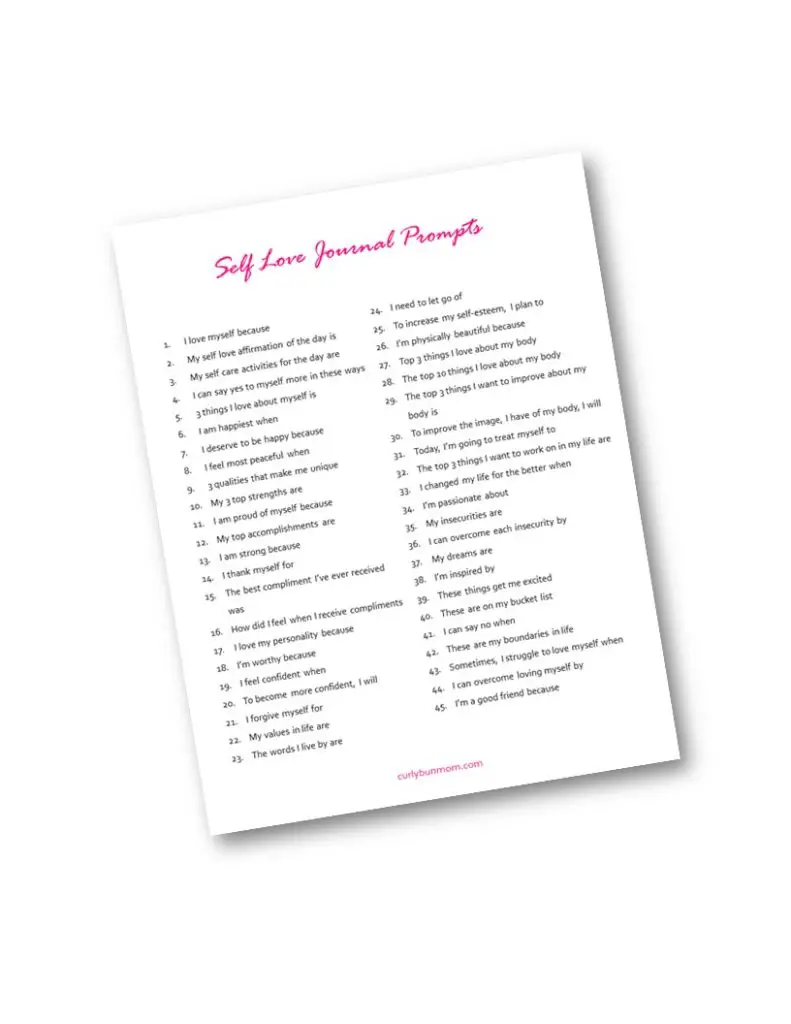 Self Love Journal Prompts
Here are some self love prompts to help you journal on your self love journey. These self love guided journal writing prompts
I love myself because
My self love affirmation of the day is
My self care activities for the day is
I can say yes to myself more in these ways
3 things I love about myself is
I am happiest when
I deserve to be happy because
3 qualities that make me unique
My 3 top strengths are
I am proud of myself because
My top accomplishments are
I am strong because
I thank myself for
The best compliment I've ever received was
How did I feel when I receive compliments
I love my personality because
I'm worthy because
I feel confident when
To become more confident, I will
I forgive myself for
My values in life are
The words I live by are
I need to let go of
To increase my self-esteem, I plan to
I'm physically beautiful because
Top 3 things I love about my body
The top 10 things I love about my body
The top 3 things I want to improve about my body is
To improve the image I have of my body, I will
Today, I'm going to treat myself to
The top 3 things I want to work on in my life are
I changed my life for the better when
I'm passionate about
My insecurities are
I can overcome each insecurity by
My dreams are
I'm inspired by
These things get me excited
These are on my bucket list
I can say no when
These are my boundaries in life
Sometimes, I struggle to love myself when
I can overcome loving myself by
I'm a good friend because
I feel most peaceful when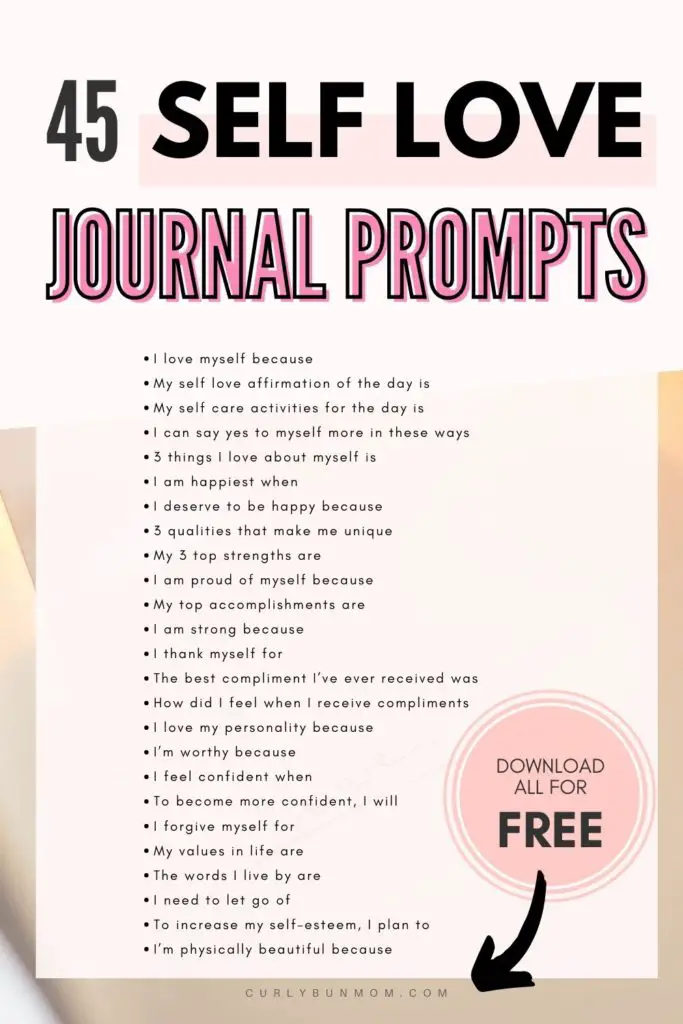 Before you go, if you haven't already, don't forget to download the free self-love journal prompts pdf by signing up for the freebie library. Download to your phone or laptop or print it and keep it in your journal book or close to where you plan to write so that it's easy for you to use.
Try to start your day by using these self love writing prompts as morning journal prompts.
All the best on your self love journey, I hope you enjoy it and truly love yourself for the amazing person you are.
Also, check out these posts to help you on your journey to loving yourself more: