25 Affirmations For Manifestation – How To Use Positive Affirmations To Manifest What You Want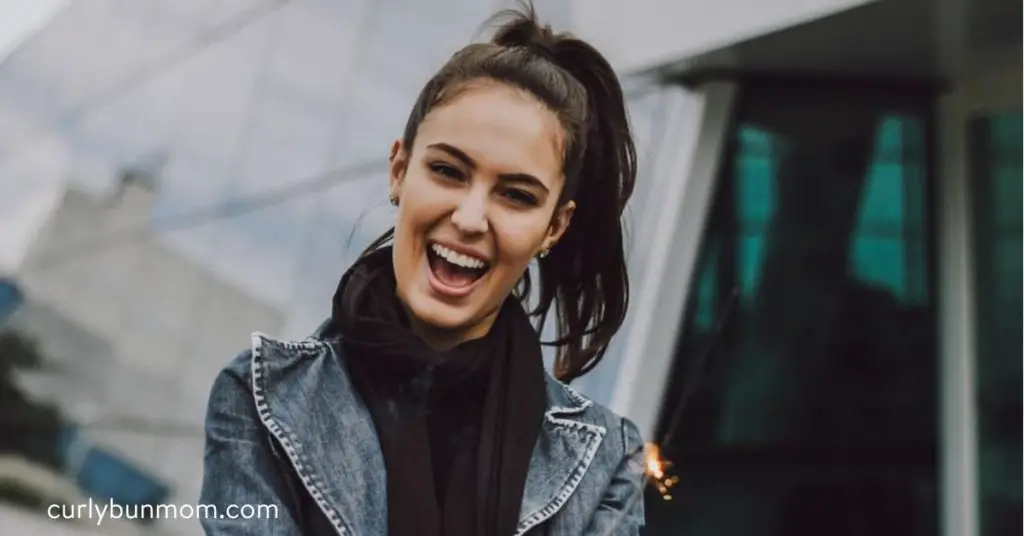 Using positive affirmations to manifest what you want is one of the best ways to change your life in an incredible way.
Below I'll give you 25 powerful positive affirmations to manifest what you want in your life. I'll also give some great tips on how to use positive affirmations daily for manifestation.
11 Powerful Positive Affirmations To Manifest Love, Self Confidence & Self Esteem
Start enjoying the benefits of using positive affirmations for the manifestation of love and acceptance by repeating one of the following affirmations throughout your day.
Affirmations To Manifest Self Love
I love myself
I am whole
I am smart
I trust my intuition
I am worthy
I deserve everything I want
I believe in myself
I can create the change I need
I am happy
I am intentional
I forgive myself
To easily remember to repeat these affirmations throughout your day make them visible.
You can write these affirmations on sticky notes and stick them around your house, in your car or workspace.
You can also make them into a graphic for your phone or laptop background.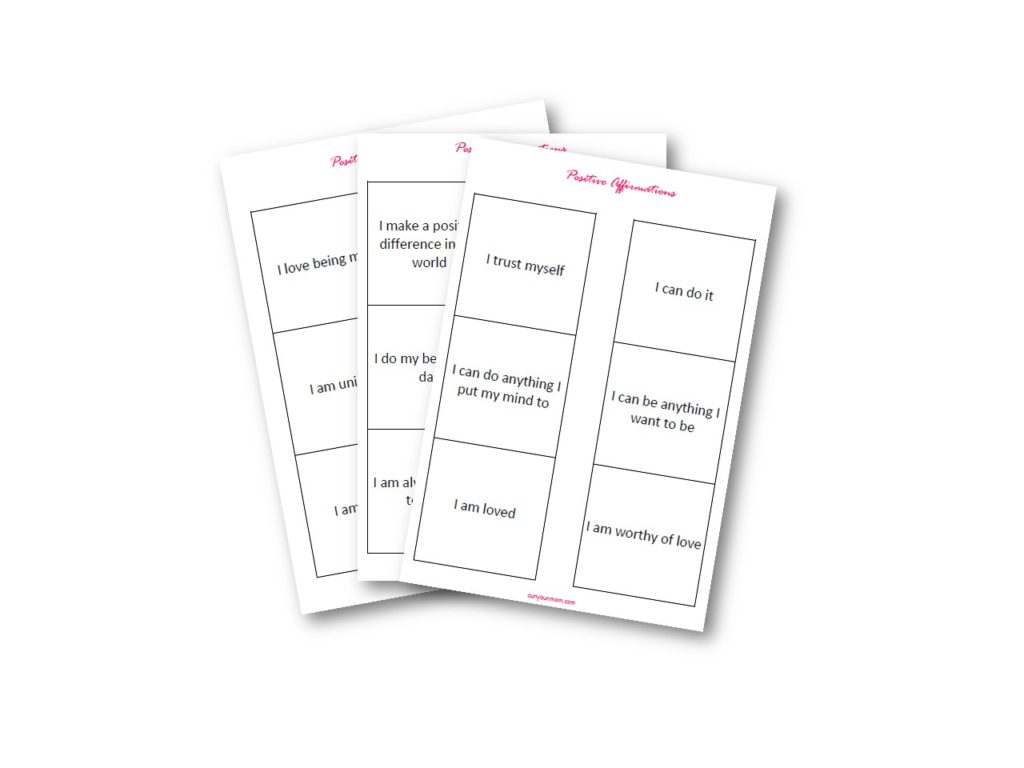 9 Short Positive Money Affirmations to Manifest Financial Improvement
This short list of money affirmations will help you to improve your financial position.
Repeating these money manifestations daily will help you to focus on improving your finances by giving you the confidence to pursue beneficial financial decisions.
Positive Affirmations To Manifest Financial Freedom
I am worthy of improving my financial situation
Financial independence is within my reach
I am empowered to increase my income
I am determined and committed to being debt free
I deserve to be in a better financial position
I will make sensible financial decisions
I will stick to my budget
I will make well-researched financial investments
I will spend money wisely and not overspend
5 Positive Affirmations to Manifest Better Health
Repeat health affirmations to motivate and encourage yourself to make healthier choices for your life.
5 short positive manifestations for health
I deserve to be healthy
I enjoy making healthy choices every day
I love to exercise and enjoy the benefits
I am energetic
I love to meditate
How To Use Daily Positive Affirmations To Manifest
To make the best use of these positive affirmations to manifest what you want in life, you first have to believe that they will allow you to make the positive changes necessary. Be open to constant positive self talk and believe what you're telling yourself.
Be very mindful when repeating positive affirmations.
In our family, we start our morning by choosing a positive affirmation and we repeat it throughout the day. Every day we say a positive affirmation to manifest better attitudes and positive behavior.
We also write the affirmation of the day on our whiteboard for everyone in our family to repeat to themselves throughout the day. In this way, we've easily made this a habit already.
Repeating positive morning affirmations helps you to see your worth, value yourself, and love yourself more. You will also enjoy life a whole lot more!
Why You Need Daily Positive Affirmations For Manifestation
"You are what you think" is a well-known teaching that is pretty powerful, but it doesn't mean that by thinking certain things they are automatically going to happen to you.
Instead, it means that by thinking positive thoughts and intentionally repeating them to yourself, it will be easier for you to maintain healthy habits and make the necessary changes to get what you want.
You may realize how true and powerful positive affirmations can be because you may have practiced the opposite at some point in your life. You may have had negative words thrown at you at some point in your life. If you've experienced this, then you know just how damaging it is to your self-esteem and confidence. When you're told enough times that you are not good enough, eventually you believe it.
So just imagine doing the opposite – telling yourself enough times that you are indeed good enough, smart, and beautiful. Think of the positive impact that will have on your life.
Positive affirmations allow you to believe in yourself more and strengthen the relationship you have with yourself. Soon enough, you will find that you love and appreciate yourself more and are able to make the necessary changes to realize dreams.
By repeating positive affirmations, you're more likely to be motivated, empowered, and determined to take the necessary steps to make your dreams and ambitions a reality.
Repeating affirmations will also encourage you to practice self care and self love more because you will realize the importance and the peace that it brings to your life.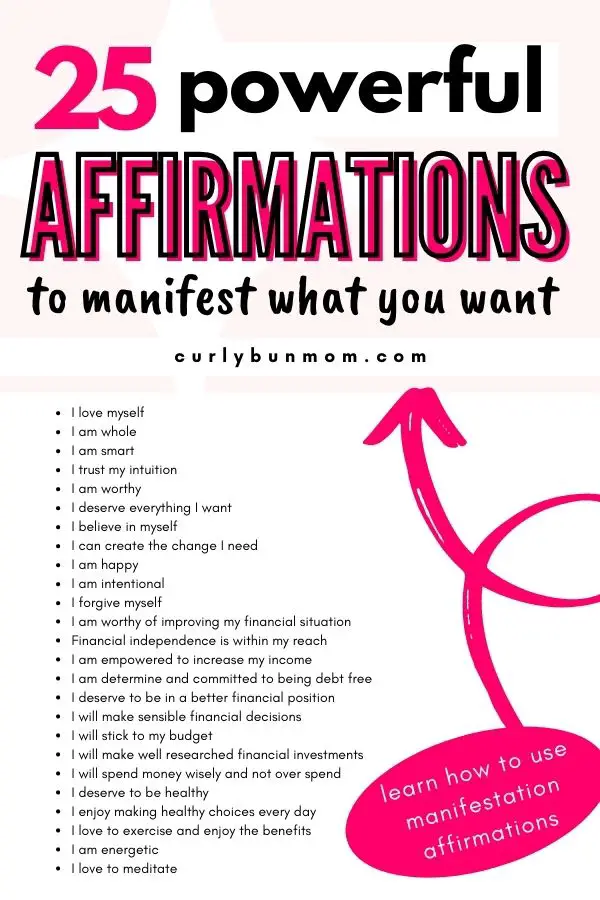 Make Positive Manifestations A Daily Habit
The list of 25 daily positive affirmations for manifestation can help you start each day better and can be repeated throughout the day.
I really want to encourage you again to start repeating these positive affirmations (one per day) every morning and throughout your day. Choose an affirmation of the day and make it a habit to repeat it to yourself and to your kids.
Repeating these positive affirmations in the morning will boost your self confidence, self esteem and self love.
It may feel silly at first, but stick with it and after the first few times, you will enjoy it. The benefits you will experience from repeating these positive affirmations or mantras and making it a habit are definitely worth it.
What about you? What are your thoughts about positive affirmations to manifest what you want?
I'd love to hear about your experience in the comments below.
Also, check out these posts to help you on your self development journey to loving yourself more: